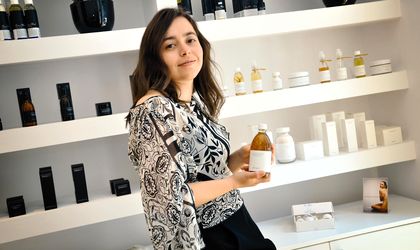 While Alma Rusu intends to increase the turnover of MioBio, her organic cosmetics store, four-fold to EUR 120,000 this year, her main objective is to grow the business in a cautious, smooth and healthy manner.
Anca Ionescu
Alma Rusu, managing partner at MioBio, a shop selling organic cosmetic products, left the corporate world at the beginning of 2008, her main objective being to take a break . But the break became a sabbatical. "During this period I reflected on my professional future, with two clear choices in mind: to come back into a specific system or to launch my own business," remembers Rusu. She ultimately chose to become an entrepreneur and since 2009 has been running the MioBio store. The shop brings on the local market a wide range of notable brands from Germany, Austria, France and Switzerland, some of which are manufactured in limited series while others enjoy a worldwide presence.
Rusu graduated from the Foreign Languages and Literatures Faculty back in 1997 but has never worked in the area she studied. She entered the HR world in 1996 and spent six years in the head-hunting industry. Her next position was also in HR, and saw her put another six years into the banking sector at the former HVB Bank / HVB Tiriac Bank, which later became UniCredit Tiriac Bank. She also had a brief intermezzo of four months in Amman, Jordan, where she worked for the elections program organized for Iraqi residents abroad. "I could compare this experience with at least one year of working in a corporation," adds the young entrepreneur.
The decision to set up MioBio was not a spontaneous one. "I though that if I decided to establish a business it should be something close to my soul, which allowed me to stay close to the people. I decided on this field of activity which I consider extremely interesting and complex," explains Rusu. She says that despite having had no experience in organic cosmetic products her time working with many multinationals gave her a solid base on which to build and run such a
business. Individual study and special training at each individual supplier also played a significant role. The shop opened in August last year.
The businesswoman chose to set up MioBio because the organic products market is still young in Romania. Besides, this field has significant potential for growth in the future with consumer interest rising. "I noticed a lack of a multi-brand boutiques specialized in organic cosmetics in Bucharest able to offer a careful selection of different well known or niche brands. In short, this was the concept on which MioBio is based," says the managing partner. She adds that MioBio reflects both the ideas and personality of herself and her business partner.
Reflecting on the difficult moments MioBio has faced, Rusu says they are only just starting because the business has reached another stage of development. "The beginning was very smooth – it took one year from the idea to its implementation with the opening of the store in August last year as a result," she says. The entrepreneur adds that this year the company will focus on developing distribution for the
brands it exclusively represents in Romania. "It is an intensive period when both decisions and resources need to be very carefully weighed up."
If the partners started the same business over again, they wouldn't change anything because they think their company is on the right path. In Rusu's opinion, one of the main challenges is to educate consumers, with the enterprise being more reliant on specialized advice. "Except the clued up customers who are aware of what organic care means and come to buy certain products from us, there are those who are willing to try, experiment and want to benefit from taking care of their body, to whom we offer guidance," says the managing partner. In addition there is the challenge of an emerging market that is facing a difficult economic period.
According to Rusu there is no real competition on the market yet as there are few such specialized shops. "The competition is very friendly because all the players on this market are to some extent beginners. Experience of a few years in this field on the Romanian market is not a tradition," says Rusu. She expects the number of such shops to increase in the years to come. In her opinion, the consultancy services her store offers differentiate MioBio from the crowd. "Our online store – www.miobio.ro – is in addition to what we can offer in the traditional store. At the beginning we were surprised by our customers' reaction when they said that they felt like they were in a store from the West," adds Rusu.
According to market research, organic products have a market share of 1 percent and so Rusu says it is hard to estimate her own store's market share. "Analysts say that this market increased by 30 percent last year on 2008 and expect a 40 percent rise in 2010 compared with 2009," she says. Going forward, Rusu says the firm intends to
focus on developing its distribution, increasing its product portfolio and consolidating the brands it has debuted on the Romanian market.