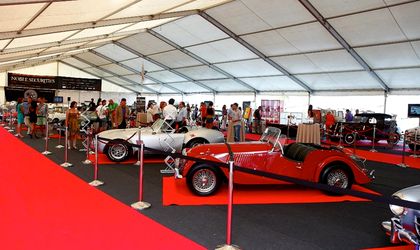 Warning
: Invalid argument supplied for foreach() in
/var/www/html/business-review/wp-content/themes/business-review/strawberry/setup/gallery.php
on line
71
The collector cars and wines auction held by Artmark last week-end in Mamaia raised over EUR 1 million, the organizers announced. The star of the auction was the Formula 1 Ferrari F399 car, driven by Michael Schumacher in the 1999 season, sold for the highest price for EUR 177,000.
For this event called "Vintage Car, Sports Memorablia, Vintage Wine and Champagne Collection", vintage cars had an acquisition rate of 100 percent: the Formula 1 Ferrari F399 driven by Michael Schumacher during the 1999 world championship season was auctioned off for EUR 177,000. It was followed by Mercedes 300 Cabrio, "Adenauer", 1953 sold for EUR 140,000 and the Ferrari 599 GTB Fiorano, Edizione Speciale Carbon Kit, 2009, sold for EUR 131,000. Among these expensive cars, several pieces with stories were sold at the auction: the 1947 Lincoln Continental, also known as "Don Corleone's Car," for EUR 42,500; the 1966 250 SE Mercedes sold for EUR 70,000 and the small and dainty 1960 Morgan Plus 4, owned by Catherine Deneuve for EUR 37,500 euro.
The auction of vintage wines from the Heritage restaurant cellars was another vibrant moment of the evening. A wide selection of red wines including Château Lafite, Chateau Pontet Canet, Chateau Calon Segur, Chateauneuf-du-Pape etc. sold for EUR 16,000.
At this event, a two magazine set made up of a Time issue and a Sports illustrated issue from August 2 1976, featuring Nadia Comaneci on their cover was sold for EUR 650. A handball ball of Romanian handball star Stefan Birtalan also sold for another  EUR 600 euro.
Artmark currently leads the local art market with a 77 percent share. The company positions itself as a one-stop-shop for art enthusiasts, encompassing an auction house, gallery and cultural center, and offering a wide range of services from advisory and guarantees to restoration, evaluation, private sales, logistics and related services. Last year Artmark launched the Art Consecrated Index, a monitoring tool of the weekly evolution of the art market for the 100 most representative Romanian artists.
In 2011 Artmark also released the Artmark Live application, which facilitates real-time bidding over the internet, and opened the Art Shop Dependent de Art, specialized in contemporary fine arts and decorative arts. The firm reported a turnover of EUR 12 million last year, and a EUR 530,000 profit for the first half of 2011.
Photos from the auction bellow