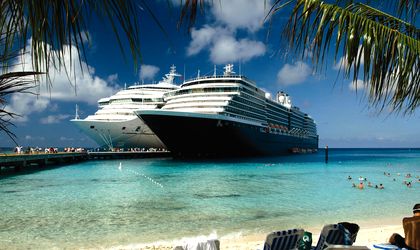 Last week saw the opening of the Romanian Nautical College, which aims to offer an alternative for professional reconversion to those considering a life at sea. The college was started following an initial investment in excess of EUR 1 million, but this will only be the tip of the iceberg as more investments will follow in the coming years. Financing the project are the Marcu brothers, major shareholders in the Medlife network, who teamed up with Stelian Cojocaru, manager of the college.
Otilia Haraga
The navigation simulator alone cost several hundred thousand EUR while the total investment that has gone into the opening of the Romanian Nautical College (CNR) so far surpasses EUR 1 million. This sum includes everything from the training rooms to the acquisition of equipment. "In the future, we will see. We could be talking about investments of up to EUR 8-10 million over the next three-four years," says Mihai Marcu, vice-president of the college.
"We had the opportunity to work under a franchise but eventually we decided to do it ourselves," he says. The college was founded under the umbrella of an NGO in which the Marcu family and Cojocaru are the main players, but other people are of course involved in this project.
Financing comes 100 percent from the Marcu family. There is also a project in the works for attracting structural funds. "We want to attract EUR 500,000," says Marcu.
"Health and education are two domains that are very good for business and sell very well abroad. Unfortunately, at the moment education cannot take place within the framework of companies but only under the umbrella of an NGO. I hope next year things will change and we will find solutions to develop," says the VP.
"We think that we will make an exit in seven-eight years, in one form or another. This is not really a company, it is a mutual fund, but I hope we will eventually develop into a company," he adds.
The college is located on the edge of Mogosoaia Lake, on a surface of 1,000 sqm. It has seminar rooms with a capacity of 50 seats, a room for map work with 25 seats, a lab with 25 computers, a 150-seater auditorium and a library with reading space. As time goes by, more study space will be added as new departments are set up.
CNR is structured in two departments: the deck department, which will instruct deck officers and sailors, and the electro-mechanics department which will train mechanics officers, electrician officers, plus mechanics and electricians. However, the programs in the second department will only be available from January 2011. "There is currently demand on the labor market for mechanics and electricians and we would like to answer this demand. However, we have decided we still need some time to be able to train them. We need to have a sound material basis but in January 2011 we will be prepared for this as well," said Cojocaru.
Tuition fees for deck officer training amount to EUR 3,000. The course comprises five modules, each of which costs EUR 600. The fee covers the training, use of the navigation simulators, courses and manuals, maps, nautical documents, equipment and instruments as well as assistance during the practice period and in preparing for the exam to obtain the certificate.
The college pledges to prepare officers with international certification in under two years. "What will be taught are exactly the disciplines that the graduates will be confronted with on the deck of the ship," says Cojocaru.
In order to be eligible for the program, candidates first have to pass a test, which consists of three stages: a physical, which ensures the candidate is in perfect physical and psychological health, a mathematics exam and an English test, both at the level of ninth and tenth grade. The top three trainees in the admission test are awarded a scholarship.
"At international level, there is a deficit of approximately 30,000-40,000 officers so there is demand for this profession but it is important to be very well prepared. At the moment, Romania has approximately 30,000 sailors," says Berescu, deputy general manager of the Romanian Naval Authority (ANV).
"On their first voyage, a maritime officer is paid a wage between EUR 1,500 and EUR 2,000 per month," says Cojocaru. "We are also looking for jobs for the cadets afterwards."
A contract of collaboration with a banking institution will allow students to take out loans that are repayable in six years, with a grace period of 24 months.
In total there are 250 places. Initially, the college aims to attract trainees from the pool of high-school graduates, especially from the capital, as well as people eyeing rapid and efficient professional reconversion.