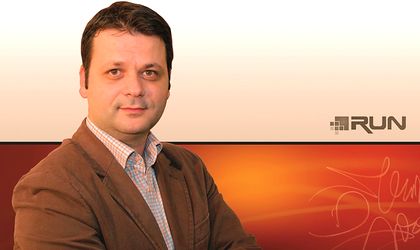 With his business increasing significantly from year to year, Razvan Muntean, CEO of RUN Data Solutions, intends to continue the organic growth process through major investments and to make his firm a top-tier player in a crowded field.
By Anda Dragan
The business that Razvan Muntean is running today is the result of a long-standing passion for software, born twenty years ago. He had enjoyed programming since gymnasium and high school, and dedicated the first years of his studies to research. But what most attracted him was the idea of creating programs for collective usage. He started by implementing a salary program for a secondary school – a moment that was to prove crucial for him. "I realized then that in the software industry there was no place for 'almost working'. The responsibility was great because there was a lot of money at stake. But the satisfaction of a successful project was worth the work," says Muntean. "It is hard to describe the feeling when you see that you have managed to contribute to the optimization of a business as a whole."
In 1998 he took on even greater responsibility, building a program for an international survey conducted through FIMAN, the International Foundation for Management. That year of his career afforded him a crash course in running a business. "I learned about the meaning of a business plan and how to track a budget, and I was only 21 years old," says Muntean.
In 2000, he felt ready to set up his own business. While looking for an apartment, he had dealt with some real estate agencies and had spotted a business niche which he decided to enter on. "I started the 'RUN' real estate project, in defiance of all those real estate market players who were skeptical about my idea," remembers the entrepreneur. By 2003 he had launched three versions of the application, each having the role of training users in both the informatization process and using the busine

ss tools. "I had tapped into a large volume of real estate know-how at that time, with the result being the building of a software application that many players still consider avant-garde today." He adds: "Last year we re-launched the real estate portal Imopedia.ro, which summarizes all the information harvested by real estate agencies." According to Muntean, it has now become a top-ranking site for traffic, despite the fact that the portal's range is mainly Bucharest and Constanta.
The real investments started in 2006, and took two directions: the development of a Content Management System (CMS) platform, which now supports most Romanian internet users, having been implemented for the company's customers; and creating and strengthening the online platform Imopedia.ro, which also has the entire technology behind it. These two long-term goals have meant costs of more than EUR 400,000.
Since 2005, Muntean has built business IT solutions for very large companies such as Tiriac Holding and media trusts Ringier, Intact, MediaPro and Hiparion. For Tiriac Holding he created the whole logistic and sales platform as well as the integrated system of financial reporting. His company's portfolio of customers also includes over 500 real estate agencies. In terms of partnerships, RUN Data Solutions, through the Imopedia online platform, has become the strategic partner for the TNI National Real Estate Fair.
One of the biggest challenges Muntean has faced has been to build very high-traffic websites, because many of them were at a technological standstill. Sites such as GSP.ro, Libertatea.ro, Capital.ro, Jurnalul.ro, Cancan.ro and CasaMea.ro now have over 1 million unique viewers a day.
The businessman's finest moment was when he decided to stop programming and start building his team. "It was a new family and world, with new responsibilities and a new scale of values," says Muntean. Being a perfectionist, he doesn't deny there have been decisions he made that could have had other, more efficient solutions. "Despite this, I look more towards the future and treat a standstill as a new challenge. If you are not innovative and proactive, you should do anything rather than remain in this business," says Muntean.
According to him, companies like his can be successful only if they fully understand the customer's business. "It is amazing to discover and create new businesses, and also to see how a customer that perceived you initially as a provider of software is now asking you to provide consultancy services," says Muntean.
Although the competition is very intense on the local software market, there is still plenty of room for professionals. Besides, one of the main features of the IT industry is that it continuously drives technical advances, and every year new markets and opportunities open up. "If you don't keep up with the market, it means you reach your inability limit," says Muntean. In short, it is very hard to differentiate software products available on the market while it is very easy to spread concepts around competitors. "Specialization is in the quality of services and each provider's expertise. We have a client-oriented approach that is part of our corporate culture. We have seen time and again that this is the reason for our success," says the entrepreneur.
Looking to the future, Muntean says that the long-term success of the business is based on organic growth. "In the near future we intend to consolidate our leader's position in the two industries we are targeting through our software and to continue to innovate, because this is what keeps us alive." The company aims to reach a turnover of EUR 600,000 in 2010 and become a top-tier player in a crowded field. It also plans to invest EUR 250,000 in technical equipment for the media division of the real estate platform Imopedia.ro.