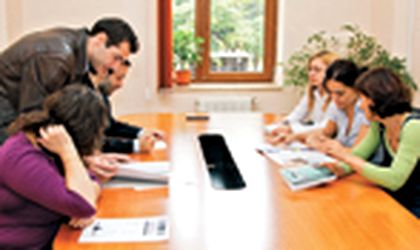 The Romanian training market was worth EUR 45 million last year, according to specialists, but the current crisis did not spare the industry. With a less promising outlook, 2009 will clearly bring falls. Sergiu Teodosiu, consultant at Ascendis, expects the local training market to shrink by 40-50 percent this year. Currently, the market provides a wide range of courses, from management /leadership and interpersonal skill development training (sales, negotiations, customer service, etc) to specialized or technical skill development (financial-banking, etc). As for who funds it, it is sometimes the state (by European grants or governmental programs) and sometimes private companies. Viorel Panaite, partner at Human Invest, does not expect the management /leadership and interpersonal skill development training market to exceed EUR 10 million in 2009. "This market will decrease by almost 70 percent on 2008," said Panaite. He added that the EUR 10 million includes this year's contracted projects by the best-known five-six companies and about which Human Invests has information, and only privately financed training programs. MBA programs are not included.
Rocky road ahead
Clients are focusing more on business strategy and performance training this year, according to Sergiu Teodosiu. "This year we have implemented timely, well targeted training programs, while in 2008 we took a general approach to training with a very wide audience," says Teodosiu. He adds that Ascendis posted a EUR 4.3 million turnover last year and expects it to shrink by 20 percent this year.The reduced budgets and small number of companies interested in training services is another obvious trend for this year. But while construction and construction materials industries have frozen some training programs, industries such as pharmaceutical, banking and telecommunication have continued to solicit courses. "Companies have begun to pay more attention to the purchased training programs, and chose high quality ones," said Panaite. He added that training firms' effort to sell their programs is now greater, due to slashed budgets and a smaller pool of clients. "That's why so many small training companies have just vanished, encouraging the appearance of many freelance trainers," says Panaite. According to the country manager for Romania of the CEU Business School, Oliver Olson, the overall trend for this year has been the drastic reduction in 'trivial' training. In the past, many companies purchased training for their employees without giving much thought to either how the training would fit into the overall strategy of the company or how it would directly benefit the productivity or profitability of the employees involved. "Now we're seeing less training, but of higher quality. This is why we think this a good opportunity for us to grow in this market," says Olson.It's obvious that the impact of the crisis has been considerable, both on existing companies and on new entrants. "We are a new player on the training market and the crisis has made it much more difficult for us to enter the market. However, we see that a positive effect is that companies are becoming more discerning regarding their choice of training, which we feel will be an advantage to premium training providers such as us," explained Olson of CEU Business School, which offers customized corporate training such as project management, operations management, finance, customer service. Also, other visible trends are the increased effort to gain European grants and companies' increased interest in measuring the impact of HR development program investment. "The new thing is top management's interest in working with training and consultancy experts. Together they are identifying the real needs of HR development and are creating solutions in order to optimize employee performances and to maximize investment efficiency," says the general manager of United Business Development (UBD), Diana Rosetka.
Training in a time of crisis
Some training companies are disappearing from the market while others are struggling to survive. Also players are adopting new positions in the crisis. "There will be two major categories of management /leadership or interpersonal skill development training companies. On one hand there will be five to six important companies with a combined market share of 80 percent (almost EUR 8-10 million a year). On the other hand there will be many freelancers that will target revenues of about EUR 30,000-60,000 a year," says Panaite. He believes that both small companies with two or three trainers and big ones are either transforming or disappearing. Panaite expects Human Invest to post EUR 600,000-800,000 in turnover this year. "We are working harder for more small projects, which means a bigger sale price overall," says Rosetka of UBD, flagging up another trend. The company estimates a EUR 1.4 million turnover for 2009. Furthermore, according to Giuliana Boicu, managing partner of People Investment-Crestcom, companies' fall in inclination to train their employees is probably the most significant trend. "The crisis will get companies asking: 'Why do we need training?'," says Boicu.
Companies still want courses
However, the market has not disappeared completely, just shrunk. "Companies are still asking for training, but the sales cycle is much longer and the chance of the training not actually being purchased at the end of the process is much greater," said Olson. In 2009 Ascendis has had clients that haven't been as active so far but now they are realizing the importance of a training program. Leadership/management, sales skills development, coaching, change management, sales management, business strategy, project management, operations management, finance and marketing training have been among the most popular training courses with companies this year.Boicu told Business Review that 90 percent of Romanian SMEs have never shown interest in any training. Now, small firms have completely eliminated training from their priorities for at least two years. "Multinational companies have chosen to reduce or to postpone training budgets and have focused on technical training," explains Boicu. She adds that time management and internal customer relations are among the most sought after courses for People Investment-Crestcom. anda.dragan@business-review.ro