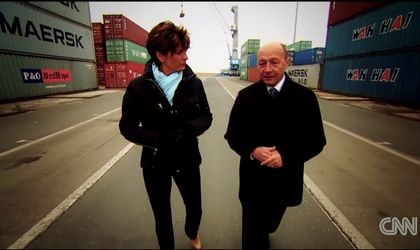 Romanian president Traian Basescu is interviewed in a CNN show on Constanta port, set to air starting May 23rd. The show is part of the Gateway series and will also run on May 25th and 26th.
CNN journalist Becky Anderson interviews president Basescu on the future of the Constanta port and its importance to Romania's economy.
"It is the sole harbor which is connected with the Danube, with the Rhine-Main channel and with Rotterdam. It is the end of a blue motorway which starts in Rotterdam and finishes in Constanta harbor," Basescu explains in the interview.
The Daewoo shipyard is also featured in the show, where the route of goods in the Danube- Black Sea channel is followed.
During the Romanian visit the CNN journalist also visited the Renault Dacia plant, presented as "the most successful business story in the country."
The video of CNN's visit at the Dacia plant is available here.