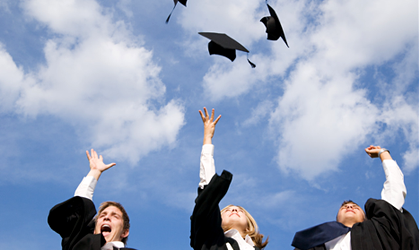 With predicted annual growth of about 10-20 percent for the next few years and significant consolidation, the Romanian MBA/EMBA market is hoping to see its first green shoots. Specialists expect the industry to recover after the current economic downturn hit local demand hard.
Anda Sebesi
The Romanian MBA/EMBA market continued to be buffeted by the economic crisis in 2010, but industry specialists expect a slow recovery this year. The aftermath of the financial crisis has had a strong impact on the MBA market as a whole, affecting everything from enrolment rates to study plans and course duration.
The market has also seen some significant moves as three new programs have entered the market while one EMBA has left the scene. According to Adriana Dutescu, director of the Bucharest School of Management's Romanian-Canadian MBA program, the local market dropped in volume in 2009 and 2010, while posting an even greater decrease in value because of various discounts offered for many MBA programs.
"The number of newly registered students on MBA/EMBA programs shrank by 40 percent last year on 2009. About 300 students graduated MBA/EMBA programs in 2010," says Marius Mihailescu, managing partner of Tiffin University Romania. He adds that the local MBA/EMBA market was worth EUR 2.5-3 million last year but he foresees better times in the years to come. "The Romanian MBA market will grow in the future because there is an increased need for specialists in business at the moment. We expect about 300-350 newly registered students on all the existing programs on the market this year," he adds.
According to Oliver Olson, managing partner of Maastricht School of Management Romania, an institution that offers executive MBA programs, the local MBA market is shrinking in overall size, mainly due to the low number of companies paying for MBAs for their employees. "A very rough estimate of the MBA market in 2011 would be EUR 2.5-3 million. But I expect this value to increase by about 10-20 percent per year for the next few years," predicts Olson. Bianca Ioan, marketing director of the EMBA program at Asebuss, the Institute of Businesses Administration, has a slightly more positive outlook, saying that the local MBA /EMBA market was worth EUR 3.5-3.8 million last year, and she expects an increase of between 20 and 50 percent this year, taking it to EUR 4.5-5 million.
"Globally, enrolment in executive MBA programs has stagnated or slightly declined. Fortunately, this was not the case at the WU Executive Academy. Most applicants feel they will have less access to corporate sponsorship – traditionally associated with EMBAs – than before. Two thirds of our participants used to receive a full or partial corporate scholarship five years ago, today the ratio is the other way round," says Bodo Schlegelmilch, dean at WU Executive Academy.
Both the local and international markets have seen a significant consolidation of business schools with strong brands in the past two years. "A specific trend on the MBA/EMBA market in 2011 is the increase of the number of full scholarships, discounts of up to about 50 percent and free courses. My opinion is that this is a short-term solution because none of the business schools on other international markets offer MBA programs with such terms. They think about a long-term strategy to increase their business, involving changes and improvements to the offered programs, while the fees remain the same or become higher," says Ioan.
Another trend among students is to sign up for pre-MBA programs because they are cheaper and shorter, while more companies are going for customized training courses of two or three weeks in order to reduce the costs and make their employees' training more efficient.
With the market being so dynamic, players are trying to adapt rapidly to the current context and bring new products onto the market. "We are preparing to launch Global MBA this year, a new MBA format offered by the Open University Business School, our British partner. It is the only MBA program in Romania that has triple international accreditation: EFMD in Europe, AACSB in North America and the Association of MBAs in Great Britain. We also launched Certificate New Generation last year which is the only program designed for middle managers and newly appointed ones. All these changes are an adjustment to the new market demands and I think these trends will consolidate over the coming years," says Rodica Maria Radulescu, director of Codecs Business School.
Especially in times of crisis, it is essential for managers to take the right decisions at the right moment to sustainably secure the future of their companies. "We took this into account when we aligned for example the curriculum for the Professional MBA to evolved economic and social framework conditions. Since the quality of an MBA program is directly linked to the ability to instantly adapt to rapidly changing business environments, it is paramount for us to continuously refine our programs and, hence, improve the quality of our portfolio," says Schlegelmilch.
There is a significant increase in the number of female applicants each year, representing a visible shift in MBA applicant demographics. "Currently, almost half of the people who take the GMAT are females. However, women only account for 30 percent of enrollment in MBA programs, proving that there is an imbalance within the world of MBAs," says Schlegelmilch. Also, interest is down in full-time programs and up in part-time programs. Finally, there is an increase in the number of years of work experience and a shift in motivation why people embark on an MBA program. "The quality of applicants has improved in comparison to previous years, both in the years of work experience and academic qualifications," says Schlegelmilch.
Demand is still high
The current downturn has driven many managers and entrepreneurs to seek various ways to better prepare themselves for an uncertain future. Taking an MBA /EMBA program could be an answer. "The demand for our EMBA program has increased significantly this year compared with previous years. Graduates of MBA/EMBA programs were extremely useful before the crisis because employees and managers needed to be prepared to survive the turmoil, and after it because they provide the vision of recovery," says Mihailescu. He adds that firms have preferred to invest in employees who have already graduated from an MBA program in order to find solutions rapidly.
The main objective of an EMBA program is to prepare managers both to harness existing opportunities and to solve the new problems they face. "For example, at Asebuss a student goes through over 100 case studies – real situations that some American and European companies have faced and which cover all the fields of activity. This is a major competitive advantage on the labor market because you can meet the demands of a job in many different fields even though your own professional experience is derived from a specific industry," says the Asebuss representative.
According to Alina Vasile, country manager of Sheffield MBA, although the current crisis did not spare the MBA/EMBA industry, with the local market shrinking by about 50 percent at the beginning of it, things have changed rapidly. "One year after the turmoil started, the demand for such educational services increased significantly because people realized that they needed to invest in themselves, especially in hard times, in order to be ready for what would come in the future," says Vasile.
The demand for MBA/EMBA programs in Romania has been significantly dented by the difficulties that the local economy has faced since the beginning of 2008. By contrast, in Western Europe and North America interest in such educational services was raised by the crisis. "Professionals' need to invest in their career and upgrade their knowledge of management, and more available time are among the reasons," says Dutescu.
"In recent years, several Central European countries have become hot spots for MBA recruiting. One of the hottest countries is Romania. With growing international ambitions, many local firms are seeking MBAs to open up new markets, in energy, manufacturing and financial services," says Schlegelmilch.
Most popular programs
People choose MBA programs for the benefits they offer: networking, development of management skills and significant international exposure. "In my opinion the best and most sought after MBA programs are those that manage to impose high educational standards. An MBA program can show you the path toward professional success, but it cannot guarantee it," says Radulescu of Codecs.
"The Professional MBA with its various specialization options was one of the most sought-after MBA programs last year because for many future MBA students, the combination of classic MBA topics and specialization is an ideal solution," says Schlegelmilch. In Romania, the WU Executive Academy has offered the Executive MBA (Bucharest) since 2006 and the Professional MBA Project & Process Management since 2008.
Both MBA and EMBA programs have the same target: managers with at least two years of professional experience. The difference between the two programs consists in the approach to subjects and the entrance examination. "When choosing an MBA/EMBA program it is important to consider the level of colleagues and graduates. Executives look for detailed, multidisciplinary information and colleagues with a similar level of professional development. Such people rarely choose an MBA program over an EMBA one," comments Mihailescu.
Vasile of Sheffield says that the most sought after specializations are general and healthcare management, with the Sheffield Executive MBA having five specialization fields – general management, marketing, logistics, finance and healthcare management – at the moment. "Executives and non-executives choose an MBA/EMBA program depending on their specific needs. Some are interested in receiving a diploma while others see it as an opportunity for networking and new business. There are also people who decide to sign up to satisfy their need for ongoing professional development and to access new management methods and business models," says Dutescu.
At the moment there is huge demand for so-called crisis managers on the local market, who are able to cope with an unfavorable situation and propose and implement innovative solutions. There is also a need for managers that can reduce costs by increasing the efficiency of processes while they focus on launching new projects that bring money to the company. "Our students calculate their return on investment during the program. Usually this is reached in one and a half to two and a half years from the beginning of the program, most recently in the year after graduation. Their incomes increase by 50-200 percent. In addition to their higher salaries, graduates can get other increases in their income, from shares, etc," says Ioan.
Who foots the bill?
According to Radulescu, the number of managers that have financed their MBA/EMBA studies themselves has increased significantly in the last few years. "I think that this trend will continue in 2011. As for Codecs, 50 percent of the fees for new registrations in 2010 were paid by the employer and 50 percent by the student. This means an increase of 10 percent in the number of students that finance their MBA studies from their own resources," says Radulescu. As for Tiffin, Mihailescu says that 70 percent of the managers that sign up for its courses financed their program from their own cash. At present Tiffin University offers two educational programs in Romania that are accredited both in the US and Europe: an EMBA and BBA – Bachelor of Business Administration.
On the same theme, Dutescu says that about 70 percent of Romanian-Canadian program students pay for their courses from their own pocket. "This is similar to the situation in 2009 but different from 2008 and 2007 when the majority of our students were financed – partially or totally – by their companies," she says. As for the profile of the student body, Dutescu adds that 11 percent of Romanian-Canadian program students are entrepreneurs and about 10 percent of the final projects for graduation are plans to set up a business from scratch.
As for Asebuss, about 60-65 percent of its students are financed by their employers. "Besides, we can see this year an increase in companies' interest in supporting their key managers in an EMBA program. The reason is the diversity of industries, professional experiences and the direct access of students to multiple solutions, ideas and projects that are successfully applied for other companies," says Ioan.