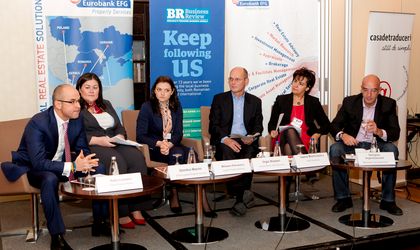 While "anything goes" was the motto of the local real estate industry back before the crisis, today it's a very different story. Relevance to customers and professionalism are now essential in the property game, said participants in the 12th edition of the Focus on Real Estate event organized by BR.
Simona Bazavan
Lack of financing and specialist training are two of the main issues Romania's real estate is dealing with at present, said participants. "I think the banks have been making no sense for at least the last two years. And they continue to make no sense. There is no such thing as financing from the banks. This is all wishful thinking," said Georgios Argentopoulos, CEO of Baneasa Developments, adding that one needs to look at alternative financing means. "There is money out there, there are developments to be made, there is a market here. Yes, there is a downtrend and it will continue because Romania follows Europe and Europe is in a huge crisis and will remain in a crisis because politicians do not make sense either, worse than the bankers," he went on.
The root of the problem is actually a matter of lack of confidence in Romania overall, following recent political events, argued some attendees. Local politicians need to "get their act together" in order for the country not to lose any more money.
Another problem which the industry is facing and which could be limiting growth perspectives is a lack of professional training. "There is no professional qualification in real estate. So far we have been doing business by learning, which when the market was growing was okay. But now, when the market is settling down on a not so positive basis, the need for a professional approach is greater than ever," said Ioana Momiceanu of RICS Romania.
Looking at what still generates growth, retail continues to be the main driver for the local real estate industry, despite its high seasonality, said Dimitra Marini, general manager of EFG Eurobank Property Services. New shopping centers have opened over the past year and there is room for more to come, said participants. But as in the other real estate sectors, there is little room left for speculative schemes and any project needs to be developed professionally, said Ingo Nissen, managing director at Sonae Sierra in Romania.
High Street shopping, too, is going to grow further over the coming years. In Bucharest the old center remains a hot spot. Right now it is a hub for cafes and restaurants but as soon as big fashion retailers open stores there many others will join them, predicted Mihaela Petruescu, director and head of retail at Capital Property Advisors.
Read more in next week's print edition