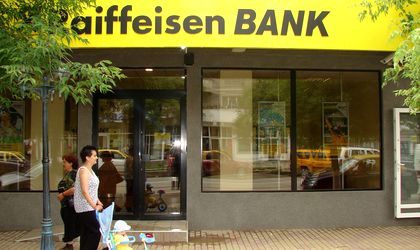 Net profit of Austrian Raiffeisen Bank grew by 16 percent y/y in 2011, driven by corporate lending and increased retail deposits. The lender's assets rose by 8 percent y/y to EUR 5.5 billion.
Operating expenses were up 3 percent y/y due to an increased contribution to the deposits guarantee fund and the 5 percent VAT hike, but additional revenue lowered the cost/revenue ratio to 63.1 percent last year.
"The good capitalization and diversified revenue sources allowed us to increase the bank income by 6 percent and continue our growth," said Steven van Groningen, president and CEO of Raiffeisen Bank Romania.
Raiffeisen's loan volume rose by 16 percent y/y to EUR 3.53 billion, while deposits gained 7 percent y/y to EUR 3.95 billion. Corporate lending grew by 20 percent y/y, while deposits lost 4 percent y/y. Lending to SMEs was up 26 percent y/y. Retail lending remained weak last year, but deposits rose by 15 percent y/y.
Provisioning for loans remained constant at EUR 48 million. The volume of non-performing loans dropped to 6.4 percent.
Treasury bills amounting to EUR 863 million, representing 16 percent of the lender's assets, ensured the proper liquidity of the balance sheet. Raiffeisen's solvency rate stood at 10.9 percent at end-2011.
In 2011, Raiffeisen had a portfolio comprising of 2 million retail clients, 100,000 SMEs and 8,000 companies. The network of banking units fell by 3 to 540 units, while banking personnel was reduced by 193 to 5,911 employees.
Ovidiu Posirca