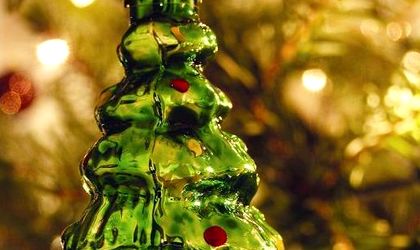 Times of crisis require desperate measures? Not across Bucharest, where locations both modern and traditional, luxurious and alternative, are coming up with creative surprises for everyone looking for suggestions on how to spend their winter holidays. BR has drawn up a shortlist of these locations, to suit every taste and budget or simply to inform a spur-of-the-moment decision for spending Saint Nicholas Day, Christmas or New Year's Eve.
Corina Dumitrescu
In a spirit of defiance of the financially-challenging times, we begin our review with a five-star hotel. Located in the proximity of one of Bucharest's best known symbols, the Romanian Athenaeum, the Athenee Palace Hilton will be organizing three brunches to celebrate Christmas. The first of these will take place on the eve of St. Nicholas Day, December 5, in Le Diplomat and Regina Maria halls, where children will have their own buffet, and face-painting and balloon drawing will be on offer. The charge is RON 210.
Next on the list of the Athenee Palace Christmas brunches are gospel and jazz, to set the appropriate atmosphere for winter celebrations. On December 12, Le Diplomate will be hosting "A Merry Gospel Brunch", where special guests will be the US Raise Gospel Choir, as well as Alexandra Ungureanu and her band. On December 25, the Merry Christmas Brunch will take place, accompanied by the Jazz Challenge group. A special corner will be set aside for children at the event. Each event costs RON 210.
New Year's Eve will also bring themed celebrations. The hotel has 200 seats available for its New Year's Eve party, equally divided between the Italian restaurant Roberto's and Café Athenee. Roberto's will dedicate its celebration to Sophia Loren, as the restaurant will be offering Italian music and cuisine to its guests. A live cover band will set the atmosphere, accompanied by pasta delicacies and special shows on Italian cuisine. Attendance at Roberto's will cost RON 750, though guests also booking accommodation will qualify for a special offer.
Café Athenee will set a more glamorous and laidback tone to see in 2011, at the cost of RON 350 and only for adults. A DJ, saxophonist and percussionist will set the mood for the evening, during which finger-food will be served, among other bites. Hotel guests may also spend the night at the English Bar, which will celebrate the 1980s with a disco. Reservations for the hotel's events can be made with a deposit two weeks beforehand, according to available seats.
Sticking with the five-star theme, Howard Johnson Grand Plaza Hotel, found in Bucharest's own Beverly Hills, Calea Dorobantilor, is preparing various celebrations under the Winter Stories concept. The Story of Saint Nicholas will be opening the winter festivities. Taking place on December 5, it consists of a brunch where children, the special guests, will be entertained by face-painting, spin art, balloon art, as well as a popcorn machine, all accompanied by live music. Prices are RON 95 per adult and RON 45 for children over seven.
Traditional Romanian brunches will be served at Howard Johnson on December 12 and 19, featuring stars of the local cuisine such as "ciorba" and "sarmale", for the cost of RON 140 for adults and RON 70 for children. Christmas-Flavored Tales will bring more options for Yuletide, with a brunch where children are the main focus, with features including a puppet theater. Live music, Romanian cuisine and some intricate Japanese specialties will also be part of the menu for the cost of RON 140 for adults and RON 70 for children.
The Story of Avalon Delights is another option for spending Christmas at Howard Johnson, with Romanian specialties at the Romanian Country Christmas event, at a cost of RON 150 per person, or international cuisine at Avalon Christmas, where the cost is RON 200 per person. Part of the same Christmas celebration, A Japanese Story Benihana Christmas Menu focuses on Japanese cuisine, for RON 360 for two, while traditional Christmas goodies can be found in the hotel's pastry shop.
Located on Calea Septembrie, the JW Marriott is also preparing five-star events for this winter's celebrations. A traditional Christmas lunch and dinner in the restaurant will cost RON 170 (VAT included), and feature international cuisine, such as lobster, crab risotto and file mignon, among other options, to a backdrop of Christmas carols, live music and children's activities. More than one party will be taking place on New Year's Eve at JW Marriott: Stardust Boulevard, in the Grand Ballroom, costs RON 870 per person as does Fame Boulevard, in the Constanta Ballroom. Stardust Boulevard will be hosted by the local Frank Sinatra, Horia Brenciu. Fame Boulevard is described as a "flamboyant and contemporary choice" and is hosted by Vicky Jackson, who will perform the songs of Pink, Lady Gaga and Lily Allen. Those who prefer club music can attend the Champions VJ Party, for the cost of RON 400, VAT included.
Another five-star hotel in Bucharest, Carol Parc, located on Aleea Suter, is also preparing for winter celebrations. The venue offers its flagship location, Palatul Suter restaurant, which dates back to 1906 and has been completely restored. Customized menus here are prepared by chef Mihai Ionita and may be adapted according to preference, to match the desired budget or theme. The Piano Lounge provides live music and a fireplace atmosphere for the fee of EUR 150 per hour, plus VAT, while live piano is available for EUR 100 per hour. Dinner in the Poem Restaurant offers a wide array of set menus, starting at EUR 46 per guest, VAT included. Special offers are available at the hotel over the Yuletide period.
If British parties are your festive cup of tea, Mojo Music Club, located in Bucharest's old center, might be the answer. Michael Fraser, one of the founding partners, says that after last year's successful New Year's party, not too many alterations will be made, so as to maintain tradition. Fraser says, "For RON 250, each person gets to experience Mojo at its best. Our fantastic band will be performing, and people can also sing away the night up in our acoustic lounge if they prefer. We will have our dedicated modern DJ to play hits in between sets and throughout the night. Most important maybe for customers though is the open bar, delicious all-night buffet and Champagne at midnight." As for Christmas, the location is available for booking by interested companies, on the remaining available dates. Features include access to the open bar, finger food and even the Mojo band, the latter at a cost of EUR 600.
In advance of Saint Nicholas day, on December 5 Mojo will be hosting its second British Comedy night, for which tickets cost RON 50. Comedians Yianni Agisilaou, Hattie Hayridge and Geoff Whiting will be performing.
Some locations in Bucharest are closing their doors on New Year's Eve, and will resume service on the morning on January 1. This is the case at Grand Café Van Gogh, located on Smardan Street, which, owner Jerry van Schaik predicts, might be one of the only places in Bucharest where customers can eat on January 1, enjoy brunch and indulge in some after-party champagne. The location is also available for Christmas parties for smaller companies, through the All Around the World Tasting Christmas concept, where 26 ways of cooking can be experimented with, as part of various cuisines from around the world.
The 80s seem to be a recurring theme for this year's winter celebrations. One of the newest hip locations across Bucharest, The Ark, is inviting visitors to dress as their favorite 80s celebrity, with the chance of winning a VIP ticket to next year's Roxette concert on May 30 or to Depeche Mode's Andy Fletcher's DJ set at The Ark Underground, on January 29. The menu will be prepared by The Caterer, with chefs responsible for satisfying the culinary preferences of Guns n' Roses, Metallica and even Madonna.
By way of Christmas celebrations, representatives say, the location offers a wide array of corporate events to interested clients, in either The Ark Lounge or The Ark Underground. The Ark is leaving the details mostly to the customer's discretion, and can offer classic parties or more complex ones, which may also include decorated Swedish buffets, 3D projections, live bands and tribute artists, among other things. Prices vary depending on requirements.
Bucharest's sole spot covered by a retractable roof, Sky Bar, is also gearing up for winter celebrations, representatives say, as the roof has been pulled out and the location heated. On Christmas, the venue is set to offer traditional homemade Romanian delights, where even in-house "cozonac" might be part of the menu, during the party that will probably be held on December 22-23. On New Year's Eve, a private party can be organized for one single group.
Corina Dumitrescu