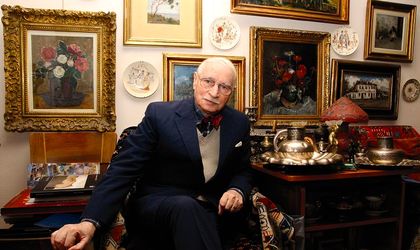 The financial turmoil has been auspicious for the art market in Romania, which reached EUR 8.3 million in 2010, a 124 percent growth compared to 2009's figure of EUR 3.7 million. Auction houses struggle on an expanding market, while art collectors do not let themselves get too easily impressed with glamorous events for the local elite. It will take years for local art to reach its real value, say specialists, which sets the stakes even higher.
Corina Dumitrescu
Vasile Parizescu (in picture), founder and president of the Society of Art Collectors in Romania (Sociatetatea Colectionarilor de Arta din Romania, SCAR), as well as a nationally and internationally acclaimed painter, has been collecting art for 58 years. Visitors to his apartment in downtown Bucharest may be overwhelmed to discover works of art of immense value. Paintings lie so close together on the walls that they almost form an expensive wallpaper. The likes of Luchian, Ressu, Petrascu, Ghiata and Pallady, among others, are just a few of his most prized possessions.
He confesses to having been an ardent collector throughout his entire life. Currently, art seems to be one of the most profitable areas of investment in Romania, along with gold and real estate, for example, Manuela Plapcianu, CEO at Artmark auction house, emphasized during a recent press conference. Parizescu, however, has never sold any painting in his collection, keeping a he made to his late wife.  After his death, he wants some of his works to go to his children and the rest to the Art Museum in Braila. "I have never considered the financial aspect of my passion," he emphasizes. "I divide collectors in two: those who collect from joy, for their own pleasure, for the house interior that they wish to create in order to get their spirits up, and art 'intermediaries,' or those who regard art as a source of investment."
Fortunately, the painter adds, the first category is the dominant one since, after the revolution, some invested in art for financial purposes, but later became enraptured with this field and moved into the first group.  This occurs in around 40 percent of cases, Parizescu estimates.
Back when he began collecting, art was also available for purchase in installments, which unfortunately, he says, is no longer the case, thus limiting some people's access. However, Parizescu believes Romanian art is currently underestimated.
"One cannot sell a piece by Luchian, who has only created 700-800 works, for EUR 130,000-150,000. Art works have been sold at auctions that should not have gone below EUR 800,000-1,000,000." Parizescu attributes this to both the financial climate, as well as buyers who want a bargain.
When deciding upon the value of an item, Parizescu takes into account its beauty: "I don't care about the name of the painter, that comes second." His opinion is sought by art aficionados across the country to confirm a piece of art's originality. Fakes are not unheard of, so he advises collectors to be wary.
One art collector who chose to remain anonymous said that he too collects out of love, yet without ignoring the financial aspect. Mihai Oancea, another collector, makes a similar point: "I like a work of art, I am attracted by the emotions it conveys and the joy it brings me when I look at it. Later on, I consider information concerning market quotes, indices, forecasts. Of course, I am happy to find out that the work I like has investment potential, but nothing equals the intrinsic value of the piece."
 Switching from the collectors' to the auction houses' perspective, the art market will reach somewhere between EUR 10-15 million, Artmark CEO, Manuela Plapcianu, predicts. Artmark had a EUR 5.5 million turnover last year and representatives say it is currently market leader among its competitors, with a 68 percent share. For 2011, sales are expected to reach EUR 9 million. However, "these estimations must be regarded in the context of current information and of prognoses which have their own degree of vulnerability, considering the times and the emerging art market," cautions Plapcianu. A former Bancpost CEO, Plapcianu explains her career change: "Artmark does not just mean an auction house and a cultural center. The Artmark mission is building a functional art market in Romania. By assuming this role, we have also taken on the role of conception, development and marketing of specific market tools: indices, indexes, investment funds, etc. In any business, the ingredients for success are very much alike."
Concerning the undervaluation of local art works, Plapcianu sees the current situation as indeed "aberrant," but caused by the current supply and demand ratio. This is, however, also regarded as an opportunity by the CEO, as it makes art more affordable. Although frowned upon by other players on the market, Artmark introduced its own art index in 2009, which it aims to audit and turn into a market measurement tool this year.
The need for such an index is outlined as follows by the CEO: "One of our tools to stimulate supply is, naturally, the development of demand, by explaining to beginners the investment potential of an art purchase, which is more pronounced as the Romanian art market finds itself at a substantial distance from its value, like any emerging market." The index includes 1,000 Romanian artists, the most transacted of the last 15 years.
Goldart, another local auction house, estimates it has reached a turnover of EUR 1.4 million, similar to the sum of 2009. Luminita Ghildus, Goldart president, agrees that local art is currently underestimated. In spite of this, the market is still doing very well in full crisis, as the facts and figures show. The auction house also got involved in supporting the further development of local art beyond the borders of Romania, having had, since 1996, a gallery of contemporary art at Athenee Palace Hilton Bucharest. So far, 18,000 works of art have left the country, finding new homes in Europe, America and Asia. On the hotel's hallway, emerging artists have the chance to display their work, whether it consists of painting, graphics, collage or photography. Photography and graphic works have been put up for auction by Goldart, Ghildus adds.
A portrait of the local art lover? In the words of Plapcianu, he or she is "active, dynamic, curious, open, educated and with above average income," as well as very responsible towards the purchases. To Ghildus, the art lover is quite the opposite of the cliché that Romanian society seems to have created, "an extravagant outcast who throws away his or her money." On the contrary, art lovers are "sensitive people, either rich or poor, doctors, lawyers, businesspeople, politicians, professors or simple workers, young or more mature, who are thoroughly connected to the cultural environment through education and respect." Bucur Mihail Papagheorghiu, manager of Alis, the first Romanian auction house, considers it impossible to define local art aficionados. "They are people of all kinds, with the most varied backgrounds and tastes, united by a financial surplus that they wish to direct, regularly or sporadically, into art."
Although a work of art's trajectory is not followed after its purchase, the auction houses educate their buyers in the best preservation of their investments. Many of the interviewed specialists agreed that some works belong in galleries, as they should be part of a country's heritage. As one art collector said, "Most masterpieces should be found in museums and those collectors with an important number of heritage works should be supported by the state in order to display in exhibitions." Two of the works auctioned last year have been loaned to museums across the country: Nicolae Grigorescu's "Carul cu Boi" ("Bullock Cart"), which can now be found in the Brukenthal Museum in Sibiu, and Nicolae Tonitza's "Golgota," now on display in Ploiesti, in the Ion Ionescu-Quintus museum. Papagheorghiu pragmatically outlines what determines the price of an artwork: "artistic quality, state of conservation, author – subject – epoque adequacy, exhibition presence, origin." Papagheorghiu says that few foreign buyers are active on the scene. However, an art collector in Germany rated Romanian art as having the best price/quality ratio in European art.
As art collector, painter, writer and scientist Vasile Parizescu so strongly emphasized, Romanian art finds itself very much underrated at the moment. Inter-war painters, whom the collector considers superior to their French counterparts, are one such example. However, the French refer to Romanian painters as "L'Ecole Francais" (The French School). Both collectors and art houses alike are looking forward to the day when local art will find a better place on the international art canvass. However, perhaps contemporary artists will be more fortunate, since, in the words of Oancea, "they have all the necessary instruments to build their artistic identity, on the basis of which they will play an important role. It all depends on the projection that new generations take upon themselves."