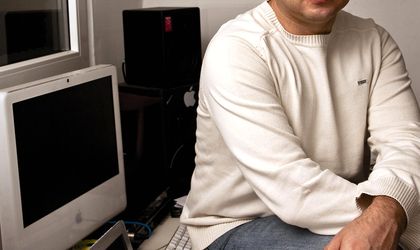 With an estimated turnover of EUR 350,000 this year, Sorin Popescu intends to develop his production house further and hopes the market on which it is active will reach a growth potential similar to that posted in 2007 and 2008 two years from now.
Anca Ionescu
For Sorin Popescu, general manager and owner of production house Sud-Est Production, his entry into the entrepreneurial world was a natural step. With a professional background in journalism, he learned the secrets of his job at TV station Soti, working on a television program that went on air at midnight. "At Soti I participated in my first specialized classes and workshops about TV journalism, led by American teachers," remembers Popescu. In addition to this, he learned the ropes of journalism from Carmen Dumitrescu, whom he considers to be one of the best investigative reporters of public TV station TVR. "She was 60 and I was only 20. She liked me and so I could go to shoots. She also helped me a lot, enabling me to get started in my career," adds the GM.
From 1996 to 2001 he worked for ProTV as director and audio-video producer at the TV station. After he left ProTV he worked with advertising agency GMP, as art director and BTL director. Then from 2003-2006 he worked both as a freelancer and as creative coordinator of self-promotions in the graphics department of B1 TV.
Next came a crucial point in Popescu's journey to entrepreneurship. "In April 2006 I established my own production house, to which I was fully dedicated. Besides, my first customer for Sud-Est Production came as a result of my freelancing activity and as a sequel to it," says the young businessman. One of the projects he started as a freelancer allowed him to secure a better contract. And it was then that he realized he needed more resources. "It was the natural evolution of my business and also a step forward in my professional life. Besides, I was toying with the idea of being my own producer. It was the right moment and I managed to make this step," says the owner of Sud-Est Production.
He adds that the company name came in a moment of inspiration. "The firm's headquarters is in the South-East of Bucharest; the city is located in the South-East of Romania and Romania is in South-Eastern Europe," explains the businessman. Domo, Porsche, Hyundai, Bosch, Wizzair, Greenfield Residence, Bonduelle, Margaritar, Marex, Toshiba, Radiocom, OTP Bank, BCR, Samsung, Mentos, Fruitella, Howard Johnson and Suzuki are among the customers that form Popescu's portfolio.
Sud-Est Production specializes in offering advertising services (radio and video spots), presentation films, animation, recording, processing, sound post-production, TV, broadcasting, CD launches and events. "In December 2009 we launched our largest project so far, called 'the Great Romanian Actors Collection' (Colectia Mari Actori Romani). The idea of this project came from the need to celebrate some remarkable careers and to show to the public high quality Romanian art," says the entrepreneur. The project aims to show viewers both the dramatic talent and personality of some of the greatest artists. The first CD from the Great Romanian Artists Collection – Butterfly in a gold leash (Fluture in lesa de aur) – is from Mircea Albulescu while Miscellanea features Radu Beligan.
Asked about the most difficult moment his business has faced, Popescu says it was when he had to split from his business partners. "Unfortunately I have done this twice so far. I am now the sole shareholder and the business works very well this way," says the owner of Sud-Est Production.
If he started another company, he wouldn't change anything because he has learned significant lessons from each experience he has had. "They helped me a lot in doing business," adds the businessman. He adds that each decision he made was precisely calculated to have a long-term positive influence.
As for the challenges his business has faced, Popescu says that the Romanian audio-video house production market is very fragmented, with both several large players being active – Castel Film, Multimedia Est, Saga Film and Tandem Film – as well as many small companies. "Each advertising agency has long-term contracts with two or three production houses and works on smaller projects with other players. In the last case, the selection is very tough with the final decision not always taking into account only the quality-price ratio," says Popescu. In his opinion, a start-up in this field would struggle to impose itself on the market. "Our advantage is that we have known since the beginning how to choose a market niche. Plus, we have never wanted to compete with big players," says the entrepreneur.
Asked about the market share his business has, Popescu says it is hard for him to estimate it because Sud-Est Production is active in different fields. It does not make only TV and radio spots or print – services that are typical for a traditional production house. "We are also involved in CD production, and so we compete with some music production studios," he says.
In the future, Popescu says he intends to maintain the same level of company turnover from one year to another and to develop further the Great Romanian Actors project. "We also have a very detailed plan of new business. We intend to reach some important marketers that don't know us yet. I hope the local market will reach a growth potential similar to that posted in 2007 and 2008 two years from now," concludes Popescu