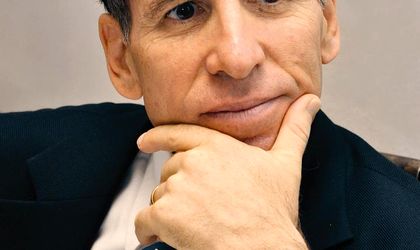 From being hung up on by state representatives to training an entire staff from scratch, Aviad Meitar, who started the Pepsi business in Romania in 1991 and is now chairman of the Pepsi bottler in Bulgaria, has travelled Romania's road to market economy. His experiences are chronicled in his book – An Unimaginable Journey –
which he came to Romania to promote. While in town, Meitar shared some of his stories with Business Review.
Simona Fodor
What were the main challenges in making the shift from a barter-type business to a bottling one?
The barter business basically meant that Pepsi had no involvement with the three bottlers producing Pepsi. It was selling concentrate. It was not a proper bottling operation. When we took over we had to do a number of things: improve production and create disciplines that did not exist such as a sales organization. We had no companies that we could hire away from. We had to teach people from scratch what it means to go to a restaurant or a minimarket and explain to them how to do sales, distribution and marketing.
When we took over, we had a group of employees mostly in production. We made the commitment to keep them, so we had to train them in other areas to make things work. It was a big challenge and the early years were difficult, but exciting.
Would you do anything different if you could?
I'm sure there are small things we could have done differently, but we had to work within certain parameters: we had limited resources, which I couldn't change. Coke came with USD 300 million, we had USD 5 million and we had to think hard how we spent every dollar. I don't think we would have done things dramatically different. For instance, we thought the fact that Pepsi had existed here before was a big plus because consumers knew Pepsi but not Coke. But that was actually a negative thing because people's image of Pepsi was poor because it was part of the communist regime and only available to people high up in the regime. Plus, we had old bottles. Coke came in with everything new. They built a new image from scratch, so many people thought in those early years that Coke was the future and Pepsi the past. It took us a couple of years to recognize that. We had to rebuild the image, which we should have recognized earlier.
Why was Romania an interesting market to Pepsi before 1989 and after?
Coke was an international company from before the Second World War, with a strong presence in France, Germany and Japan. Pepsi became an international player in the 60s so it was looking for areas where it didn't have to fight Coke. Eastern Europe was maybe one of the few such regions. So they said, maybe it's not the kind of business we have in the UK, but we sell concentrate, we get wine, we sell the wine, it's a good deal for us. Of course, they recognized that this proposition had serious problems, but that was the only way to operate under the old regime here, in the former Soviet Union, in Bulgaria. They had a barter deal all over Eastern Europe, mostly around wine. That's how they developed an international trading arm for wine and spirits which existed until around 1980. After 1989, when the whole region opened up, they wanted to take advantage of the fact they were already there so they were looking for partners here, in Hungary, Poland, the Soviet Union and so on. In Romania, few people were interested because the country was not a priority for investors, unlike Poland, Hungary, the Czech Republic and Russia – luckily for us. We were able to get the entire business which is unusual for people with no experience and not from the country. Usually Pepsi prefers a local company that has expertise in the business. We had neither. There was not a long line of investors waiting to do what we did.
How did you find interacting with the state authorities while trying to set up the business? Has anything changed over the past 20 years?
Initially it was very frustrating. I tell the story in the book about how we were dealing with the Romanian Agency for Development which needed to authorize every single deal with foreign investors. One day, I was talking with one of the vice-presidents over the phone and the line went dead. I thought there was something wrong with the phone, as it wasn't the most advanced technology. I walked to his office, which wasn't far, and I went in and realized that there was nothing wrong with the phone: he had just hung up in the middle of our discussion because he wanted to do something else. So the business culture here, especially with the authorities, was very difficult. Many of them were senior people from the old regime, or people with an old regime mentality. But fortunately for us, we didn't have to deal too much with state authorities.
I'm sure that it has changed because a lot of the things are now handled by younger people who were brought up after the revolution, with a different mentality, and they understand that foreign investment is something this country needs. But I haven't been dealing with state authorities in this country for a long time.
How did you go about recruiting and training people?
In some cases we had no choice but to hire outside the country because it was obvious that we didn't have local expertise. Marketing almost didn't exist in this country before 1989 so I couldn't put an ad in the paper asking for marketing managers because no one had that experience. And then we used recruitment companies but it was also word of mouth.
How did you tackle the competition with Coke?
Like in every market, you fight for every account. If you go to a restaurant, café or hotel, you have to convince them why they should have your brand instead of the competition. Early on, these businesses did not realize that they had a lot of power over Pepsi and Coke. For instance, we needed refrigerators in these accounts and initially we didn't have the money. We bought them but sold them to these accounts. Fairly quickly they realized that in most parts of the world Pepsi and Coke give these refrigerators for free so this became a big problem. Coke was able to buy tens of thousands, we were only able to buy a few thousand, so of course we were only able to be in a few accounts.
It was very difficult. However in the early years the market was growing so fast that it enabled both companies to grow. From 2000 there were more brands on the market, but we had a lot more experience, the foundation of the business was a lot more solid, and we were able to grow faster than the competition by being a more dynamic company, taking decisions more quickly.
How would you describe the experience of setting up a business in a market like Romania was back then?
There were the aspects of dealing with state authorities and finding the right partner because we didn't want to start a factory from zero. Of course, you need to learn a lot about the local market, analyze the resources you need to bring, but I think the main challenge was identifying the right partner and creating a partnership.