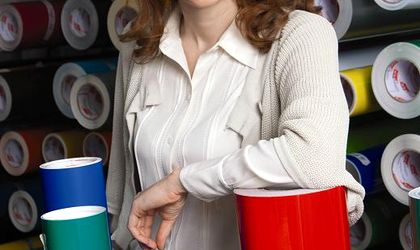 Lavinia Pop joined the family business, Pin Plus Pin, at a young age and has been devoting her know-how to it ever since. She talks Business Review through the company's journey from sign-maker's to importer and distributor and reflects on her own contribution and management style.
Anca Ionescu
Lavinia Pop, sales manager and co-owner of Pin Plus Pin, has spent her entire career working for the family business, which is based in Baia Mare.
The main company in their portfolio is Pin Plus Pin, which specializes in the import and distribution of materials
and equipment for the advertising industry.
"I started as a teenager helping my parents with different back office tasks. But my first 'official' position was as a sales representative in our Bucharest office," remembers the businesswoman. After graduating from university abroad in 2003, she returned home and one month later was put in charge of the same office. And Pop has been running the office and warehouse in the capital ever since.
Her family's business story started 25 years ago, back in 1985, when her father set up a sign-making shop. In time, because some of the required materials were not available on the Romanian market, Pop's father started to use different ones brought in from Hungary.
And because other sign-makers wanted these materials, Pin Plus Pin became an import and distribution company rather than a manufacturing one.
"My mother quit her job in a pharmacy and joined my dad in building the company. In 1994 we became the first authorized distributor in Romania for Oracal self-adhesive films, from Germany. They became and remain the top-selling self-adhesive films in Romania," says Pop. The company's range of products has expanded over the years to include further materials for the advertising industry. And things didn't stop here: Pin Plus Pin started to import large format printers, cutter plotters and laser engravers back in 1999 in order to enrich the company's portfolio.
The idea to go into business came as a result of her father's professional background. He was a graphic designer and after working in several positions as an employee, he decided he could express his ideas better if he were his own boss, and got his license to practice the art of decorative painting. As for the main difficulties the company has faced, Pop says it started to feel the current financial crisis in June 2008.
"The first effect was the cash flow problems of our customers. Sales were still going up, but it was getting harder and harder to get our money back. Even today, this remains the biggest challenge of this financial crisis for us," says the young entrepreneur. But there are also other obstacles for Pin Plus Pin, such as the switching of customers from premium products to lower quality or low-end products in order to meet the price levels that the end-user or consumer is willing to pay.
"For me, as a manager, the biggest challenges were to find ways to improve productivity in our company while still keeping our employees motivated," says Pop. Like many other young entrepreneurs she graduated from an MBA program – the Romanian-Canadian one – which has proved a great help in running her family's business.
"First of all, I learned that in every economy there are highs and lows, and it's all part of the natural economic cycle. Plus, there are different approaches to get you through each stage. It's just a matter of adapting your business decisions to each step of the cycle," says Pop. In addition, the MBA afforded her access to successful businesspeople with 20 or 30 years of experience in different companies all over the world. And the case studies that formed part of the MBA program touched on measures such as cutting costs, reducing the number of employees and increasing productivity. "When I was forced to make some tough decisions in these areas, I knew where to find relevant information," says Pop. Last but not least, she was able to benefit from the knowledge of managers with international experience in different fields.
Asked to nominate the most difficult moment since she joined the family firm, Pop says it was at the beginning of 2009 when the company had to rethink its way of doing business, in order to adjust to the new market conditions.
"If I were to start my own business, I would focus on negotiating excellent terms for the contracts with my suppliers. I would take the tough decisions at the right time," she says.
Competition in this particular field is fierce, says Pop. But she thinks that a very good price-quality ratio for their materials and equipment, their personal relationship with their customers
and their ability to answer many of the questions related to different challenges they face in their projects are what differentiate Pin Plus Pin from the crowd.
As for the future, Pop says her company has bold plans for this year but that she is the kind of entrepreneur who prefers to put them into action first and then talk about them afterwards.
editorial@business-review.ro