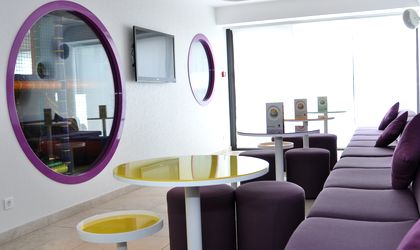 120 Strada Drumul Potcoavei, Pipera
0743 172 017
Phill, a new gourmet restaurant that opened recently in the Pipera area of Bucharest, marked its official unveiling in conjunction with the launch of the Romanian edition of the cookery book Ramsay's Best Menus, by colorful Scottish TV chef Gordon Ramsay.
The glitzy bash was attended by the cream of the crop of the local and international business and Romanian artistic communities, including names from the world of acting, music and TV presenting. Those who braved the snow-bound journey to the northern suburb of Pipera were greeted with a selection of delicacies inspired by the mercurial Ramsay's culinary creations.
Journalist and writer Dan Boerescu of bucatarescu.ro, Antonina Sociu of sweet nothings-culinare.ro and Antena 1 anchor Anca Rusu, of printesapolonic.ro, had put together a menu featuring some of the celebrity chef's dishes, which were served up along with Phill's own branded food and washed down with Lacerta wines.
Boerescu and Rusu addressed the attendees at the launch event, along with Sorin Chirita, Phill general manager, Raluca Tarnauceanu, marketing coordinator at Editura Litera, publisher of the Romanian-language edition of Ramsay's Best Menus, and Adina Scortescu, food editor of the local version of the magazine Good Food, which was also involved with the event.
Housed in a large villa, Phill takes its name from the four-meter elephant guarding the staircase to the venue. The interior, the work of architect Robert Marin of Nuca Studio, embraces a contemporary style, featuring elements of pop culture such as manga and vinyl toys. It's a place of clean lines and bright colors, suited to Gordon Ramsay's modern brand of gastronomy.
According to the owners, the restaurant's menu was designed to reflect a global journey, with references to countries with top culinary credentials such as France, Italy, Japan, Thailand, Austria and China. Dishes on the menu include: Sashimi new style, Black Angus beef, Miso Black Cod, Tartar de Boeuf, Tournedos Rossini and Linguine all'astice, put together under the auspices of chef Prevenda Hristu. However, the owners plan to overhaul the menu at least twice a year.
The English edition of Ramsay's Best Menus came out in 2010. The book is a collection of 52 menus, or 156 different recipes, that a creative chef can combine in 140,000 ways.
One useful feature for home chefs is its design – with an approximately A4 format, the pages are sliced into three parts horizontally, allowing the reader to select any starter, main course and dessert and have all three visible simultaneously when cooking, with no need for flicking between pages.
The was conceived as an accompaniment to the Scottish chef's TV series Ramsay's Best Restaurants, which focused on the UK's favorite international cuisines: Italian, French, Spanish, Mediterranean, British, Chinese, Thai, South East Asian, Indian, Moroccan, Mexican and Middle Eastern. It includes recipes drawn from these gastronomies, as well as Ramsay's special seasonal menu suggestions.
Each recipe, which is expressed through a simply explained method, specifies the number of servings and complete ingredients, while overhead photographs of the end result indicate what the novice chef should be aiming for. Accompaniments and essential basic recipes are also included.
Debbie Stowe