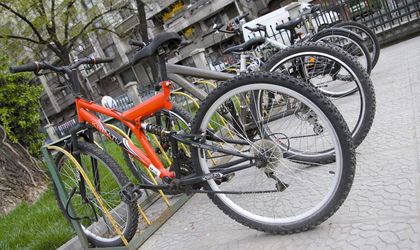 Bucharest is now in a painful transition period, from an unfriendly, car-dominated city into a European capital where alternative traffic should be allowed and respected. Paradoxically, just as efforts are underway to give other parties, not just drivers, more rights, along comes the so-called 'angry driver syndrome' which is taking a heavy toll on the country's streets. Where do bikers stand in all this? It appears some new bike rental/sharing centers will open in town, for their leisure.
Otilia Haraga
Right at this moment, efforts are being made by several NGOs in collaboration with authorities for a few bike rental/sharing centers to open, mainly in Bucharest's parks.
However, some of these NGOs declare themselves disappointed by the lack of interest from the powers that be.
"I would have liked to have good news from the authorities regarding the infrastructure necessary for riding a bike and the legislation specific to this domain. Unfortunately, our enthusiasm and the growing appetite for cycling has not materialized into concrete measures, but only promises, which are plentiful in all domains," says Stefan Dinculescu, administrator of Raitabike rental center.
"While in more and more European cities cycling has become an alternative to urban transportation, we have to make do on improvised routes on the pavements, which are also clogged by parked cars and various unfinished ditches. But we won't despair!" he continued.
According to Corneliu Belciug, manager of programs at Green Revolution NGO, which opened La Pedale bike sharing center, things are looking good in parks, where the cycle lanes are marked in a coherent way. Currently, no fines are given to drivers who park their cars on cycle lanes.
"As long as the City Hall does not solve the problem of parking, people will use this argument to park their cars wherever they want. Also, the problem of flower kiosks which put their merchandise across the cycle lanes should be dealt with," says Belciug. Still, he says the lack of civilized behavior is a common guilt and "until something changes in our mind, the city will not look different".
A working group which comprises representatives of non-governmental organizations is lobbying for biking to develop into an alternative means of transportation. These groups work directly with the City Hall to find solutions and create a legislative framework for cyclists.
Recently, subway company Metrorex submitted for debate the need to allow access with bicycles in the subway, mainly at weekends. The firm is also interested in setting up cycle racks, to which people can attach their bikes for safekeeping. "If this measure is adopted, Bucharesters will be able to combine cycling with the subway, so that they can travel longer journeys with non-polluting transportation systems," says Anamaria Bogdan, communication manager at MaiMultVerde, the NGO which opened the Cicloteque bike rental outlet.
Cicloteque plans to open two more bike rental centers, most likely in two parks. Discussions with the authorities on their location have not reached a conclusion yet.
The first opened by Cicloteque in 2008 was the center at the Faculty of Law, which will continue to function this year as well. At this point, Cicloteque has a fleet of 150 bikes.
Last year, approximately 8,000 people took the bikes for a ride. Of these, 1,200 were subscribers and 6,800 leisure users, who rent the bikes for a few hours. Compared to 2008, three times more people used the Cicloteque bikes, which suggests that cycling has sparked Bucharesters' interest.
"We are optimistic and believe the number of people who rent the bikes could be double this
year compared to 2009," says Bogdan. Green Revolution aims to stretch the bike sharing concept at the level of the entire capital with a new project called I'Velo.
On May 9, three I'Velo centers will be opened, two of them in Herastrau Park and one in Tineretului Park.
In the first stage of this project, Green Revolution, I'Velo will have 400 bikes, while later in the year another 350 will be brought in. In the second stage, new centers may also be opened in Izvor, Carol and IOR parks.
With the opening of the new centers, Green Revolution will have students working summer jobs, 15 in La Pedale and 50 in I'Velo locations.
La Pedale, the first bike sharing centers that Green Revolution opened last year, are due for opening on April 10. Currently, there are two La Pedale centers, one in Kiseleff Park and one in Herastrau Park. Last year, La Pedale had a fleet of 150 bikes but this year another 100 will be brought in. In just three months, more than 23,000 people used these bikes.
Currently, Raitabike has one bike rental center near Cismigiu Park. "We have been aiming ever since last year to open another center in Bucharest and we hope this will happen soon, in a location that is at least as attractive as this," says Dinculescu.
At the moment, the center has around 48 bicycles available, city-cruisers and mountain bikes. "We have the entire range of sizes from 13 to 21 inches," he explains.
Dinculescu says it is hard to evaluate how many people rented bikes last year since apart from private clients, Raitabike has various collaborations with companies that organize team buildings, eco organizations, and clubs for outdoor activities. "As far as private clients last year are concerned, I estimate there were around 3,400 of them. We have proposed this year a minimum 40 percent growth in the number of users," he said.
So, in terms of options, things are looking up. It remains to be seen what the response of the authorities and of the other traffic participants will be.