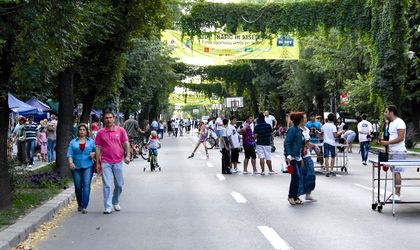 As the temperature rises and beach holidays loom, thoughts turn to getting into shape for summer. And there is no shortage of ways to work out in the capital to suit every taste and pocket – from the gym and dance lessons, to fencing, canoeing and wall climbing, by way of more accessible open-air sports such as biking and rollerblading. Meanwhile, children have their own ways to use up their surplus of energy. BR packed its training kit and set out to review some of the top activities.
   Corina Dumitrescu
As the temperature rises and beach holidays loom, thoughts turn to getting into shape for summer. And there is no shortage of ways to work out in the capital to suit every taste and pocket – from the gym and dance lessons, to fencing, canoeing and wall climbing, by way of more accessible open-air sports such as biking and rollerblading
Take your pick: kickboxing, zumba or having a splash?
"Our most popular activities are those in the Ice&Fire area, which includes pool activities. We run classes for both children and adults and swimming lessons," says Andrei Simion, manager at Orhideea Health & Spa. As the holidays near, however, many clients are focused on getting their bodies beach-ready. "In summertime, the fitness department organizes intensive spin classes, under the guidance of a professional trainer. We also offer personal trainer sessions, containing elements of contact martial arts, fitness, jogging, rugby and stretching," adds Simion, noting that both fitness and swimming classes are available in English as well as in Spanish.
Children are not overlooked, as they can take part in swimming classes, as well as stretching, physiotherapy and medical recovery. "Currently, the swimming department has 206 subscriptions," continues Simion. He adds that since June, the spa and fitness center has been offering a 50 percent discount on all of its services.
Pilates is also a popular choice among those who want to stay in shape and burn excess calories. Cori Gramescu, instructor at Lady Fit gym, says that the women-only center's most popular activity is UltimatePilates, which has 10-12 participants per hour. Unfortunately, during the summer the gym operates to a more limited schedule as its instructors and trainers take their holiday. All trainers can speak other languages, such as French or English, when necessary, Gramescu continues.
Elsewhere, more intensive training sessions are also available for stressed executives. "Very popular and, at the same time, very efficient activities are the group training sessions (the aerobics classes), especially the high-intensity ones, like Kickbox, Combat Force and toning classes. These include Pump, X-fit express and Booty Express, which were specially conceived by our program directors, Peter Ambjorn and Per Markussen," says Gabriel Vasilescu, chief operating officer at World Class International. These classes are attended by an average of 30-75 participants per session, which is also the case for indoor cycling, regarded as one of the most efficient means of weight loss. Also, all of the company's instructors can speak English. Both the private and corporate sector are catered for.
Nor are children overlooked: the World Class Junior program is led by Tonkins Anderson. Vasilescu says, "This program was specially created in order to teach the basic elements and impart deeper knowledge of fitness through a wide variety of fun exercises. It contains activities that focus on agility, coordination, resistance, balance, speed and force, at the same time boosting self-confidence and helping to achieve a healthy lifestyle." Children's activities include dance, ballet, gymnastics, karate and swimming. Usually, there are 20 children per class.
Summer is, however, a time for outdoor activities and local gyms seem to know how to make the best of this. "In summertime we try very hard to come up with classes and activities that can be held outdoors and not necessary at the clubs: cycling marathons, running classes and sports workshops," continues Vasilescu. The fitness club recently held an event in the garden of a major Bucharest hotel, where almost 300 participants joined the Outdoor Fitness Challenge, through exercises like cycling, power partner, zumba and kickboxing. Among the more eccentric events planned for the future, the World Class representative spoke of activities that will be organized on the roof of Vitan Mall and in the parking lot at Plaza Mall. "At Jollie Ville mall, for example, we took 80 bikes on the street and the feedback was excellent," he adds.
And it's not necessary to stump up membership fees to be able to enjoy the gym experience outside. Parks such as Izvor and Cismigiu now host outdoor gym equipment where citizens can get in shape without paying for the privilege.
Pedestrians make the streets their playground
While gyms are moving into open-air activities, some projects, like Via Sport, are entirely outdoors. Organized by Eventness in partnership with the Bucharest City Hall, its motto is "Stop the traffic! Start playing!" and it has succeeded in pedestrianizing one of the busiest areas in Bucharest, Kiseleff Boulevard, and turning it into a huge playground for children and adults alike. Tennis and badminton courts, football pitches and bicycle lanes have been marked out for those spending summer weekends in the city.
Dan Serbulea, managing partner of Eventness and organizer of Via Sport, estimates that last year an average of 7,000-8,000 people attended each weekend sports events, making a total of 50,000. This year the first weekend of the project attracted 8,000, a high figure considering the major musical events over July 1-3 (B'estfest and Rock the City festivals in Bucharest, plus the Jamiroquai concert in Mamaia). A total of 100,000 people are now expected to take to the street and do sports, since this year's event will span nine weekends, compared to the four organized last year, adds Serbulea.
Traffic will be halted every Friday at 22.30 on Kiseleff Boulevard until Sunday at 14.30. The main activities are basketball, table tennis, foot tennis, badminton, volleyball and football. Competitions will also be run.
Why organize such a project? "I'm convinced that it is necessary. Proof lies in the figures; the attendance has surprised us, last year too. We are trying to demonstrate that there are alternatives, that people want to work out if they have somewhere to do it. Moreover, we are affected by the crisis and more and more people are giving up their holidays (statistics show that one in three Bucharesters are doing this), so we are giving them an alternative. We also intend to extend. We are in advanced discussions with several town halls around the country, and I think that we will manage to develop this concept on the medium term," says Serbulea, adding that all the equipment purchased for this project is later donated to Bucharest schools.
Cyclists take to the streets and parks
Cycling is a growing phenomenon in Bucharest, in spite of the precarious state of the city's cycle lanes, which are either on pedestrians' sidewalks or absent entirely. This has brought about initiatives such as Bikewalk, whose main aims are to normalize cycling and make it safer, as well as to demonstrate that if at least ten percent of drivers chose to ride a bicycle every now and then, traffic would be a lot more fluid and people would be healthier and even less stressed. VelloBello is another like-minded project. Started by the Bate Saua Sa Priceapa Iapa association, it also has an initiative for women cyclists, entitled Skirtbike.
Bike rental services are located in most of the major parks, notably Izvor, Herastrau, Titan (or Alexandru Ioan Cuza) and Tineretului, courtesy of Cicloteque. The campus of the University of Bucharest's Law Faculty also provides such a service.
And those on tight budgets can also get on the saddle. I'Velo is a free bike sharing program which takes place not just in Bucharest, where there are currently 600 bikes, but in Brasov (100), Cluj (135), Iasi (135) and Constanta (135) as well.
Shall we dance?
Latino and African-Latin dances, such as salsa, merengue, son and bachata, are carving out a growing fan base among fleet-footed Romanians. Alina Ebi Cretulescu, president of the Afrolatino dance academy, recommends these dances "to anyone aged between 3 and 80," she jokingly suggests. At Afrolatino, private courses in English, as well as in Romanian, can be taken. Salsa courses for children are also available, with some graduates going on to become winners of national contests. Fees are between RON 80 and RON 130, and those interested can sign up or find out more on Afrolatino's website.
Elsewhere, Joie de Vivre dance studios run courses for adults and children alike, including: Wiener waltz, salsa, cha-cha, samba, tango, slow waltz jive, rumba, merengue, bachata, quick step and slow fox. The most popular dances at the school are sports dance and aerobic zumba, with an average of 100 attendees per month, says Noemi Kemenyfi, managing partner of the dance studios. "During summertime, however, private dance lessons for newlyweds, local dances and displays by professional dancers are by far our most popular services," she adds. Up to 20 couples take lessons simultaneously at the peak of the wedding season, she adds.
Children have options like sports dances, in the 4-6 years and 7-13 years categories. Around 60-70 children attend classes per month. For this autumn, new dances such as zumba belly dancing are being lined up for adults and zumbatomic for children. A monthly subscription costs RON 150 for adults and RON 100 for children, while eight session of zumba aerobics will set you back RON 100.
Extreme exercise
Vertical Spirit runs wall climbing services for those interested in a more alternative form of working out. The gym has a height of 15 meters and a climbing surface of approximately 400 sqm plus a complex bouldering structure (4.25 meters high and with a proper landing zone with pads). Routes are available for both beginners and more advanced users. The gym also runs mountain climbing excursions, as well as skiing during winter. Mountain climbing camps are organized in Romania, Austria and Bulgaria, says Daniel Burcea of Vertical Spirit, to locations like Cheile Sohodolului (near Targu Jiu) and Baile Herculane. Monthly subscriptions for the gyms at Baicului and Universitate reach RON 130, while two weeks' attendance costs RON 85. Climbing lessons are also available to children for 220 RON per eight sessions.
Fancy fencing? Adults' and children's lessons are available at Cursuri Scrima, located on Calea Mosilor. Psychologist and trainer Hanna Ficker and manager and trainer Andreas Ficker are there instructors. Individual initiation courses cost EUR 180 for four sessions, while monthly subscriptions for advanced students (or graduates of the initiation courses) reach EUR 80 for eight sessions.
Meanwhile, those who fancy city canoeing can give it a try on the lake in Titan Park, where canoe rental costs RON 8 per hour. The location has five canoes and also provides life vests. Swimming skills are required.
corina.dumitrescu@business-review.ro
Get into shape here
Gym
World Class Health
Academy
The network offers individual and group training sessions. Available activities: highly intensive aerobics classes such as Kickbox and Combat Force; toning classes like Pump, X-fit express, Booty Express, and indoor cycling. A program designed especially for children is available.
Tariffs: EUR 250-EUR 1,500.
Locations:
Health Academy Downtown
Hotel Centre Ville,
Calea Victoriei 63-81, sector 1
Phone: 021 3131 104
Health Academy at the Grand
Hotel Marriott,
Calea 13 Septembrie 90, Sector 5,
Phone: 021 4030 900
Health Academy at InCity
Calea Dudesti 188
Phone: 031 4328 600
Fitness&Spa Jolie Ville
Jolie Ville Galleria (Pipera),
Erou Iancu Nicolae Street 103 bis
phone: 021 2690 160
Fitness Center at Plaza Mall
Plaza Mall
Bulevardul Timisoara 26, Sector 6
phone: 021 3183 681
Lady Fit
All trainers employed by the center, which is a women-only facility, can speak other languages such as English or French
Tariffs: A subscription of 12 entries any time from 8.00-21.00 costs EUR 55. Morning subscriptions have a 40 percent discount and the lunch interval of 12.00-16.00 offers unlimited monthly entries for RON 100.
Address: Str. Baratiei 35, ground floor,
sector 3 (next to Cocor store)
Phone: 021 3111 095, 0726 438 348
Orhideea Health & Spa
Personal training available.
Tariffs : Full access for one year costs EUR 800. One year's access to fitness, pool and sauna costs EUR 700
Address: Calea Plevnei 145 B
Phone: 021 5696 360
Dance
Joie de Vivre Dance Studio
It offers courses such as Wiener waltz, salsa, cha cha, samba, tango, slow waltz jive, rumba, merengue, bachata, quick step or slow fox. Children aged 4- 13 can learn sports dances.
Tariffs: A monthly subscription is RON 150 for adults, RON 100 for children. Eight sessions of zumba aerobics cost RON 100.
Address: Delea Veche Street 16-18,
ground floor, sector 2
Phone: dance courses: 0726 378 713, zumba: 0740 405 650
Salsa Clubs
Latino and African-Latin dances are becoming increasingly popular with Romanians looking for work-out alternatives.
Club Salsa 3
Mihai Eminescu Street 89, Bucuresti
Phone: 0723 531 841
Club Salsa For You
Nicolae Balcescu Boulevard 3
Phone: 0723 263 567
Club Malibu
Amzei market, close to Ion Creanga
theater
Phone: 0720 009 000
Preoteasa Club
Each Preoteasa location hosts salsa parties on weekends.
Salsa Galaxy party
Calea Plevnei, 61, on the terrace
On Fridays, starting at 22.00
New Yorkers party
Caloian Judetu Street (Unu Market)
On Saturdays, starting at 22.00
Email : Dragos@salsagalaxy.com
Phone : 0726 530 650
Willmark Dance Academy
Selimbar Street 1 (at Universitate)
Phone: 031 1079 011, 072 0009 000
One of the best known schools of Latin American dances, founded by Willmark, a prominent local public figure.
Cycling
Cicloteque
Tariffs: RON 2 per hour, RON 10 per day and RON 20 per two days.
Locations:
Facultatea de Drept
Mihail Kogalniceanu Boulevard 36-46, Sector 5
Parcul Herastrau, Charles de Gaulle Entrance; Third alley from Aviatorilor Boulevard
Parcul Tineretului, Sincai Entrance
I'Velo Bike Sharing
Available also in Brasov, Cluj, Iasi and Constanta. Bikes can be rented free of charge, for two hours, from I'Velo centers between 10.00 and 21.00. Cycles  can be rented for longer for RON 3 per hour or RON 15 per day.
Bucharest  locations:
Herastrau  Park, Charles de Gaulle Entrance, Baraka area & Expoflora area
Tineretului Park, Sincai entrance
Izvor Park, Splaiul Independentei
Other
Outdoor festival
Via Sport
Kiseleff Boulevard, all summer weekends, from Friday at 22.30 to Sunday at 14.30. Tennis,  badminton and football areas and bicycle lanes available.
Canoeing, Titan park
Delimited by the streets Liviu Rebreanu, and Nicolae Grigorescu
Phone: 0744847088, 0722833542
Renting a canoe costs RON 8 per hour.
Fencing
Cursuri scrima
Instructors Hanna & Andreas Ficker. Individual initiation courses cost EUR 180 per four sessions. Monthly subscriptions for advanced students reach EUR 80 for eight sessions.
Address: Calea Mosilor, Str Parintele Galeriu 12-14
Wall climbing
Vertical Spirit
Monthly subscriptions reach RON 130. Two weeks' attendance costs RON 85. Climbing lessons for children cost  RON 220 per eight sessions
Locations:
Universitate
Tudor Arghezi Street 46, Sector 2
The gym has a height of 15 meters and a climbing surface of approximately 400 sqm.
Baicului gym
Baicului Street 80
Phone: Daniel Burcea, 0766 452 126