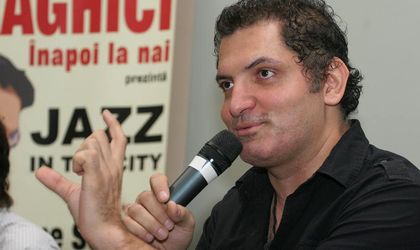 An intricate concert bringing together the classical music performed by the English violinist Nigel Kennedy and pan flutist Damian Draghici (in picture) will take place in Bucharest on May 8, in Piata Constitutiei.
In addition to the classical and jazz repertoire of the evening, the concert will also include special moments as the interpretation of excerpts from the repertoire of the great musician George Enescu, Maria Tanase, Grigoras Dinicu, Fanica Luke and Georges Boulanger. Nigel Kennedy, an avid admirer of the Klezmer genre (an adaptation of Eastern European folk music), will play for the first time in Bucharest in a show that combines classical music, jazz and authentic Romanian music.
A noteworthy aspect of the evening lies in the instruments at which the two musicians will be playing. Kennedy will play his almost 300-year-old violin Lafont Guarneri "del Gesu", while Draghici will perform at an instrument patented by himself: the electro-acoustic pan flute.
Classical Meets Jazz takes place on Europe's Day, half a year after the Jazz in the City concert, through which Draghici, alongside artists such as Diane Schuur and Eddie Daniels, brought pan flute music into jazz, at Sala Palatului.
Tickets are available in the Eventim network, Germanos and Vodafone stores, Carturesti and Humanitas bookstores, Sala Palatului, Muzica Store or Unirea Shopping Center (2nd floor) or online from the site www.eventim.ro. Fees range between RON 80 and Ron 240.
Corina Dumitrescu