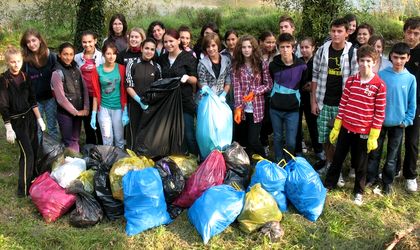 Let's do it, Romania! gathered over 150,000 in its clean-the-whole-country-in-just-one-day campaign, collecting over 187,000 sacks of waste, as preliminary results show. The next step of the project will consist in a sustained advocacy campaign.
On a national level, Brasov currently ranks highest in the classification of the most numerous volunteers that counties in Romania have managed to gather, with 15,000 involved individuals, closely followed by Cluj (13,000) and Bucharest (over 11,000). Close to the top 3, Arges gathered around 10,380 people in the cleaning activities, while Maramures can boast with a rounder number, 10,000. Various public figures showed their support throughout the campaign and on the D-Day, among whom musicians Smiley, Zoli from Sistem, Adi Despot from Vita de Vie, Holograf band and world boxing champion, Leonard Doroftei.
The following steps of Let's Do It, Romania! will consist in advocacy, from studying the legislation in waste collection to identifying the issues that make it difficult to apply. As a second objective, says Anamaria Hancu, coordinator of the project's communication team, a better communication will be established with both the public and private environment for Romania to have selective waste collection containers, mandatory private and public sanitation services, an infrastructure for selective waste transport, transfer and sorting stations, centers for waste collection, recycling and capitalization, compliant pits for waste disposal, as well as compost stations for organic waste.
Corina Dumitrescu