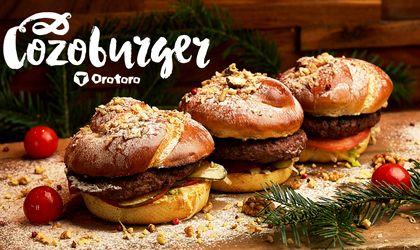 Oro Toro, the restaurant chain specialized in burgers, opens its first restaurant, in Bucharest's Piata Romana area. As the launch is just a few days away from Christmas, communication agency Rusu + Bortun created a special product, combining one of the favorite winter holiday desserts, cozonac, and the flagship Oro Toro product, the burger. The idea was put into practice via a collaboration with chef Iosif, who created all products on the restaurant's menu.
"Opening the Romana restaurant is part of our expansion strategy. We aim to be present also in the city, with increased footfall, in order to be more accessible for our clients and to diversify their interaction with our brand. We believed that Romana area is the perfect start for the implementing of this plan. And the association of the opening of the first restaurant of this type with the creation of a unique product was a challenge we accepted without any hesitation. I liked a lot the idea of combining the holidays spirit with our star product and the result is a very tasty one," said Georgios Malideros, owner Oro Toro.
Oro Toro in the din Romana area completes the scenery of fast-food restaurants with the preferred meat lovers' offer: burgers with the best meat.
"The challenge was to announce a restaurant specialized in burgers near the traditional holidays, which has strong symbols. Therefore, we wanted to create a product that will pay tribute to the holidays, but also give it a funny twist, in the spirit of the Oro Toro brand. This is how the Cozoburger, the craziest Christmas burger, was born" explained Mihaela Neatu, Group Creative Director Rusu + Bortun.
The new product, a special edition for the holidays, is meant to satisfy even the most demanding meat lovers, as long as they also love cozonac, and it will be available only by end December.
The campaign was created by Rusu+Bortun Brand Growers:

Creative Director: Bob Toma
Group Creative Director: Mihaela Neatu
Senior Art/Creative Partner: Marc Bortun
Art Director: Eugen Preda
Copywriter: Andrei Paduraru
Social media: Isabelle Dandoczi
Client Service Director: Miruna Macsoda
Photographer: Adi Bulboaca
DTP: Anca Uscatescu
Romanita Oprea