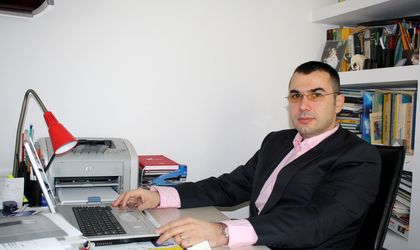 Young entrepreneur Razvan Beschea has big plans for his company, even though the current business environment is not a favorable one. He intends to expand his business and consolidate its position on the local market.
Anca Ionescu
Razvan Beschea, the owner and general manager of Alf Electrocasnice, took his first step in the business world when he was just 17.  In 1990, Beschea and a friend started to export glasses frames to Turkey and import watch batteries in the other direction. Their business was operational for two years, and achieved some success. In 1991 the budding entrepreneur started to bring second hand TV sets from Germany on the local market. Nine years later, he completed his portfolio with washing machines imported from England.
But 1995 was the crucial time for Beschea's future as a businessman. He decided to invest in a transportation company, buying several trucks with borrowed money. But the road ahead was not smooth for the young entrepreneur: the company he invested in came perilously close to bankruptcy. "From 1995 to 1997 the local market faced a significant crisis and the mistakes I made rapidly became visible," remembers Beschea. But there was a bright side to his misfortunes: he learned a lot of things about running a business from his mistakes.
During the boom time that began in 2000-2001 the local economy started to recover and demand for home appliances grew significantly. On such an auspicious stage, Beschea knew how to capitalize on opportunity and launched the Albatros home appliance brand in 2004, as part of Alf Electrocasnice. "It was a real challenge to develop the Albatros brand because I had to build it from scratch. Plus, at that time there were many distributors that confused Albatros with similar products," remembers Beschea.
Initially, only semi-automatic washing machines were sold under the brand. Now the company sells a wide range of home appliances, from carpet sweepers to cleaning systems. "I always thought of Albatros as a Romanian brand not as a Romanian product. I created it as a brand meant to inspire people and to build a long-term relationship with its customers," explains the general manager. Since the very beginning, the businessman has positioned his products on a very specific market niche. The Albatros brand was designed for more conservative customers from rural areas of Romania. "You have to have significant financial power as a company to be able to compete directly with large brands from a specific category. Because Alf Electrocasnice was a start-up and Albatros was a young brand I couldn't afford to enter such a battle. Therefore, I needed to find a niche that had significant potential to grow in the future," says Beschea.
But while the entrepreneur avoided competing directly with other big brands, there was both domestic and foreign competition on his market niche, with Albalux, Technoton and Daewoo being Albatros's main rivals.
Alf Electrocasnice grew steadily from year to year, posting an increase of over 230 percent in 2007 on 2006. The rise continued in the years to come, with the company registering a 50 percent growth in 2008 compared with the previous year. "We ended 2009 with a small increase but I saw it as a great achievement considering the current economic and financial crisis," says the businessman.
But Beschea didn't stop here: it seemed that his sights were set on becoming a serial entrepreneur. He launched additional businesses in his portfolio, all of them operating under the same umbrella of Alf Electrocasnice. One of them is www.bambus.ro, launched in 2005, which sells ten types of parquet through three showrooms in Bucharest, Cluj-Napoca and Bacau.
Limpio is another brand launched by Beschea in 2006, specialized in cleaning systems such as paper dispensers, hand dryers, soap chargers, etc. Its main customers are represented by companies and Horeca firms. "At present Limpio has 150 products, priced at 40-50 percent lower than what exists on the market," says the entrepreneur. And www.canapea.ro is Beschea's last business, launched in 2007. It has three different segments: leather couches, textile ones and exotic furniture (such as from cane and sea weed). "Although it is not a favorable moment for this kind of business, I intend to open about ten showrooms in the most important cities in Romania on the short term." Currently, Albatros home appliances make up about 65 percent of the turnover posted by Alf Electrocasnice, while the couch business accounts for 15 percent. The remaining 20 percent is split between Limpio and www.bambus.ro.
If Beschea started another business he would probably be more pragmatic with the opportunities that occurred. "I would take more chances, I would manage the costs more efficiently and I would motivate my people more."