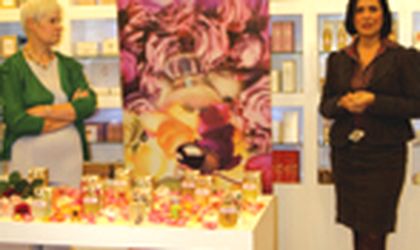 The company has also received a request for a franchise in another big Romanian city, and is now considering this option, Andreea Gheorghiu, GreenNet manager, told Business Review.
The opening of the new street venue in Bucharest is due to take place in February-March next year and the company has been in negotiations for this space for quite a long time.
At the moment, three GreenNet boutiques are open in Bucharest, with about 20-30 customers a day (including on Saturday).
The first Beautik Haute Parfumerie was opened in Piata Domenii in Bucharest in an exclusive area. The second store is in Victoriei Square in America House and the third was opened in April in Baneasa Shopping City, on the first floor where it has good visibility. "We do not see Baneasa Shopping City as a mall. It is a luxury location where all the big brands are present. In the beginning we were reticent about opening in a mall, but after seeing the Baneasa project, given that in Bucharest there is no street of luxury where all well-known foreign brands can gather, we entered this project."
Gheorghiu says the rent for a good street location is not much different to that in a luxury mall. "If the street location is in a very good venue in Bucharest such as this one, the rent is nearly comparable with what you pay in a mall. So, it greatly depends on where you are located and what the surface of the store is. We generally prefer locations with good visibility, either street locations or in a shopping gallery," says the businesswoman.
The surface areas of the boutiques range between 20 and 40 sqm. The store in Piata Domenii has a surface of 20 sqm while the other two stores have a surface of 40 sqm.
The investment that goes into opening such a location is generally consistent. For instance, Gheorghiu says, the store in America House required an investment of EUR 200,000, which included the design and the stock of merchandise. The stock represented around 30 percent of the investment, and the rest of the money went into furnishing the space and the design which was uniquely created by a company.
The boutiques are perfumeries that mostly function on exclusivity. In total there are around 25 brands of perfume represented in the outlet, such as Robert Piguet, Rance, Les Parfums de Rosine, E. Coudray, Lubin, Il profumo, Profumi di Pantelleria, Costume National, Frapin, Laura Tonatto, Bois 1920, Eau D'Italie, Parfum de Nicolai, Lubin, LostMarc'h, Hierbas de Ibiza and Etat Libre D'Orange. The eaux de parfums are sold in bottles of 50ml at prices between EUR 80 and EUR 200. The range of products sold at Beautik also includes body creams, soap bars and perfumed chamber candles.
A niche brand generally does not advertise. The recipe of promotion is de bouche-a-l'oreille, through PR, through launches and events in the store with customers, says Gheorghiu. "Promotion budgets for us are drafted at the end of the year. The promotion budget amounts to around 15-20 percent of sales."
The turnover of the perfumeries is estimated at EUR 300,000 this year and "we hope next year we will have a 30 percent growth." GreenNet will post an estimated turnover of approximately EUR 6 million in 2008 while the previous year, it amounted to EUR 4 million.
The selection of the brands that go into a niche boutique is a very rigorous procedure. First of all, it should be a niche brand. Not only that, but it should be "a niche brand with much nervure," says Gheorghiu. "Niche perfumes are rated with stars, just like hotels. There are brands that we know and have been recommended to us by specialists and which have famous creators who worked for their making. Creators can spend as long as 10 years on a niche brand to create and finalize a recipe. In niche perfumery, figures matter little. What matters most is art and creativity since behind niche perfumes there are people who have spent their life and fortunes working to create these brands," says Gheorghiu.
Two new renowned brands are about to enter the boutiques' portfolio very soon. The businesswoman explains that there is no hard and fast rule as to when new additions should be made to the portfolio. In April, GreenNet brought many new brands and signed many contracts. In the beginning, this was difficult to pull off since GreenNet's policy is to work with exclusivities.
"We are an old company on the market, so we already had the background and necessary knowledge of this domain. However, negotiations were still a little slow since suppliers of niche perfumes did not know much about Romania, they did not trust the market and there were no niche perfumeries here at that point. The only selective perfumeries were Sephora and Douglas and producers were a little reticent to access a practically unknown market," says Gheorghiu, who sees no reason why this industry should not catch on since in Romania luxury products sell well.
"We are the ones who initiate the negotiation. We know exactly what we want from the very beginning. Producers want to have knowledge of the market where the perfumes will be sold, the company who will distribute their products and the locations," says Gheorghiu, adding that the other brands that are sold in the boutique matter very much since in niche perfumery there is no competition.
"Therefore, a niche brand goes into a location if other niche brands are present in that location. So they actually want to have their products displayed alongside others of the same kind. We also have to have a very good project and they also look at the figures," she says.
A niche perfume addresses a more educated consumer. It is a perfume that is produced in smaller quantities, since the recipe is very expensive and those who work on it are famous perfumers, therefore the investment in the brand is rather high.
"The typical customer who buys our perfumes is someone who travels and appreciates luxury, someone who has been to London and has seen in Harrods, for instance, Les Parfums de Rosine or some other niche brand in Le Printemps in France," she says.
Other competitors on the market
The GreenNet chain of boutiques shares the market with several other niche perfumeries such as Createur 5 dEmotions, Maison des Parfums and Madison.
Createur 5 dEmotions, which sells brands such as Mona di Orio, Etat Libre d'Orange, Parfums Del Rae, Lorenzo Villoresi, Les Nereides, Ulrich Lang, Keiko Mecheri, Fifi Paris and Nez a Nez, was opened by Alexandra Paven in March this year since she could not find before that a space with a decent rent "that would not force me to make compromises," she said. Paven added that the concept of exclusivist perfumery is not limited to Bucharest, "especially if you do not think that exclusivist necessarily means very expensive. I think in many places in the country a store of this kind could create passions," she says.
The second Madison boutique was recently opened in the most "in vogue" area of Bucharest, owner Madeleine Florescu told Business Review. With the two locations she opened, Bucharest is sufficiently covered at this point, she thinks. "A downtown and an uptown location are absolutely enough. Even one single location would have been enough, it was only that many of the customers we have in Bucharest who live and hang around in the northern part of the city would prefer to have Madison closer. We also had a grain of luck since we managed to find an extremely good location, which was like looking for a needle in a haystack," says Florescu. She describes the price of the rent as "crushing" – EUR 120 per sqm. Madison may expand to other cities, "but finding the right partner is the key, and this makes us avoid hurrying in establishing deadlines such as next year. When we find the perfect formula, this will happen too," says Florescu.
The beginning of September brought a new addition to the niche perfume market – Maison des Parfums, which sells brands such as Absolument Absinth, Ambregris Paris, Amouage, Penhaligon's, The Different Company, and Xpec for prices between EUR 200 and EUR 3,500. Elysee Concept, the company that controls Maison des Parfums, targets a turnover of EUR 1 million in 2009 which will be achieved through the distribution of luxury perfumes on the market in Romania and Bulgaria.
"We intend to develop a national network by opening new locations, by closing partnerships, franchises and distribution," Cristina Balan, general manager of Elysee Concept, told the media.
By Otilia Haraga