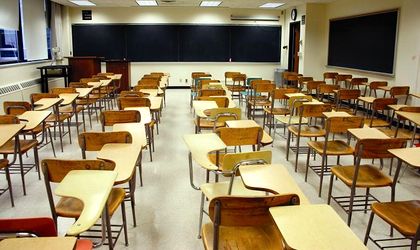 "We don't need no education," some young Romanians seem to say, scorning the local education system, which is losing more and more students to better reputed school systems around the globe. Teachers are underpaid and unmotivated and students feel increasingly confused by the ever-changing education bill, often starting full-time jobs alongside their already full-time studies. Business Review got out its pencil case and exercise book and sat down with specialists of various backgrounds, from ministry representatives to teachers and HR managers, to see what marks they give the system and find out what lessons need to be learned.
Corina Dumitrescu
The education bill is a big issue, as it is constantly undergoing changes, leaving students and teachers alike confused. Officials from the ministry press office say that the new education bill that entered into force this February is "the natural result of the teachers' professionalism, the involvement of local authorities and, for the first time, the active role of the parents." They add: "The principle of decentralization of decision-making mechanisms leads closer to students. The curriculum will be more relevant and less dense, and the exams and assessments will have a guiding role for the benefit of students. Teachers will receive three elements that can transform them into the nation's elite: they will be well trained, properly selected and fairly rewarded. In addition, with the entry into force of the National Education Law, political interests will not interfere in the ways of school life." But while this gets top marks for intention, will it ever get off the page and into the classroom?
Some of the latest changes relate to the number of years in the elementary school system (which will also include ninth grade, as of the 2011-2012 school year). A new type of baccalaureate (the final exam at the end of high school in Romania) appears once every two years, the latest proposing trans-disciplinary examinations (for example: physics, chemistry and mathematics might be part of the same test). The number of mandatory school years has risen to ten and will be completed at the age of 16. And the number of school hours has been reduced by five for every school category (20 hours for primary school, 25 for elementary and 30 for high school).
The quality of the Romanian education system has always been a contentious issue. No Romanian institution makes it in the list of the world's top 500 universities. Recent PIRLS (Progress in International Literacy Study) results show that Romanian students in their first years of school have difficulty understanding information in a written text and fail at basic knowledge tests, which means that they are poorly prepared and lack the habit of reading at home. If students begin at such a disadvantage, what hope is there for future graduates and later professionals? Of course, there are elite students who earn international acclaim, but, unfortunately, the majority lags a long way behind. So the ministry proposed a change of curriculum. "Through the new education bill and the secondary legislation accompanying it, the Ministry of Education is instituting a new conceptual framework. For the pre-university system, there is a national curriculum devised to meet the special needs of personal development and of the workforce."
The state-versus-private university issue is another hot topic. Professors working at state institutions have had their already precarious salaries cut on account of the crisis and austerity measures. This is not a positive message to send to the professionals shaping the minds of the next generation. Outside Romania, in the United States, for example, it is the private universities that are the best known and most desirable. Locally, however, although many professors that teach at renowned, historical universities also give courses at private ones, the latter are considered to be of poorer quality, especially since admission is generally easier: entrance exams, if there are any, are simpler and a lot of the focus is put on the results of the baccalaureate exam or throughout high school years.
The more and more students going abroad to finish or start their higher education are another concern. The Ministry of Education's press office attributes this to the offer and quality of local universities. The new law promises to raise local schools to international standards through the adoption of quality insurance mechanisms.
So what marks do specialists give the local system?
Talkin' 'bout the new generation
One of the most prestigious faculties in Bucharest is the University of Bucharest's Law School. Simina Tanasescu, deputy to the dean at the faculty, spoke to Business Review about maintaining the standards at one of the most respected faculties in Romania. "The Faculty of Law at the University of Bucharest is the only law school in the country that has preserved the tradition of written examination for admission, although, in time, the degree of difficulty of the exam has somewhat decreased. A direct consequence of this, and the still high interest in legal studies in Romanian society, is that our student base increases in number, in a modest but steady manner, every year. Although the selection base has greatly reduced, due to lower birth rates, and so competition between candidates for admission is not as fierce, Bucharest Faculty of Law students are whittled down during their university studies, with significantly fewer students making it to the final years of the course than starting it."
Has she observed a dip in student caliber? Tanasescu partially agrees. "Compared to the early 1990s, students today are more active and interactive, more imaginative and more open to new ideas and challenges, but much worse prepared and less diligent, and far less accustomed to meeting demanding professional standards."
But Tanasescu adds that the cream of the crop is unchanged. "While the number of students admitted to the Bucharest Faculty of Law has increased steadily, the number of those who meet the extremely high standards of professional exigency remains constant. If, previously, there were on average five excellent students in each group of up to 25, their number today is the same in groups of 40 students. This is not necessarily worrying in itself, depending on your interpretation: excellence remains constant, while more people have access to education and training, because populations grow and larger numbers of people are included in the higher education system. In other words, my conclusion is that, overall, the public are becoming more educated, even if the percentage of excellent students in universities appears to be falling. This may be a paradoxical conclusion, but in the context of international reforms, it should not come as a surprise, but as proof of their success. Naturally this has implications, including the teaching methods used, but that's another matter."
Alexandru Ofrim, social studies professor at the Faculty of Letters of the University of Bucharest, observes, with some sadness, "In the last three or four years, I have come across a sharp deterioration in the caliber of students on several levels. First of all, there has been a dramatic decline in the general culture. It is disturbing to have the feeling that, in a lecture, your words have no echo. It is becoming harder to find a common language or references. I can no longer rely, as I could before, on a shared cultural universe. For example, names of writers, books and movies that once were familiar to students are now unknown."
Not only are today's students eschewing books, but they also lack intellectual curiosity. In spite of their exposure to information from a myriad of sources, students are less tolerant or open to the new. "In my anthropology courses, I am amazed to see that many of my students are not willing to accept differences. This is paradoxical, since young people, thanks to the internet, should be open to the realities of other geographical areas and different cultures. When you introduce other ways of life, many of them react with rejection, disgust and disapproval." More worryingly, Ofrim says, "In addition to genuine students, there has appeared a new species of 'pseudo-student' whose constitution and aspirations mean they should have no place in higher education."
But Ofrim also sees the good side of the younger generation. "I am sometimes impressed by the receptivity of students. When they are truly interested in a topic, they progress very rapidly. I appreciate the high expectations they have and the high regard they hold teachers in. Contact with students who demand a lot from their professors is highly motivating for those who teach. Usually, these students are attending two courses or are taking master's studies and have very strong motivation to perform. They have already found their way and know what they want. Unfortunately, they are quite few in number, but their presence is like a breath of fresh air that gives me strength to continue this work."
Another problem for Romanian universities is brain drain. Today's trend is for young people to pack their bags and study abroad, focusing on the immediate advantages and not the long-term difficulties, says Tanasescu, in spite of the university's efforts to help them realize their future career paths. These efforts have however proved inconsistent, since the system should deal with this issue first and foremost – local and private initiatives are just "palliative solutions to a systematic issue," argues the deputy dean. However, an estimated 4,000 Romanian students opt to study abroad, ten times less than in other European countries, according to data from Educativa Group, organizer of Romanian International University Fair. Thus, the phenomenon is not as worrying as it may seem.
But Petre believes that contemporary students of the 2.0 world have a different frame of reference and that professors should be the ones adapting to change. Tanasescu, however, says of today's youth versus their predecessors, "What impresses about the new generation is not specific to them alone, but is a constant for all young people, namely their self-confidence (sometimes going beyond reality) and their small dose of responsibility, which are, in the end, excellent premises for training and professional fulfillment."
Those who can… teach?
And what about the next generation of teachers? Tanasescu outlines the main deterrents for young people thinking of going into the profession: lack of resources for the education system, limited funding for research (theoretical or applied) and low institutional collaboration. However, the professor cites participation in congresses and international projects plus her yearly experience with colleagues and students as factors that may persuade a young person to enter the profession.
Dan Petre, who holds a PhD in Sociology and is a specialist in communication sciences, as well as managing partner and director of the qualitative studies department of D&D Research, gives the example of his own area of teaching, communication, advertising and marketing. "All these are vocational subjects. In this area, being a teacher is not only discouraging, but actual spokes are put into one's wheels. Not in an active way, but through passivity and inertia, not only for those who are already in the education system, but also for those who would like to join it. Those who have the practical skills to teach advertising cannot obtain the formal qualifications required by the ministry. And those who hold formal qualifications lack practical experience. And when they go to advertising agencies to remedy their lack of experience, they never return to teaching. There is no solution and the school system is not attempting to address this."
Tincuta Baltag, general manager of the Dinu Patriciu Foundation, a local NGO with an annual budget of USD 7 million dedicated to the support of the local education system, argues, "Salary is not that important in the big picture. Sure, we need to pay our teachers significantly more so they can live decent lives off their paycheck, but that alone will not make them good teachers. That's because financial motivation is but a part of employee motivation. Teachers also have to be respected and made aware of their crucial role. We need to turn our teachers into an elite social stratum." She gives the example of Finland, "the country with the best education system in the world – where only the top 10 percent of graduates are eligible for entry into the Master of Education program that would qualify them to teach. And what are their salaries? Decent, but nowhere near as substantial as those of their counterparts in South Korea, a country with an education system almost as good. But could we even dare to ask the best 10 percent of our graduates to become teachers when the starting salary is in the range of EUR 150? I think not: non-financial motivation exists, but it cannot exist alone," she concludes.
Entering the world of work
Virginia Otel, HR manager at Garanti Bank, dismisses the current belief that Romanian students are underprepared for their careers as an unfair generalization. "There are very well prepared students in the younger generations, some of whom are absolutely exceptional. They are very versatile and have a different openness than their predecessors," Otel argues. More surprisingly, what the young have in common with their more experienced colleagues is the focus that they all put on family, she adds.
However, when confronted with a choice between two otherwise identical employees, one with local studies and another who studied abroad, Otel would opt for the latter. Why so, when the HR manager is an avowed advocate of local graduates and their capabilities? "Because someone who studied abroad who opts for a job locally should be encouraged to stay here."
Graduate studies also hold some relevance in the eyes of employers, despite the skepticism of many graduates on this matter. Baltag comments, "It depends on the employer. In the public sector, for instance, it matters quite a lot as there are positions you can't access unless you have a BA or even an MA. However, it's quite different in the private sector where opinion is split. On the one hand, some HR departments of large corporations just don't care about a diploma. I know people who have embarked upon impressive careers without ever graduating from college. On the other hand, some private sector employers ask for technical or economic degrees for some positions. Anyway, I believe we are witnessing employers adapting to an education system that is almost completely disconnected from industry. Unless we change this, more and more employers are likely to put less weight on a degree."
Practical experience should feature in school years, yet not replace theoretical education entirely. Adriana Miu, senior consultant at Ensight Management Consulting, says, "School is important to any prospective employee, because it ensures the accumulation of knowledge and the basics, regardless of the field. However, practical experience during school can be an advantage for a new graduate. In this respect, many companies provide well organized, on-site internships, where students have the opportunity to become familiar with the working environment, put into practice the knowledge they have already gained, and acquire more." Miu's colleague, Ion Ghimbovschi, manager at Ensight Management Consulting, adds, "The weakest part of the education system is the lack of practical information transmitted in many faculties. At the same time, teaching techniques are sometimes outdated and motivate students to memorize, and not necessarily to think."
All in all, education could be a blooming business in Romania, if managed properly. Romanians are showing more and more interest in post-graduate training courses, from languages and IT to a plethora of personal development. Education is a path to information that can open a lot of doors, professionally speaking. But this relies on the Romanian authorities instituting a system that is fit for the 21st century.
corina.dumitrescu@business-review.ro
Romanian education in short
750,000 students enrolled in Romanian universities*
84 accredited institutions of higher education (56 state ones, made up of 49 civil and 7 military institutions, and 28 private ones)*
21 private universities have temporary authorization and five more are in the course of being accredited.*
An estimated 4,000 Romanian students opt to study abroad, ten times less than in other European countries**
Top five reasons for studying abroad**: creativity development, long-term investment, access to the most recent technology, access to scholarships and sources of financing and better career opportunities
Top domains chosen by those wishing to study abroad**: economics (28 percent), communication (19 percent), engineering (14 percent), law (10 percent), architecture (9 percent) and medicine (8.5 percent)
60 percent of those seeking to study abroad rely on personal funds, while 33 percent are willing to take part-time jobs to support themselves financially
*data from the Ministry of Education
**data from Educativa Group, organizer of Romanian International University Fair*