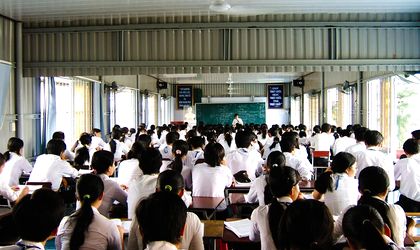 Long heralded but never actually taking place, the reform of the Romanian education system, vital as it is, might just become reality this time if Parliament, which is currently debating a draft education bill, approves it. But is the new bill really going to bring the local education system into the 21st century? Business Review talks to some NGOs, the last line of defense for children's education when the system fails them. And they have plenty to say.
Otilia Haraga
The bill for the new Education Law launched by Minister of Education, Daniel Petru Funeriu, was supposed to move quickly through Parliament, allowing it to come into force in time for the next school year, which starts in September. It was introduced into Parliament through emergency measures for the purpose. However, the Education Commission in the Senate has asked for a week's extension to the June 18 deadline to allow for the completion of a report on the Education Law, after which the bill should be debated in full session.
That education has not been a priority in recent years can be seen clearly in the continuous decline of the education system: underpaid and unprepared teaching staff, an ever increasing school dropout rate, school violence, an outdated and entangled curricula, lack of respect for education which translates into a high illiteracy rate or, at best, unprepared graduates who find it hard to secure a job. Now, as things stand, chances are slim that the new law will be ready in time for the next academic year.
In its current form, the draft introduces several major modifications that are meant to change the system from teacher-oriented to pupil-oriented and make education more practical and less theoretical.
Last Thursday, the Senate's Education Commission adopted an amendment which stipulated that compulsory education should last 11 years. Pre-school education in kindergartens, between five and six years of age, will be compulsory, according to Mediafax newswire. Therefore, the primary school stage will last four years, between six and ten years of age, and gymnasium education another five, between ten and fifteen. Finally, the Senate decided that, of the four high-school years, only two will be compulsory.
"The strength of the law will depend on the secondary legislation created to implement and enforce it. The law creates the legal framework for measures – good measures – but as the saying goes, the devil is in the detail, and the details are in the secondary legislation," says Leslie Hawke, founder of Ovidiu Rom NGO.
The bill proposed by the Education Ministry introduced the 'school after school system,' in which pupils will be supervised by teachers while they do their homework.
Save the Children NGO notes that the draft law puts the child as the main beneficiary of the education process, with a focus on laying the foundations for community involvement in the life of the school, support for early education as well as stipulations regarding after-school learning.
The financing of schools will also change under the new law. Three forms of school financing will be introduced – basic, complementary and supplementary – depending on the performance of the educational establishment.
"What effect will this have? State schools will enter into direct competition for pupils and funds with private schools. As a direct result of the competition, schools will become better while those who do not yield results will disappear," says Tincuta Baltag, general manager of the Dinu Patriciu Foundation.
Still, despite its good points, commentators say the law is lacking in areas. Save the Children points out that the bill ignores some essential principles, including: combating segregation, preventing violence in schools, eliminating hidden costs which may be a barrier in the education process and ensuring access to education for children who were not registered at birth. "It is worrying that the presence of the school counselor in educational units is not stipulated as compulsory, as he/she is only mentioned as auxiliary personnel. Also, we deem it necessary that each school benefit from the involvement of a social worker because this specialist can identify in time certain difficulties felt by pupils," say Save the Children representatives.
The rate of school abandonment increased threefold between 2000 and 2007 from 0.6 percent in the school year 2000/2001 to 1.9 percent in 2007/2008. Statistics for 2008/2009 show that almost half the teenagers in the rural areas do not attend secondary education (high-school, arts & crafts schools) unlike teenagers in urban areas, as shown by the Report on the National Education System published by the Ministry of Education.
"The law won't be very helpful in preventing school abandonment, because it doesn't address its underlying causes: poverty and late enrollment. The law provides for punitive measures against parents not sending their children to school, but fines and compulsory community service imposed on parents living in extreme poverty, or homeless, or without papers, simply do not work," argues Hawke. She cites "door-to-door recruitment and the provision of school essentials like shoes, clothes, and school supplies" as the most effective method of getting impoverished children in school. "Local authorities should be accountable for having every child age five or over in school – but how they accomplish this should be decentralized, with local civil society and businesses encouraged to play a part. Punitive measures should only be invoked for intractable cases," she adds.
It is up to the secondary legislation which "absolutely must specify how it will address the continuing decline in Romania's literacy rate," says Hawke. "No picture emerges of a strategy for including disadvantaged children, who make up a sizable percentage of Romanian children – by some estimates, as many as one out of every four children. This issue warrants a specific nationwide strategy," she continues.
Pre-school education has been made compulsory between five and six years of age, as amended by the Senate. "Optimally, children as young as three should be included in pre-school education. Making early childhood education available – for all – should be a major goal of the new law. This is especially important for children from disadvantaged families who receive less intellectual stimulation in the home. When children start school behind, they stay behind (…) The international research is clear that the money spent on quality early education saves taxpayers significant expense in future costs," she adds.
Teachers are among the professions that will be heavily affected by the austerity measures taken by the government. As public sector workers, their wages will be reduced by 25 percent. "A 25 percent cut across all public sector jobs is obviously the easiest, most impersonal way to cut. But it is also the least effective way to cut – and it sends the wrong message to society. Everyone knows that there is a lot of 'dead wood' in the public sector. So cut the dead wood. Give 100 percent salary cuts to teachers who aren't performing, but don't penalize the youngest, lowest paid teachers who are dedicated to their vocation, and don't penalize master teachers," says Hawke.
There are no signs that things will improve in the way teachers are stimulated, even if the new law comes into force. "It doesn't provide for a results-based teacher remuneration scheme; it does not motivate teachers to work in poor areas," she says.
Also, not clear enough are stipulations regarding plagiarism. "Fraud and intellectual theft are often accepted and this cannot have positive effects for the recovery of the Romanian school. (…) I would have specified clearly in the bill that teachers who plagiarize – if proven in a court of law – cannot go back to teaching anymore," says Baltag.
"To summarize, the main defect of the bill is that it tries to carry out reform with the breaks on," adds Baltag, explaining that it suffers from "over-regulation: it is too dense and does not leave room for real de-centralization." This means the role of the Ministry of Education should shrink and the role of the community and parents increase.
"It is the school, in collaboration with the parents and the community, which should be in charge of the curricula, the recruitment and training of teachers, rewards for good teachers, evaluation systems, the annual budget and multiple sources of financing. High schools should be free to choose the way they select their candidates," says Baltag.
She adds that Romanian schools suffer from unhealthy pressure regarding grades: a low grade in a test is seen as a failure. By contrast, in the best performing systems, pupils compete with themselves and grades are confidential. Education is more personalized. "We still have standardized, mass education," says Baltag. "What I can tell you is that, as an employer, I would never look at the grades a candidate scored in school. I am looking for creative people with good communication abilities, with a critical sense, tolerant, altruistic, optimistic and constructive, and these things are not yet measured in our schools. Currently there are no grades for creativity, tolerance and respect – only for learning by heart outdated and useless information," concludes Baltag.