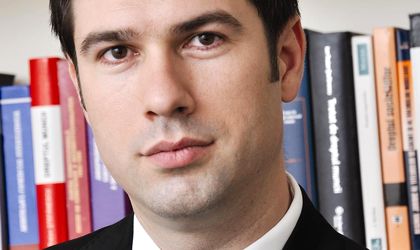 Young entrepreneur Stefan Boboc has ambitious goals on his agenda. He intends to extend his network of lawyers into the European region in addition to more than doubling his number of customers next year.
Anca Ionescu
Stefan Boboc decided to work as a freelancer soon after graduating from the Law University in Bucharest, back in 2000. After eight years of freelancing, he set up his own business, the law firm Boboc & Asociatii.
His chief motivation was that his services were in great demand at that time and so the potential for growth was significant.
"I chose to become an entrepreneur because I thought it was a natural step in my professional career. Plus, to develop in the field of law means to launch a law firm in cooperation with many partners," says Boboc, from whom Boboc & Asociatii takes its name. He adds: "At that time I considered extending my activity." According to the lawyer, the bar is different from other fields, because it can't be seen as a business. "But as the leaders of this market know, I am also aware that a law firm can make a profit and needs to be managed like any other business," says Boboc.
The idea to set up Boboc & Asociatii was a straightforward one, as Boboc himself acknowledges. But despite this, he says that his firm has something special that differentiates it from the crowd. "Our company created the first nationwide network of lawyers in Romania. This means that we are working with 45 lawyers from all counties including Bucharest. This type of organization brings 40 percent savings for our customers. Plus they benefit from quicker services for their needs," says Boboc.
The idea to create a nationwide network of lawyers resulted from demand on the Romanian legal scene. "The market itself generated the need to set up such a business. Companies are active all around the country and customers need consultancy services or legal representation both in the city in which they are running their current activity and also outside," says the lawyer.
But it was not so easy for Boboc to build this network. He took a year to develop the project and recruit lawyers from each county in Romania, with the first positive results coming soon after that. Boboc & Asociatii is a full service law firm specialized in consultancy, legal representation and assistance services for litigation. Its main customers are companies, public authorities, organizations and individuals.
The firm's legal expertise is focused on the corporate and commercial fields, credit institutions, insurance companies, pension funds, tax, transportation, IT, media, online, communications, real estate, the penal field and litigation.
"Initially, consultancy services made up about 65 percent of the total volume of our activity. But now things are different: since 2009 the weight of litigation in our turnover has grown as a natural effect of the current crisis. As a result, 60 percent of our income comes from litigation," says the lawyer. According to him, his company has made profit since its first operational year despite the fact that 2008 was the first year of the crisis. And the entrepreneur is very confident for the future.
"We estimate a 40-45 percent increase in our turnover on last year and the further development of our business this year," predicts Boboc. Asked about possible regrets he might have, he responds: "Usually we don't regret any decisions we make. On the contrary, we learn from them. It seems that we have properly built our business since we have been active on the market, so there is no room for regrets."
If he started another firm he wouldn't change much. "I would probably try to be much more proactive and determined because the Romanian bar requires such an approach, as one of the most competitive and developed ones," says the young lawyer. As for the challenges his business has faced, Boboc says there are plenty and on a daily basis.
 "At the end of the day the biggest challenge is to win each lawsuit. To satisfy our customers is our top priority," he adds.
Boboc & Asociatii is active on a pretty crowded market that is able to generate hundreds of millions of Euros in profit.
The large law firms take a big slice of the cake. "We intend to take a significant part of their combined market share through our nationwide network of lawyers," asserts the young entrepreneur.
He adds: "We mean to create partnerships with some European law firms in order to have a
regional network of lawyers similar to that built on the Romanian market."
In addition, Boboc wants to establish his company at national level and more than double its number of customers next year.