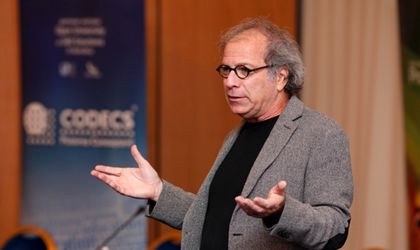 Itay Talgam, the coordinator of the Maestro Programs and TED speaker in 2009, was the main speakers in the Leadership 2011 conference, organized by CODECS this Wednesday.
Talgam, a former orchestra conductor who also handled the Orchestra in Cluj city, spoke about the relationship between music and business. During the 1 hour and a half presentation, Talgam challenged the participants into assessing the performance of various orchestra conductors, based on the hypothetical situation that one of them would have to be the manager. Ricardo Muti, a famous conductor, wouldn't be a great manager, according to participants as he is obsessed with controlling the orchestra musicians, while Carlos Kleiber was voted as the best hypothetic managers. He is more interested on the outcome of the performance and leaves the music making to the orchestra musicians, who can also achieve their full potential this way.
"This approach offers participants the instruments for understanding and drawing up an alternative image to management, by studying the roles, relationships and responsibilities of an orchestra, as a metaphor for the work space", stated Itay Talgam.
Over 100 participants from companies, civil society and academia attended Talgam's presentation and the conference debate organized by CODECS

Ovidiu Posirca