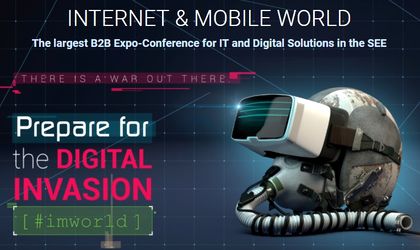 Business Review brings you live – here and via live stream on our Facebook page – the latest trends, exclusive presentations of participants and speakers and overall the best bits from Internet&Mobile World 2017. 
IM World, the largest B2B Expo-Conference for IT&Digital Solutions in the SEE, takes place Oct 4-5 at Romexpo, Bucharest's main exhibition venue.
Day 2
Main stage: Digital Transformation and the People Factor
GRIMUR FJELDSTED
How do we go from doing digital to being digital?
We must do AI and Big data, but nobody knows how to do that. It's about seeing the world in a different light, changing from the smallest employee to the top. Today, we hire more for the employee's ability to network than their skills. In leadership, we move from control to collaboration. When it comes to products, we move from products to platforms. For instance, Uber and Airbnb does not sell a product. In media, we move from the position of consumer to co-creator and for companies there is a move from push to pull. We are also moving from profit to purpose. People ask themselves, what is the purpose of my company? To earn a lot of money is not the biggest purpose anymore. We also move from planning to experimentation. We move from privacy into transparency, a big challenge for companies.
In order to be digital, a social media account is not enough. Why do organisation fail with innovation? Many companies create an innovation lab, lock a few people in a room, give them ping pong balls, but you isolate them. They focus only on incremental or disruptive innovations, but there's no way for them to experiment at a low cost. Also, they focus on short-term projects. In the normal cycle of the budget, you must wait for next year to receive the funds and it is too late.
A lot of executives are afraid to fail and think that they have a lot of good ideas but by saying so is not enough. There isn't a company around that is not engaged in innovation. Is the organisation ready to adapt to those innovation and how do they communicate this internally to the rest of the company?
How can companies achieve the Digital Transformation?
Digital: clear vision, purpose and a roadmap. Many of them also have a digital strategy. Merging the digital strategy to the purpose is tough. Getting a culture of learning is important. Trust, transparency and empowerment are very important. Promoting new ways of working, being agile, lean, are very important as well. Driving the change should not happen when you feel you've missed on the digital revolution, but before that.
Security stage:
Tarun Samtani
In order to be a secure company, you must have a security mindset. Organizations need to focus on the people aspect. Improving the knowledge and awareness of people. It is a long-term shift and you must give it time. Also, security programs initiation and implementation should be at CSOs level.
Gabriel Mihai Tanase –
Awareness must start at the board level. Although cyber risk was seen as a major risk in the past, in the latest KPMG Global CEO Outlook, cyber risk is ranked only 5th in the order of importance. CEOs believe they are making progress in their management of cyber risk, which helps explain why it has dropped to number five. However, it remains a major risk. Still, there are CEOs, like Mark Wilson, CEO of Aviva Plc, who says that cyber security keeps him awake at night.
Alex Bordei – Bigstep
AI amplifies the social bias existing in society. Areas in Boston with lower income have potholes. But elderly people do not have smartphones and do not report potholes. If you only rely on data, you will not have the right image and you will wrongly think that certain areas do not have potholes.
Algorithms already affect reputation. The suggestions that appear in a Google search together with the name of a business man were 'scientology' and other terms. He sued saying he has no connection to this and won the case, arguing the association created by Google engine was harmful to his image.
General Data Protection Regulation (GDPR)'s implementation deadline is fast approaching. and has new citizen right included.
Right of Access – clearly explain to me what you do with my data, let me choose what I allow you to do with my data, tell me the data you have on me right now, give me the data you have on me
The right to be forgotten
Right to data portability, which allows me to move my data to another vendor. For instance, if you quit Facebook and want access to that data.
These rights are complicated in Big data environments.
There is no clear prior business goal set.
Algorithms are often a black box
The cost of retaining is smaller
Data get repurposed often. I am now using your data to make a payment, later, as a company I can use it to pin you to a specific geographical area.
Heavy use of profiling
You can have useful data or secure data, not both.
Profiling is restricted and you cannot do it if it has legal effects. Data subjects are informed of profiling happening if it has 'legal effect or similarly significant effect'. Now you can ask for a human intervention "I want a human to look at this"
You need explicit consent if profiling is done for Direct Marketing.
Data subjects can object an automated decision and can ask for human intervention.
Vendor must clearly explain the purpose of data collection.
Implicit consent is not permitted.
If we need to work with people with the job title Chief Protection Officer, they need to be aware they have big power on their hand. So they need to have responsibility.
Ben Westwood – eBay
To implement something so big as the GDPR, they had to start early and they did so at beginning 2016. The name chosen was Giant. After the preparation stage, they did a gap analysis, which included interviews with legal teams and business units.
eBay implemented a system for employees to access information. Also, in 2016 eBay launched in 2016 in collaboration with Group Information Security a vendor security and privacy assessment operation. All vendors are now assessed according to that criteria.