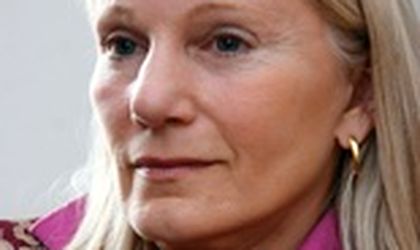 Previous years saw famous figures such as actors Vanessa Redgrave and Ethan Hawke attend. "This year I didn't want publicity focused on a movie star. I wanted it to focus on the issues, because there are some really important issues."
This does not mean government VIPs will not be welcome. "The president and the prime minister would be a good start," says Hawke. About 650 people in total are expected at the ball and another 400 at the After Party. "We have sold 65 tables and we need to reserve some for special guests. So we are really sold out at this point," says Hawke. The ball will include a raffle (with at least 100 winners) for prizes such as an LCD TV from Arctic, brunch for six at the Hilton, a Vodafone Blackberry and a Motorola RAZR2. Another highlight of the evening will be the auction. Among the valuable items expected to raise interest will be a necklace from Angelina Jolie, a handbag that belonged to Uma Thurman, a luxurious weekend at Bucharest's Carol Parc Hotel, and a membership for the new Equus Manor Country Club in Snagov.
The ball is expected to raise around EUR 350,000, says Hawke. Organization expenses are expected to take no more than 10 percent of the revenue and the rest of the funds will be distributed among the Ovidiu Rom programs in Bacau, Buhusi and Bucharest "where we serve about 500 children and 300 families," says Hawke. The proceeds will also cover training costs for providing workshops around the country for several hundred teachers and social service professionals, workbooks and other education materials for summer "school readiness" programs across the country and emergency aid to families so they can cover expenses that might otherwise prevent their children from attending school, says Hawke.
"Seventy-five percent of our money comes from corporations based in Romania and we get another 25 percent from individuals in the US." Part of the national initiative "Fiecare copil in scoala" (Each Child in School), the programs aim to help impoverished children go to school.
Ovidiu Rom intends to expand its training to as many additional communities as possible, says Hawke. "Other communities come to us. Right now we have projects in places such as Bihor, Bacau, Mures, Brasov, Dambovita and Bucharest. At this point we are responding to requests from schools and public authorities who know they have a big problem with kids dropping out of school." Attendance and performance in school are points of reference when evaluating the success of the program. But it will not be considered successful "until literally 'every child in Romania is in school' and on track towards high school education," says Hawke. But the real success means "closing the gap between the national average and the education levels achieved by rural and Roma children. And that will take a generation," says Hawke. While thousands of children have been given tools that will help keep them in school and on the path to high school graduation, there are still at least a million children in Romania that need this kind of help. "If they don't get it, Romania's economic future is in serious jeopardy," says Hawke.
Otilia Haraga