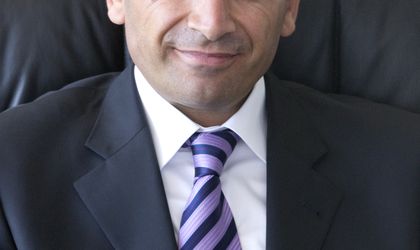 With an active portfolio of around EUR 80 million, the Black Sea Trade & Development Bank (BSTDB) has continued to finance the local economy despite the depressed economic environment. Mustafa Boran, vice-president of banking at the BSTDB, says the lender is working on a handful of financing deals locally as part of a wider effort to support investments in the Black Sea region, with the help of more favorable lending conditions.
By Ovidiu Posirca
What type of companies are you looking to finance in Romania? Only private companies or also state-owned firms?
Our existing portfolio is around 80 percent private companies and 20 percent public sector operations, such as governments, municipalities, government companies like banks, development banks and regional development banks. We work for both. We cannot work directly with small companies because we don't have regional offices here. We don't have representative offices; we are only in Thessaloniki (e.n. Greece).
There are some financing requirements to make the deal happen, and for small operations/companies it is costly so that's why we cannot afford to work with them. Instead, for small companies we serve financial institutions like banks or leasing companies which then lend to small companies.
What is your current portfolio in Romania and what are your plans locally?
As of today, we have five operations active in Romania. Some of them are disbursing and some repaying. In numbers, we have signed EUR 63 million, excluding this deal we have signed today (e.n. a EUR 15 million financing line to Agricover Group). Out of this EUR 63 million, we have already issued EUR 50 million. This is the active portfolio. In previous years we financed a couple more projects and they have repaid already so these are not active but still we have financed them. So far in Romania we have financed 22 operations and pumped EUR 154 million into the Romanian economy.
Out of these 22 operations, we have provided funds to five trade finance operations, five operations amounting to EUR 30 million involving small and medium-sized enterprises (SMEs), and in other sectors such as oil and gas, manufacturing, the environment and agri-business.
What is the biggest active financing line locally?
We granted EUR 30 million last year to Olympus (e.n. a Greek dairy producer) in the agri-business sector. This is the biggest active operation we have.
What is your financing structure?
We are a development bank and we are owned by regional economies. Our objective is to support economies, to provide value addition to the economies, to create jobs and support them in their export activity.
What share do Romanian operations hold in your total portfolio?
In the cumulative portfolio it is almost 8 percent. In the active portfolio, last year it was lower and this year it has increased by 3 percentage points, from 3.5 percent to 6.5 percent now. In 2013, we have a number of projects in the pipeline that we are working on, and I believe we will increase this percentage even more.
How do you manage your risk?
So far we are alright. We don't have a large number of non-performing loans. We make our decisions based on credit-wise analysis: we look at the company profile, its financials, what it does, and we work with good clients.
Are you going to announce any new financing deals in Romania by year end?
We about to finalize one more operation (in leasing) and we have more operations in the pipeline. In the energy sector we have a couple of transactions: in wind power, in energy efficiency, and we are trying to complete a deal. We have two deals in the pipeline in the manufacturing sector and we are trying to do business to support the infrastructure needs of some municipalities.
Is it cheaper for a company to get financing from the BSTDB than from a commercial bank?
It is cheaper, actually. Not very much cheaper, because we are still operating in the market. In the market there is a price that can't be changed but in any case our financing is more favorable. There's a small discount or the lower interest rate we ask for, but we provide financing for longer terms, which commercial banks don't.
What is the BSTDB shareholding structure and how much does each country contribute to the bank's capital?
We have 11 countries in our shareholder structure. Three of them are the major countries (Russia, Turkey and Greece) which each account for 16.5 percent of the shares. These three together have almost 50 percent of the capital. Then comes Romania with 14 percent, Bulgaria and Ukraine on 13.5 percent, then Azerbaijan with 5 percent. Other small countries have 2, 1, or 0.5 percent each. Based on these shares, they make their payments. So far there is no major issue in this regard. The paid-in capital of the BSTDB is less than EUR 500 million but the authorized capital is EUR 3.5 billion. Out of this, EUR 2.3 billion is the subscribed capital, of which EUR 500 million is already paid but we are still in the payment process. By 2018, all the countries will have paid their due amounts so the paid-in capital will reach maybe SDR 600 million or about EUR 700 million. We used to use the SDR (e.n. a currency of the IMF) but now we are in the process of shifting to the euro.
Has the global recession impacted your financing activity in any way?
It has affected us by increasing the cost of financing because we also borrow from the market and give to the regional market, so our cost of borrowing has risen. By contrast, last year we achieved a growth of 9 percent, which is higher than the 7 percent the previous year, and this year we are trying to reach 11 percent. We have been affected by the circumstances, but we are trying to do more. As a development bank, the regions need us more than before because the other financial institutions are not there; the commercial banks are not there.
What is the growth outlook for the Black Sea region?
The investment needs of the region are promising. First, the region is important for energy sources. Russia and Azerbaijan are energy rich countries and have a good source of financing. All the countries are in need of infrastructure investments. They are in need of all kinds of investments so in this regard the potential is very high.
How can the Euro zone and Europe in general return to growth?
If you believe expectations of the IMF and other international financial institutions, this year will bring very slightly better growth rates than last year. This is true for Romania as the growth expectations have doubled to 1.5 percent. This is going to be the case, as in other EU countries. In any case, this is a business cycle. I hope we are at the bottom and will start climbing up.