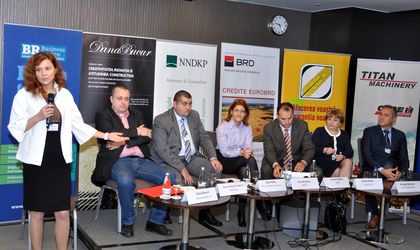 Romanian farmland currently costs between EUR 1,000 and EUR 5,000 per hectare whereas just over the border, in the EU, prices go beyond EUR 8,000 to EUR 10,000 per hectare, said Victor Ciuperca, area manager at AMB Holding, at the second edition of the Focus on Agriculture event organized by BR this week.
In Romania too, farmland prices will go up, making it a good investment opportunity, he argued.
Future developments in this area over the next couple of years will be influenced by three main factors – profiteering, land consolidation and production, he added.
"Many fear speculators and their potential influence on the price of farmland in Romania (…). In general, when one talks about profiteering one talks about goods which can be easily managed. For example, no one engages in profiteering with cows. If land ownership in Romania were regulated, in the sense that owners had to cultivate or take care of the land and not leave it barren, the issue would be solved and people wouldn't be so upset about the prospect of foreign investors speculating," said the area manager.
Foreign investors, and not just them, are looking to buy large plots of consolidated land, which is one of the main factors influencing the price. Large consolidated plots, however, are hard to find locally, and the issue of land fragmentation should be solved by putting in place proper legal incentives, said participants.
Another factor influencing farmland prices is productivity, which makes plots that were previously cultivated more attractive than barren land, said Ciuperca.
Participants at the event also discussed prospective developments after January 1, 2014, when foreign citizens and companies will be able to buy farmland in Romania. The topic has been extensively debated locally over the past year, with many politicians and industry representatives voicing concerns that low farmland prices in Romania will lead to a land rush by foreigners. The minister of agriculture, Daniel Constantin, has recently said that the authorities will take measures to prevent a phenomenon which "has frightened a lot of people" by proposing measures to limit foreigners' access.
Such fears are unjustified, stressed many of the event's attendees, who argued that Romania stands only to benefit from the investments and know-how brought by foreign investors.
Read more in next week's print edition
Simona Bazavan