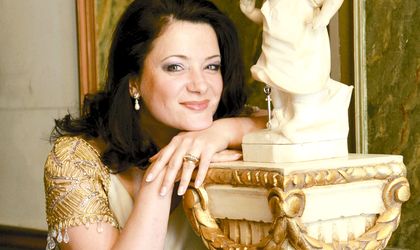 Angela Craciun, a local investor who started several businesses in Romania in the 90s, has finally found her dream home and business, all in one. She has bought a castle in the Loire Valley and is working on making it a cultural hub and a source of revenue from cultural and private events. Previously, she had built up several businesses in Romania, including a dairy production unit, which she finally sold to the developers of Gold Plaza shopping center in Baia Mare.
Corina Saceanu
Angela Craciun started her first business in 1994 and many other ventures were to follow between then and 2008, when she decided to buy a castle in the Loire and live there, using it as the hub of a business.
A mining engineer by field of study, Craciun started out doing business in media, marketing and advertising in the early 90s, then went on to the IT and telephony markets, and eventually to setting up and running a magazine. It didn't end there, as a dairy factory followed.
After that, Craciun moved into diplomacy, at the Ministry of Foreign Affairs, which opened for her the door to working internationally. In 2003 she set up the World Mineralogy Organization and began working on this new project.
It was in 2008 that the businesswoman bought the Chateau de la Huardiere from Jean Renoncourt, a French antiquary.
Craciun doesn't reveal how much she paid for the building, but estimations put the price at some EUR 4 million for the castle, which was built in 1850.
"On one of my visits to Monaco, in 2008, I saw that this castle was for sale in a property magazine. The pictures caught my eyes and I said to myself it would be mine, as it was very similar to what I had been dreaming about," says Craciun.
She now wants to turn the place into a hub for organizing cultural events to promote Romania, as well as a venue for private events in the future.
"On the long term, I intend to rent the castle for exclusive events, like photo shoots, filming or advertising and weddings," says the Romanian investor. The castle includes ballrooms for receptions and 60 rooms for guests. Running the place comes with costs for staff – four employees – plus water, electricity and heating, which she hopes to bring down after the renovation.
"I want the events that I will organize in this castle to promote Romania and to bring into the spotlight the young talented people in my country, from the cinema, plastic arts and photography," says Craciun. She is passionate about arts and film, as well as about any intellectual, social or image challenge, she says. Besides this project, she is also planning to revamp a heritage building in Baia Mare, her home town, and turn it into a hospice for the elderly.
Craciun believes that she is a good starter manager, as she gets bored with the daily routine after setting up a business.
"I like to create new businesses, to launch ideas and see these ideas followed by many people. The higher the level I reach, the bigger the challenge and the satisfaction of succeeding," says the businesswoman.
Craciun's entrepreneurial endeavors
Angela Craciun started Arthema International, a company working on the media and advertising market, in 1994.
"That was a boom period when those who knew how to mix international recipes with the local cultural context gained recognition and a well defined place on the market," says the businesswoman.
After that she started the lifestyle magazine Indigo, which she created due to her passion for writing, says Craciun.
Not all of her ventures ended in success. "In 2000 I expanded my activities to a managerial level which brought me satisfaction, but also disappointment from employees and some state representatives," she remembers. She then bought at auction a dairy factory in Baia Mare, Maralact, which used to belong to the state.
The factory was bankrupted by a management team which was then under investigation, according to Craciun.
She wanted to re-start production, but two years down the road, after the company was re-branded as Eurolat, she discovered the factory was accumulating losses as the employees and management were constantly stealing.
She managed to get out of this bad deal by eventually selling the plot and the building to Retail Development Invest, a real estate investment company.
The site will soon host Gold Plaza shopping center, a development by Futureal and Immoeast, which required EUR 97 million in investment.
The Castle
The owner of the Chateau de la Huardiere, Jean Renoncourt, was involved in a trial with singer Elton John, and had to sell the castle he had owned for 18 years to pay the subsequent damages. It is located 140 km south-east of Paris and close to Orleans.
The castle was built in 1850 in a neo-classical style. Interior and exterior decorations are in the Louis XVI style, with pieces of furniture in the Napoleon III and Empire fashion.
This was one of the few castles in the area not bombed during the Second World War. The Germans used it as their headquarters.
Writer Andre Malraux and singer Leo Ferre are among those who have lived in the castle.