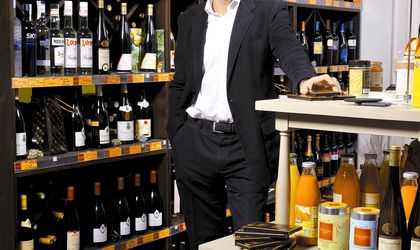 With a total investment of EUR 1.5 million, Frenchman Adrien Damour intends to expand his Delicateria Traiteur network to five stores in Bucharest in the future and to keep the very high quality standards of his products as his firm's unique selling point.
Anda Dragan
Adrien Damour, general manager of Delicateria Traiteur and Gusto, first came into contact with Romania back in 1990, after graduating from an economic university in France. He was asked to work as press correspondent for a magazine for minorities, and was put in charge of covering Romania, Hungary, the former Yugoslavia, Albania, Bulgaria and Moldova. He returned to France in 1992 to serve a mandatory period of national service. One year later he came back to Romania and set up the Gusto business. "I was interested in the agro-food field because it was a passion for me; I felt like it was something I loved. Besides, in 1993 the local market was little developed in this area. From my perspective, it was a great opportunity to start a business on an almost non-existent sector," says Damour.
The idea was to sell cooked food through distribution networks under the Gusto brand. But there was a problem: in those days there was no well developed distribution system. "In this context, I also started a new business line, cocktail parties & receptions," says the entrepreneur. So the early days saw Gusto take two directions. But slowly large distribution networks came to the local market, and conducting studies to find which products were the best sellers naturally followed. Smoked salmon, caviar salad and several other Gusto products proved big hits, so the company decided to focus more on them. "When I started the business, in 1993, there was only the La Fourmi store, then Mega Image and Metro came on the market, and later on Carrefour and Cora," says Damour. However, by 2003 it had already become difficult to sell Gusto products in large distribution networks, meaning the firm had to constantly reduce the costs. But Damour was ready. "Anyway, I had come from France where this had already happened," he remembers.
So the Frenchman had to choose between two alternatives: to continue to distribute through large networks, which meant producing more quantity at a lower quality, or to change the field of activity. "I chose the second option because I had wanted to produce and distribute fresh food since I was born, but the market was not ready in 1993. So I set up Delicateria Traiteur in 2004 and registered the trademark at European level," says Damour. He adds that it was difficult to find a name for his company because there was no similar word in the Romanian language for 'traiteur' (a company that produces and delivers fresh food). The expansion of the Delicateria network started in 2004 when the first store under the brand was launched in Bucharest, on Mihai Eminescu Street, at an investment of about EUR 200,000. It was followed by the opening of a location in Carrefour Feeria in 2006 and one in the Dorobanti area a year later. According to the businessman, 60 percent of the firm's production is currently for cocktail parties and receptions, and the other 40 percent dispatched to Delicateria shops. "We produce 200 fresh products for our stores and being a producer is actually what differentiates us on the market. We don't have frozen products that we will sell later on defrosted as other retailers do. Bread for example is extra-fresh," says the entrepreneur.
The Frenchman's toughest time was when he launched the business. "A year and a half from the opening it was hard because we were active on an unknown market, we were the only player and not all the feedback was positive. The current crisis, which is hitting the turnovers of all players in different fields, is another difficult period," adds Damour.
If he started another business, he would fund it better. "I would like to have more capital because we need financial reserves. This business developed through itself. I didn't have an investment fund as a strategic partner. The two businesses supported one another and this hindered the development," adds the general manager. In his opinion, high quality production, finding raw materials and highly skilled personnel and adapting the recipes according to the customers' tastes are some of the challenges. "It is very hard to be perfect from all perspectives. Difficulties come both in production and distribution," adds Damour.
As for the competition, he says that the company has lately started to have some, but only partially and on some specific segments. "We have competition in bread manufacturing, pastry, chocolate and wines but there is no one that has all the range we offer," he says. The difference between his company and other players is its manufacturing activity. "We are unique because we have a large variety of products and a production facility. Production is what makes the difference because we can meet the demand in real time." In Damour's opinion, about 20 to 30 percent of the customers who buy gastronomic products come to Delicateria. Meanwhile, Gusto has approximately a 10 percent market share on the cocktail party & receptions segment.
As for his future plans, Damour cites the opening of his new outlet on Dacia Boulevard, in an old, refurbished location. "I bought this location for EUR 500,000. We don't intend to open up new stores at the moment but if the market recovers in the future, we might be able to open one or two stores next year. It would be best for us to have five stores in Bucharest," concludes the entrepreneur.