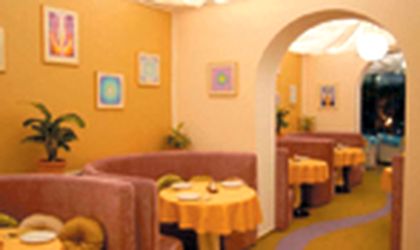 Our waitress arrived, a gentle smiling creature, and presented us with the menu – which was unintentionally a barrel of laughs. For the House is part of a harmless Indian cult called 'Ayurvedic' which embraces an entire lifestyle of peace and inner love, and food is only part of its philosophy.
They even have a floatation tank in the basement to enable you to reach your inner self. Hold on a minute. floatation tanks are based upon sensory deprivation and depriving your senses has been defined as torture under the Geneva Convention. Hippies are excused!
But the House is on a mission to convert us, so they do a selling number on you through the menu. So they state that aficionados of Ayurveda include Madonna, Prince Charles and Sting. WHAT! This statement was a marketing faux pas, as no thinking person would ever consider those three loonies as being role models worth following.
The menu informs us that they sell only pure organic products including ionized water. They even have "peaceful ionised air for a healing effect". Upon reading that I started to crave a cigarette just to defy them.
They had a chart indexing your 'Doshas' over such titles as air, bioenergy, ether, earth and water. Oh for God's sake – leave me alone for I have come here to eat, not to receive lectures.
But the lectures keep coming, for in each food section of the menu we are told why the dishes were chosen by the House for our wellbeing. So they want us to eat desserts first because they "create Amma which fights off disease." That's not my experience which is that desserts make you fat!
But we stopped smiling when the food arrived and took the House seriously, because it really is exceptional. After passing on a chance to cure my disease with desserts such as cakes, brownies, dried fruit and apple crisp we went for the main courses.
But horror of horrors, this is a vegetarian chophouse. I can put up with veggie food, but not vegetarians. They all suffer from not being able to reverse the car into a parking space, have an obsession with keeping cats and are irritable and argumentative from the frustration of not eating meat.
Since they did not sell evil wine and beer, I bought mine from the kiosk opposite and they were gracious enough to let me drink it at my table. I also had some fresh fruit smoothies which were the some of the best I've ever tasted.
So too was their lentil soup with cornbread. Simply superb. The cornbread was flat as it did not contain yeast, because, we were told, 'yeast and rising agents cause imbalances which interfere with your metabolism.'
Off we went to the 'dal' section, a number of hot dishes based upon Indian lentils. We were informed that 'dal' beans 'stimulate your digestive fire when something sour is added.' Frankly my experience of excess beans is flatulence. But my 'dal' with rice, asparagus, ginger, turmeric and coriander was good and ideal for sharing.
I had an excellent rice dish which they claim 'benefits your dosha' containing ginger, coconut, coriander, black mustard seed cumin and peas.
I really loved my food, albeit without meat. And with each dish costing RON 12-19, I also loved my bill.
I left feeling horribly healthy. I desperately needed my ozone-pure lungs polluted by cigarette smoke, a strong shot of Johnny Black and to tear into a juicy steak. I wanted to substitute their oasis of calm and tranquillity with my boisterous party friends, resplendent with their raucous jokes.
To the House I must be the client from hell for I do not espouse any of their preaching. But I still urge you to go there, for the food is excellent. If you fit their client profile, please support them because you will never find another place as good as this in Romania.
Michael Barclay
mab.media@dnt.ro