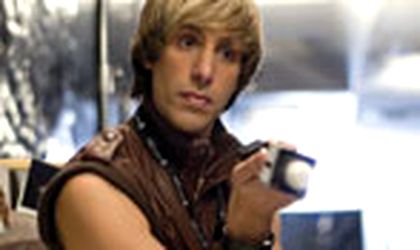 Much of the charm – I use the word in the widest possible sense – of Borat is gone. Despite that character's odiousness, as an innocent abroad some of his outrages were forgivable, which is not the case with the more knowing European fashionista. The plot is also weaker, just a series of – admittedly very humorous – set pieces linked loosely together as Bruno attempts to become world famous.
But the main reason that the film falls short of its predecessor is that Baron Cohen has become a victim of his own success: thanks to the huge splash made by Borat, he is now a more recognisable face and cannot fool as many people. Whereas it might be conceivable that US Congressman Ron Paul (amusingly confused by Bruno with drag artist RuPaul) could be caught unawares, other scenes involving media-savvy Hollywood players were clearly staged, and, while still funny, lack the shock factor of Borat's authentic stings.
But though his job has become harder, Baron Cohen remains one of the most courageous comedians out there. From parading round an Orthodox part of Jerusalem in hotpants (ending in his being chased by a group of Hasidic Jews) and meeting an Islamic terrorist leader in the hope of achieving fame through being kidnapped, to making out with his male assistant in a boxing ring before a crowd of braying rednecks (occasioning a near riot), the comedian and his crew truly suffer for their art, and the result is brave, brilliant comedy.
The satire, too, remains sharp. Baron Cohen's brand of humour has always been at its most satisfying not when mocking the freak-show meatheads, but skewering those who should know better. Two vacuous "charity PR consultants" who mispronounce – and then fail to locate – Darfur are the perfect material for the comedian's ego-puncturing genius. There's also enough old-school physical comedy (such as Bruno's Velcro suit causing chaos at Milan Fashion Week) and malapropisms (the confusion of Hamas and hummus during the fashion reporter's attempt to solve the "Middle Earth" crisis) to entertain the popcorn-munching classes.
Although shows like Jerry Springer prove that there is no shortage of small-town numskulls willing to humiliate themselves in front of a television camera, it seems unlikely that Baron Cohen can get away with making a third prank-based movie. Let's hope his spot-on satire and edgy humour can find another outlet.