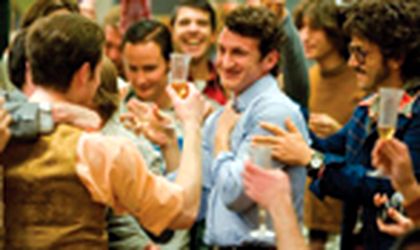 Director: Gus Van Sant
Starring: Sean Penn, Josh Brolin
Harvey Milk came to politics relatively late. We first see the character (brilliantly played by Sean Penn) as a 40-year-old New York drifter, unhappy with his life and seeking change. He and boyfriend Scott (James Franco) move to San Francisco and set up a camera shop, which over time becomes a hub for the gay community in the working-class Castro neighbourhood. Milk's hippyish demeanour belies his business nous, and he is soon mobilising youngsters for the gay cause, starting a movement that culminates in his running for local office.
Despite several failed attempts, Milk doesn't quit. He ditches the pony-tail and jeans, and with his committed campaign team eventually wins a seat on the San Francisco Board of Supervisors. The victory is not without sacrifice: Harvey loses first Scott, and then unbalanced new lover Jack (Diego Luna), neither of whom can compete with his devotion to his goals. He must also deal with a deteriorating professional relationship with fellow supervisor Dan White (Josh Brolin), an Irish-American former police officer, whose conservative, family values conflict with Milk's progressive agenda. But his main political fight is against Proposition 6, a motion to ban homosexuals and their "sympathisers" from teaching in California's public schools.
Although the events portrayed in the film occurred in the 1970s, it is depressing how relevant they remain. Some thirty years after Proposition 6 was defeated, last year's Proposition 8, also in supposedly progressive California, successfully abolished same sex couples' right to marry.
Openly gay US politicians are still a rarity at any level, entirely absent from high office, and while one huge glass ceiling has recently been broken it is hard to imagine a gay person could become president any time soon.
Milk endured the expected hostility, from low-level street harassment and insults to death threats. Aside from its gay theme, the movie works as an inspiring parable about never giving up, despite the odds and opposition. Its power lies in Penn's superlative, Oscar-winning performance. He inhabits the role. Milk's only flaw is its length: two hours, though long for a film, is not enough to answer all the questions this fascinating story raises. It would have been interesting, for example, to learn more about the politician's killer, who was not a random nut, but someone known to him.
The murderer's only real motive, according to the movie, is a hint that he might have been a closet homosexual, something for which there is no substantiation, in real life or in the movie.
The part was originally to go to Matt Damon, whose past turns as mysterious assassins Jason Bourne and Tom Ripley may have helped him bring more colour to the role. As it is, the murderer's psyche remains a blank slate.
But despite his and other supporting characters' lack of sufficient screen time and psychological exploration, this is an important, absorbing film, as much about the milk of human kindness as about Milk the politician.
Debbie Stowe