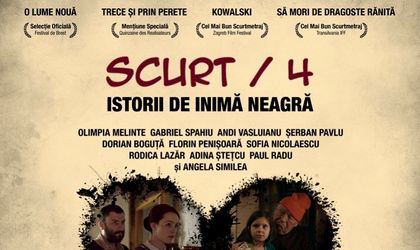 Gangsters, drinking, death, power ballads, witchy neighbors, screaming neighbors, neighbors impersonating rabbits, and transatlantic treks – it's all there in this new batch of Romanian shorts, in cinemas now.
The portmanteau film has form here: it had an outing in 2009, with Tales from the Golden Age (Amintiri din epoca de aur), five shorts that satirized the Ceausescu era. This new crop of stories is more varied in tone and time. This is in keeping with wider industry trends: Romanian cinema seems lately to be moving on from its long, bleak dissection of communism and post-communism and branching out in diverse directions. It's also creating room for new directors, challenging the dominance of the Cristis (Mungiu and Puiu) and Corneliu Porumboiu.
The first vignette, Start Anew World (O lume noua) from director Luiza Parvu, is not set in Romania at all, but in Pennsylvania, in 1908. It features Florin Penisoara and Olimpia Melinte (who gave an impressive recent performance as imperiled sisters in the macabre Spanish film Cannibal). Told in a slow, spare style, the story centers on the arrival of a pregnant relative at the house of immigrant cobbler Petru, after a long journey from Europe. A two-hander (with the exception of a brief appearance from a bumptious local official), it rests on strong performances, with Penisoara managing to convey apprehension through what is left unsaid as much as with the sparse dialogue.
Family relations also play a role in It Can Pass through the Wall (Trece si prin perete), from Radu Jude. Sofia (Sofia Nicolaescu) is being babysat by her grandfather (Ion Arcudeanu) while he plays backgammon and drinks with pals. As the men chat, the girl becomes disturbed by thoughts of an unhappy incident that has taken place in the building that day. Jude creates a striking disjunction between the main point of interest – Sofia and her discomfort – the focus of the camera and the soundtrack – the men's conversation.
Andrei Cretulescu also takes an unusual approach, shooting the darkly Kowalski in one long take, in the style of Hitchcock's famous experiment Rope. Two crooks (Andi Vasluianu and Dorian Boguta) are in a bar. Their discussion – with each other, with the waitress (Rodica Lazar) and with a higher-ranking gangster (Serban Pavlu) who joins them – yields wry comments on such themes as power, bravado and interpersonal dynamics. In the stylish and darkly comic depiction of the desperation of the criminal classes there is something of Tarantino and the Coen Brothers.
Iulia Rugina's Dying from a Wound of Love (Sa Mori De Dragoste Ranita) also starts off suggesting we might be in for a rough ride, as two brokenhearted lovers (Adina Stetcu and Paul Radu) contemplate doing away with themselves. But things then take a surreal turn. The title references a song by popular 1908s chanteuse Angela Similea, a kind of Romanian Bonnie Tyler, of whom the exes are big fans. There is humor, melodrama, a hint of horror and a nod to Donnie Darko in the story.
The four films have little that obviously links them, and the omnibus format involves stark shifts in style and tone. But together they serve as a neat exemplum of the new directions of Romanian film, which is spreading its wings – geographically, historically and stylistically.
On at: Cinemateca Union, Corso, Caffe Cinema 3D, Patria, Scala, Studio, Grand Cinema & More, Hollywood Multiplex, Cinema City Cotroceni, Cinema City Sun Plaza.
Debbie Stowe