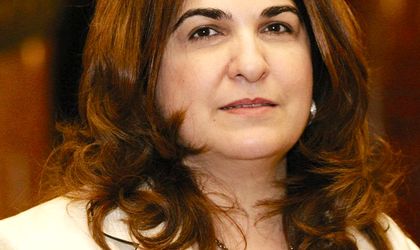 With ambitious plans for her business, former high-school teacher Mihaela Dragomir is now going places in the corporate world. The general manager of Ella Traveland intends to enter on the medical events sector in the near future and set up a social responsibility association.  
Anca Ionescu
Mihaela Dragomir started her career as a high-school teacher in Giurgiu. But despite coming from family of educators, she ultimately chose to enter the tough world of business. "My time spent teaching helped me a lot in my career and my experience in the education system was not a waste of time at all," says Dragomir. Her first foray into the corporate world was in sales, for which she rapidly showed an aptitude. "I became manager of one of the programs developed by Zepter in a few years. Then I decided to set up my own business, a company specialized in tourism and event organization. It now operates under the name of Ella Traveland."
And she didn't stop there. Later on Dragomir founded the Elite Art Club UNESCO Association, which today is one of the most active such organizations in Romania. "I have always had a bent for the art of display and that helped me a lot in developing my own business," she adds.
The first customers of her event company were friends and people who really trusted her. "I started to organize events and then I thought it would be a good idea to offer tourism services. So I had to obtain several licenses to practice. It is crucial to have your own support for your events, in order to be able to count on the reservations you make at different hotels," says Dragomir. "In addition to services for business tourism I later developed the leisure line."
The idea to set up her own business came in 1993 when she started to work for Zepter International. "There I was in charge of the organization of several events for Zepter. Achievements such as those at the Casino in Sinaia and Romanian Opera House made me see the great potential of that segment. This is the type of business that perfectly suits me but I also love what I do a lot," says the general manager. Dragomir continues to work for Zepter as an event organizer. "I like long-term partnerships," she adds.
The most difficult moment her business has faced, says Dragomir, was when rents exploded on the local market. "Then I decided to borrow the money to buy the current office. Another time, two of my employees decided to set up their own enterprise so I needed to work very hard to restart my business from scratch," remembers the businesswoman. But it seems it was a useful lesson for Dragomir. "The most important thing is to communicate with your employees and suppliers and to perfectly understand your customers. There is no problem that cannot be solved," she says.
Like many other entrepreneurs, Dragomir has no regrets about her business decisions, as they have driven the growth of her firm. If she started another company she wouldn't change anything. "It is useless to talk about luck, as it cannot be under our control," she asserts. As for the challenges her firm has faced, the entrepreneur says there are plenty of unpredictable circumstances to which she has had to adapt. Meanwhile, she continues with her cultural efforts. Jeunesses Musicales, Painters from Today at Balcic (Pictori de azi la Balcic), 10 for the X decade (10 pentru deceniul X) and Souvenir of Bucharest (Suvenir de Bucuresti) are among the most important projects of Elite Art Club UNESCO.
Although event organization and tourism are pretty crowded segments at the moment, Dragomir remains confident about the future of her businesses. "Putting my employees to work with different professionals such as artists, architects and producers in developing a specific project is what differentiates me from the crowd," says the multi-faceted entrepreneur.  She adds that her company focuses on events organized in unconventional environments, in order to offer something special to her customers.
Both now and in the near future, Dragomir intends to focus on organizing specialized medical events. "We know the medical environment and medical associations very well. In addition we have the expertise needed to offer medical companies what they really want." She says that 50 percent of her business is now in this area. In addition, the former teacher intends to establish an association active in social responsibility. "We teach people about cultural management. Whoever succeeds as a volunteer, partner or team member will gain a lot in time," she says.
Company profile
Ella Traveland and Elite Art Club UNESCO
Established: 1998 Ella Traveland and 2003 Elite Art Club
2008 estimated turnover: EUR 1,386,700
2009 estimated turnover:  EUR 1,190,000
Number of employees: 15 full-time and 10 regular collaborators
Initial investment: EUR 3,500
Total investment: EUR 300,000