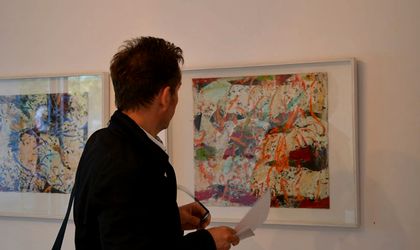 418 Contemporary Art Gallery represents a channel for Romanian artists, enabling their work to be known and seen throughout the world. They focused on paintings, sculptures, installations and photographic works by an innovative generation of artists, as Joana Grevers, founder of 418 Contemporary Art Gallery, told Business Review.
Which are the most important projects of the gallery this year?
The most important project of our gallery is the actual exhibition, entitled Structure&Energy II – The Power of Abstraction, where artists Vicentiu Grigorescu, Romul Nutiu, Diet Sayler set a consistent theme of the exhibition last year, showing the abstractionism with works from the 60s until 2000. Neo-constructivism and abstraction themes are in the international spotlight.
Also, the three Romanian artists will participate at Istanbul International Art Fair in September, while Vincentiu Grigorescu will be part of VIENNAFAIR whereas Romul Nutiu will represent the gallery in US, at Art Hamptons.
Moreover, the gallery will organize for the seventh year the Danube Workshop, at Cetate Castel, where both national and international artists will be present.
In terms of exhibition, the autumn session will be opened by the young sculptor Stefan Radu Cretu and with an inauguration event representing a work of art signed by Cristian Raduta, who will inaugurate a monument in a public space of Bucharest.
How developed is cultural management in Romania?
As far as I know, the cultural management can not be studied in the Romanian universities, unlike the situation in other countries. So cultural management topic is kind of learning by doing, with more or less success which very much depends on the personality and ability of the person in question.
Which was the most expensive sold exhibit of the gallery and who made it?
Lately, as I said earlier, the artists that follow the abstract neo-constructivism direction have a particularly large index position. For example, artist Diet Sayler is sold very well.
Are Romanians interested in buying art?
The interest in art has always existed and continues for those works painted in inter-war period, but I find very important to mention that in recent years has increased also the interest for contemporary art. Following this trend, Art Safari, which just ended, has had a positive effect on the Romanian contemporary art scene.
Also, the collaboration between museums, galleries, art fairs and auction houses can become a key driver in increasing the visibility of art and can sustain the interest for contemporary art and the growing of the collectors' number.
How many artists have the gallery in the portfolio? Who are they?
The gallery has a constant portfolio, consisting of artists of different generations and different working methods, both painters and sculptors such as Anca Bodea, Stefan Radu Cretu, Adriana Elian, Sorel Etrog, Vincentiu Grigorescu, Maria M. Bordeanu, Romul Nutiu, Cristian Raduta and Diet Sayler.
The gallery can be found on Intrarea Armasului, No.12, Et.2, opened Monday to Friday 11:00 am – 19:00 pm. More information about this gallery can be found here.
Photos courtesy of 418 ContemporaryArtGallery
Oana Vasiliu