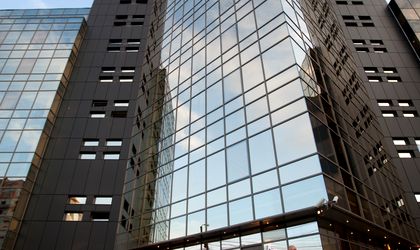 Realtors say that Barbu Vacarescu will continue to be an attractive destination for office developments in Bucharest, while the western part of the capital is popping up more and more on investors' radar. Retail schemes are becoming more neighborhood focused while on the residential segment, lack of financing makes it difficult to talk about any developments at all, let alone a prime location.
Simona Bazavan
"Bucharesters sleep in the south and work in the north. The city's development is unbalanced. There are too many office buildings in the north while the southern part of the capital is too much of a bedroom," said District 3 mayor Robert Negoita two weeks ago during a cornerstone laying ceremony for the extension of Adama's Edenia Titan and Evocasa Optima residential projects.
As securing financing for real estate investments continues to be difficult and relevance to customers has become more important than ever for the success of any building, developers are paying more attention to the location of future projects. Some of them have little choice and are forced to stick to the land plots bought during the boom period, sometimes at huge prices, while others are scouring the capital in search of new areas of growth.
"So far everyone has focused on the northern part of Bucharest, especially in the office segment. Now what you see is that people are going more in the central business district and looking within city limits to have offices, partly because land prices are more affordable but also because tenant companies don't want their employees to have to travel to areas where there are infrastructure problems," Andreas Holler, member of the Adama board, told BR.
There is definitely migration in the office sector and as lease contracts for many tenants expire, these companies are looking at more central locations which are easier to reach, he added.
While there is certainly demand for office space in central Bucharest, future developments depend a lot on land availability and price, Tudor Popp, managing partner of the real estate consulting, planning and project management company Immpuls, told BR. In his opinion downtown land prices for large-scale office projects continue to be too high because many land owners bought the plots during the boom period and, if not under duress, prefer to wait for better market conditions to sell.
A solution in this case is the boutique office, a concept Immpuls wants to develop locally. There is demand on this niche segment from companies that need smaller surfaces but are looking for central locations, he said.
Infrastructure is another aspect that has to be taken into consideration for larger projects, added Popp. "As long as there aren't any significant infrastructure developments I don't see any rising star area for office projects as was the case with Barbu Vacarescu. This area was neglected for a period but after a few projects began there it became very attractive," he said.
And there is still potential for more office projects in that area due to its accessibility, thinks Razvan Iorgu, general director of CBRE Romania. "In general, developers are attracted by areas with minimum vacancy rates and where there is, of course, potential for future developments. Given this, the Barbu Vacarescu area is on developers' radar. There are currently two office projects under construction there – Floreasca Business Park and Sky Tower," he told BR. Overall, he estimates Barbu Vacarescu has the potential for  about 170,000 sqm of office space.
Two other areas where Popp sees potential for future office developments are Poligrafiei, which despite infrastructure shortcomings has good land availability, and the Grivita area which offers good access to public transport and is close to the city center.
CBRE's director, too, believes the western part of Bucharest is becoming attractive to office space developers.
"We believe that in addition to the Barbu Vacarescu-Floreasca area, the western part of the city has an interesting potential for development in the coming years due to the visible development of infrastructure in this area – the Basarab Bridge means access to the city center is no longer a problem," he said. In addition to this, the office stock in this part of Bucharest is low compared to other areas and if vacancy rates continue to remain low, western Bucharest will definitely be on the map for potential developers, added Iorgu.
Looking at the retail segment, there is room for more malls in Bucharest, say players, and several larger projects have been announced, such as Promenada Shopping City, Mega Mall and ParkLake Plaza. In addition to this, there is also demand for smaller scale and neighborhood adapted projects. "The retail segment is different because it is also the preferred one for finance. Here I don't see a focus on high quality shopping centers but rather on more affordable retail schemes such as street malls with discount stores, retail boxes very much adapted to the neighborhood. This applies not only in Bucharest but all over the country. There is a need for more neighborhood serviced retail schemes," said Holler.
Residential is the one real estate segment lagging behind, but not because of lack of demand or available space. Lack of financing makes it difficult to talk about any developments at all in this sector, let alone their location.
Few developers have announced plans for the future. One is Adama which has begun work to expand two of its projects in Bucharest – Edenia Titan and Evocasa Optima in the Titan neighborhood – by about 210 apartments. This will require some EUR 14 million in investment. The company is also considering starting a new residential project in the Berceni area, southern Bucharest.
Putting the issue of financing aside, many of the potential new residential projects for which developers already own land on the outskirts of Bucharest continue to struggle with fierce competition from the secondary market (older homes) mainly due to infrastructure deficiencies.
Future residential developments depend a lot on the authorities putting in place the right infrastructure to offer people easy access to downtown Bucharest. "Living 7 km away from the city center in any other capital is not considered living outside the city. But people have bus services, tram services and so on, that allow them to be transported to their location," said Andrew Prelea, president of Ozone Homes during the 12th edition of the Focus on Real Estate event organized by BR.
Nevertheless, the north will continue to lead the way, said Stefan Gheorghiu, general manager of Impact SA, confident that Corbeanca and Tunari are the two areas that will be the fastest growing in Bucharest over the next five years.
Given that the need for new housing amounts to more than 300,000 units in Bucharest, this makes all neighborhoods potential destinations for future developments so long as developers have the money to build and buyers can afford to pay.
"One has to be aware that every single market has its potential buyers. For example, if people living in Titan – which is a niche market – could move from an old block of flats to a new block of flats in the same vicinity they would do that. Other people may have no issue in moving to Baneasa if they could afford it. So every single part of the city has its own customers," concluded Gheorghiu, stressing that future projects will have to be "carried out in a very professional manner – something that hasn't happened so far".
simona.bazavan@business-review.ro