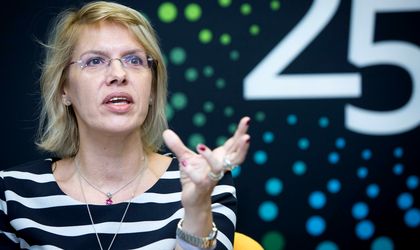 The latest edition of the Central European Deloitte Technology Fast 50 includes three Romanian companies, one of which received a special award for the Most Disruptive Innovation. 
The speed of growth among Central Europe's technology companies continues to accelerate, with average growth between 2013 and 2016 hitting a new record of 1,127 percent, the report shows.
This not only confounds any suspicions that last year's exceptional results could not be surpassed, but it is a confirmation that the current tech boom in Central Europe is a healthy one, the study argues. The average growth rate of Central Europe's Fast 50 technology companies sets new record of 1,127 percent. This is the second consecutive year of +1,000 percent average growth. Companies from 11 countries are represented, including three from Romania. The top five places in Fast 50 ranking are taken by new entrants – all Rising Stars of 2016. Companies representing the IT & Digital solutions sector dominate the ranking with 39 companies.
First place in the 2017 ranking goes to Czech online flight-booking business Kiwi.com, with a growth rate for the past four years of 7,145 percent. Kiwi.com was last year on the fifth place under the name Skypicker.com, suggesting that its 2021 target of becoming the world-leader in online travel is within its grasp. Only fractionally behind is last year's Rising Stars winner, Lithuanian smart sports technology business Deeper, while on the third place is Prusa Research from the Czech Republic.
Fast 50 ranking in Romania 
Forty-three Romanian companies took the start of the competition out of which three have made it in the Fast 50 ranking. The Romanian company with the largest revenue growth rate is the company Trencadis, based in Baia Mare, with a growth of 710 percent. For the second time in Fast 50 ranking and with an improved position (19) compared to last year (40), Trencadis is a systems integration company whose main goal is to optimise and innovate institutions' and companies' citizen and customer-related work processes.
For the first time in Fast 50 ranking, Timisoara-based Qualteh entered directly on the 39 place in the ranking, with a growth rate of 388 percent. Qualteh provides development and customisation for innovative high-quality enterprise and mobile software solutions.
With a 324 percent growth rate, Tremend, a software company from Bucharest with over 11 years of experience, came 47th. For the second time in the Fast 50 ranking, Tremend specializes in delivering complex software solutions incorporating advanced technologies, whose clients range from innovative US start-ups to multinational enterprises from over 15 countries on three continents.
Robotic process automation software vendor UiPath becomes the first business ever to win a special distinction for the Most Disruptive Innovation Award. The award marks those businesses that are pioneering highly disruptive new ideas or technologies. Founded in 2015, UiPath aims to change the world through the automation processes and to ease people's work, allowing them to focus more on the creative part of the work.
"Romanian tech companies have always been among the performers of the Fast 50 ranking and I am glad that we make no exception this year. I would like to congratulate this year's performers, who are young companies born in the new economy. They are companies that grow in one year as others in 100 and we support them on their scaling journey," said Alina Mirea, Partner Deloitte Romania and local coordinator of the program. "For 18 years, Deloitte has been following entrepreneurs as they grow in leaps, from young businesses that we support during their development, to more mature ones, too large for the Fast 50 ranking, but with which we continually collaborate."
Special categories
The Rising Stars category marks those younger businesses with such strong growth that they are likely to feature in the Fast 50 in the years to come. Indeed, the fact that the top five in the main 2017 ranking were Rising Stars a year ago proves the value of this approach. This year's Rising Star is Lithuanian 3D-model marketplaces CGTrader, with a four-year growth rate of 3,329 percent.
The Big Five category is for fast-growing larger companies whose scale makes it difficult for them to compete in revenue growth with the smaller businesses in the Fast 50. This year's winner is Czech online and real-world fashion retailer, ZOOT, with a four-year growth rate of 820 percent.
Serbia-based heating, ventilation and air-con innovator Dadanco Europe has won the Most Disruptive Innovation Award.