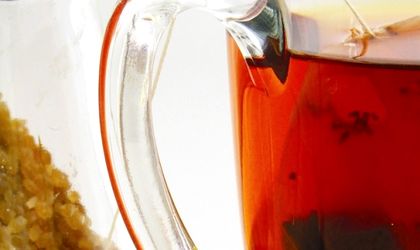 The Romanian tisanes and tea market has grown this year and is expected to do so even more by yearend, as the cold weather is exactly the industry's cup of tea. A consequence of changes in lifestyle and consumption habits during the happier times before the crisis, sales volumes are estimated to continue brewing, going up by about  5 percent in 2012.
Simona Bazavan
Whether tea is bought for curative reasons or for the mere pleasure of drinking it, the local market has significantly evolved in recent years, both in terms of the range of products and demand. Tisane (e.n. a herbal or plant infusion usually not made from the leaves of the tea bush) producers and tea distributors have constantly diversified their product portfolio while consumers are beginning to see tea as more than a hot drink. Nevertheless, seasonal variations in sales volumes continue to be high and the cold season brings significant sales increases.
"There are strong seasonal differences. In the cold months from October to March we see the highest sales. Compared to the summer months, sales can rise two and a half fold," Cora representatives told BR. At Metro Cash & Carry sales go up by as much as 20 percent from October, according to the company.
Despite the variations, overall sales have risen in the past year. For the French retailer the increase is 4 percent, with 90 percent of the sold volumes being tea bags and the rest loose leaf. Also, 8 percent of the sold volumes are private label tea produced for Cora by manufacturers like Fares and Kalpo.
Pharmacies also report growth. Compared to last year, Help Net outlets have registered a 6 percent increase in tea sales so far in 2011. "As the cold season is favorable for this product category, we expect growth to reach 8 percent by yearend," Monica Fusea, acquisitions director at Help Net, told BR.
As for the varieties sold in pharmacies, she says that the most popular teas are those for weight loss, detoxification, anti cramps and digestion. Weight control and fruit tea are especially popular in summertime while in the cold season consumers prefer relaxing and calming varieties that contain linden, St. John's Wort, chamomile or marigold. Overall, Romanian consumers are turning to more natural products, she adds.
The upward trend is expected to continue in 2012 on all distributions channels, although constant value sales are predicted to grow at a slower rate than volume sales, reflecting consumers' reduced purchasing power. According to data from Nielsen Romania, the main producers of tisanes are Fares, Belin, Celmar, Larix and Plafar, while Unilever with the Lipton brand, Twinings, Belin, Fares and Kalpo are the main names in tea.
The British Twinings brand is imported and distributed in Romania by General Parma Food. "This year we have seen a sales increase of 20 percent which is well beyond our expectations," company representatives told BR. The best sold Twinings varieties in Romania are lemon-flavored green tea teabags followed by black tea, English breakfast and infusions, whereas in the UK black tea is the best selling kind. About 40 Twinings products are imported to Romania. The selection is made from the top international varieties and based on the British producer's recommendations.
Despite the popularity of international brands such as Twinings and Lipton, Romanian producer Fares and local distributor Novaplus, whose product portfolio includes the Belin, K.Lehman-Zauberer and Artifex brands, led tea sales in 2010, according to Euromonitor.
Romanian company Fares is the main player on the local tisane market having invested in product development as well as distribution in recent years. In addition to tisanes the company also manufactures tinctures, various supplements, syrups and other phytotherapy products.
Almost 16 years since its privatization, the company is a success story and one of the most popular local brands. And despite the crisis, it has managed to post growth. For last year it reported a turnover of RON 32 million (approximately EUR 7.72 million) compared to RON 30.38 million (about EUR 7.18 million) in 2010. So far this year Fares has seen a 30 percent increase in sales, according to media reports.
Fares was privatized in 1995, separating itself from what later became the Plafar national company (SN Plafar), which also produces tisanes and other homeopathy products. Like many other state companies, its evolution, however, has not been so healthy in terms of profits and the authorities have announced plans to privatize it.
The Ministry of Economy, the company's main shareholder, estimates that the firm will exit insolvency by the end of this year and the privatization process will begin in 2012.
For the first time in many years the company has reported profit for the first half of this year – approximately EUR 60,000 – on a turnover of about EUR 1.4 million after posting roughly EUR 142,000 of losses last year. The firm has fewer than 100 employees and several production units in Bucharest, Brasov and Cluj.
Other investors are doing it on a smaller scale, but with far better results. The local organic market has been growing in the past few years and organic tea is no exception, with an estimated 20 percent growth rate for the past year.
Austrian Sonnentor Krauterhandels GmbH set up a branch in Romania in 2006 following five years of previous experience working with local farmer Csaba Szakacs in Reghin, Mures County. Sonnentor Romania is owned by Johannes Gutmann, Sonnentor's founder, Szakacs and Thomas Weinraub who is also the general manager of the local subsidiary. The company doesn't just sell its products locally but also gets its raw materials from here.
At present the company exports local organic plants, fruit and spices from 100 hectares of land to Austria and the Czech Republic where the tisanes and tea are processed and packaged.
Weinraub told BR that the firm intends to set up a local production and packaging unit so that at least the products that are made of local raw materials can be produced here. A lot depends on the Common Agriculture Policy (CAP) for 2013-2020 and the financial support the company could get from the EU, he added.
Sonnentor organic teas are sold locally only through specialized shops and selected partners. Best selling products for the firm include green and white tea, ginger tea and cold season and babies' varieties. In recent years the company has posted constant growth of about 12 percent.
While in 2010 Sonnentor Romania registered a turnover of more than RON 800,000 (approximately EUR 186,000) and a profit of RON 27,000 (approximately EUR 6,200), this year the figures will grow to EUR 200,000 turnover and EUR 10,000 profit.
Special brew
Tea lovers know that tea is much more than a warm drink for cold days or a medicinal treatment, and the fact that in the past couple of years Bucharest and other big Romanian cities have seen an increase in the number of specialized tea shops and tea houses shows that local tastes are getting more refined. For those not satisfied by regular tea bags, an increasing number of premium tea brands are now available locally.
"Romanian consumers' behavior has changed in the past two years in the sense that they are no longer looking for medical reasons to consume tea but simply indulging in the pleasure of drinking it.
For this reason consumption tends to depend less on the season, because whoever loves tea will not only drink it in wintertime in order to get warm, but will drink it daily for the pleasure of giving oneself some important 'me time'," Liliana Hrenciuc, owner of the Triangle d'Or delicatessen store and tea house in Bucharest, told BR.
For the past five years the company has been bringing the famous Mariage Freres French teas to Romania. Hrenciuc says that the best sold products are green teas flavored with various fruit, flower petals or spices.
"I don't think we can talk about a real local tea culture, but rather a cup of tea is an excuse to socialize, a way to spend time with friends in a pleasant manner. We are glad that in our tea house the ratio between tea and coffee consumption is 95 to 5," the owners of Green Tea, another tea house and tea boutique in Bucharest, told BR. Nevertheless, more and more local consumers are trying premium brands.
"Tea consumption has remained relatively constant in the past two years, with perhaps a decrease of 5 to 10 percent, but we blame this decline on the fact that there are now more retailers on the premium segment," they added. Green tea and flavored green tea are the best sold varieties with the price averaging at RON 10 for 50 grams.
Green Tea is a family firm opened in 2007, owned by Alina and Ciprian Pescaru. The company's plans for the coming years are to consolidate the business and increase the share of online sales.