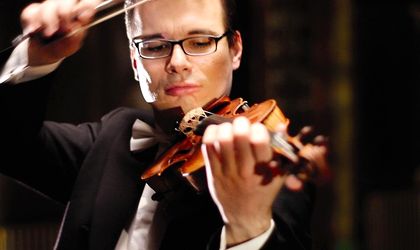 With a mandate to perform on the only official Stradivarius violin in Romania until 2012, Alexandru Tomescu has made it his goal to bring classical music to every Romanian. The eccentric and innovative artist, who once managed to raise RON 350 during a 30-minute incognito performance in the Bucharest subway, spoke to BR about his current tour and his reasons for remaining in his home country.
Corina Dumitrescu
Why do you think that you were selected to be a temporary holder of a Stradivarius violin through the national contest in 2007?
The competition to win the chance of playing a Stradivarius was organized by the Ministry of Culture. The jury was the same one as for the George Enescu International Contest, made up of musicians from abroad. For me, it was an extremely difficult contest, not just because of the scope of the program, but also due to the huge responsibility that I took on through it. I was very pleased to be unanimously declared the winner.
My promise to perform on a Stradivarius violin in front of as many Romanians as possible is a personal initiative, brought about through the annual series of Stradivarius Tours. This year, the concerts have enjoyed unprecedented success: the concert halls were too small to accommodate everyone and I have already had to play twice in several locations.
What motivates you to continue your career in Romania, at a time when so many talented young people choose to leave?
Without doubt, those who go abroad usually earn more money than they would in Romania, and enjoy a superior standard of living. To me, as an artist, it is much more important to receive spiritual than material satisfaction.
In how many locations has the Stradivarius been played and how many people have attended the concerts so far? Is it a costly tour?
The tour is taking place in 14 locations across Romania: Iasi, Onesti, Focsani, Bacau, Pitesti, Craiova, Timisoara, Bucharest, Cluj-Napoca, Sibiu, Medias, Dumbraveni, Targu Mures and Baia Mare. In Iasi, from the first concert, the hall was too small even with all the extra seats. I used my day off and I gave the audience in Iasi a second concert, with free entrance. The hall was full again! In Timisoara, I had a record audience of over 1,200, and the tour goes on. In terms of expenses, all I can tell you is that this is the costliest tour that I have ever organized.
What future events are you planning?
In November 2012, the five years for which I received the Stradivarius violin will be up. I intend to participate in the contest again because I have realized that I am only at the start of the journey and I have so much more to do. However, I will continue my project of promoting classical music, even without the Stradivarius violin. I have not only played on my Stradivarius, I also have a second violin called Transilvanius, built by Luthier Silvian Rusu, exactly to the dimensions of the Stradivarius.
What made you begin the subway experiment in 2009? Would you also try it elsewhere?
The subway experiment was the first initiative of the Romanian Blind Association. The money that I collected then – RON 350 in 30 minutes – was donated to the association. For me, it was a fantastic experience: I was no longer in the closed setting of a concert hall, but in a place where everyone had a lot more important things to do than to listen to classical music. Of course, I would try it elsewhere – I would be very curious to see if passers-by are as generous as Romanians.
How would you promote Romania abroad?
I think that abroad, we can be competitive firstly through art and culture. I will not forget the concert I gave in Brussels, at the Brussels Town Hall. I remember that the mayor kept asking organizers, "Are these artists truly Romanian? You are not fooling me?" He just could not believe it; it simply didn't fit with the image he had of Romania. His reaction brought both joy and sadness to me. There is a lot to do externally speaking. For every bad news item about Romania, a minimum of 40 to 50 positive events are necessary. So there is a lot to do!