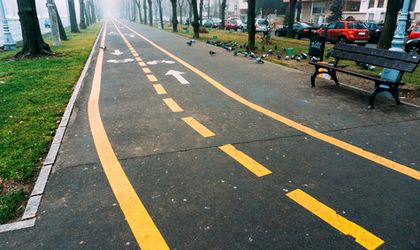 The Environment Ministry has approved a project for the development of 67 km of bike lanes in Bucharest and Ilfov County, worth EUR 10 million. According to the City Hall, the execution of the first 63.5 km could begin in June.
In total, authorities aim for Bucharest to have 240 km of bike lanes, and the works will continue next year. The project includes four routes, taking up a total surface of 201,000 sqm.
The four routes are:
1 – Victoriei Square – Aviatorilor Boulevard – Beijing Boulevard – Nicolae Caranfil Street – Pipera Road – Alexandru Serbanescu Street – Aerogarii Boulevard – DN1 – Free Press Square – Kiseleff Road – Constantin Prezan Boulevard.
2 – Victoriei Square – Iancu de Hunedoara Boulevard – Stefan cel Mare Road – Mihai Bravu Road.
3 – Victoriei Street – Regina Elisabeta Boulevard – Splaiul Independentei – Natiunile Unite Boulevard.
4 – Liberty Square – Constitution Square – Unirii Boulevard – Decebal Boulevard – Basarabia Boulevard – National Stadium.
The City Hall also plans to introduce a bike sharing system and give 30,000 vouchers for bikes in 2018.