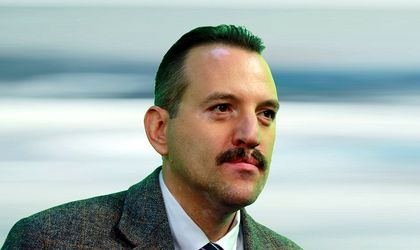 A project developed under the umbrella of consultancy firm Financial View – despite the economic crisis – the creators of internet portal efin.ro hope it has great potential for the future. Dragos Cabat, managing partner at Financial View, intends his company to post EUR 300,000 turnover this year, with efin.ro making a significant contribution to this result.
Anda Dragan
It was his extensive experience in financial consultancy services that persuaded Dragos Cabat to set up his own business in the field. He is not afraid of the current crisis, instead focusing on its silver lining. Cabat has even decided to extend his business online, through the www.efin.ro financial portal, which was launched in early January. "I have fourteen years of experience in investment companies and banking, working for commercial banks such as UniCredit, OTP and Citi. Over the years I have worked as branch manager, trainer, chief economist and risk manager," says Cabat. His significant experience in the financial field seems to have been a key factor in his decision to start his own firm. The move from employee to entrepreneur is these days a common one for many professionals, and providing consultancy services is an obvious choice. Along with his colleague, Catalin Dumitrescu – who had over ten years experience in the financial sector at that time – Cabat decided to start operating as Financial View in 2008. They chose their niche carefully: SMEs. "Our short-term objective was to provide financial brokerage services to small and medium companies in order to help them obtain the best financing solution on the Romanian market," says Cabat. According to him, their business plan also included training services for medium-sized financial institutions in areas such as: financial analysis, risk management, financial and management consultancy. The business concept initially drawn up by the two entrepreneurs included launching a financial portal. The aim was to present both to individuals and corporate customers – SMEs and large companies – the current range of financial institutions active in Romania. Additional services such as those provided by valuators and consultants were also included in Financial View's activities.
Launching www.efin.ro was a natural step forward for the duo. "We were inspired by our experience in the banking sector. We knew that both the customers – individuals and companies – and financial institutions couldn't meet each other's needs in an optimal way, because of the market's failure to provide accurate information," says Cabat. He adds that neither individuals nor companies know the full range of services provided by financial institutions and often choose "the best offer" based on an incomplete analysis and wrong criteria. Likewise, financial institutions cannot promote their products to all their potential customers or simply do not use the most effective information channels to do this. "Moreover, smaller financial institutions can't reach customers even if they have very interesting offers for them – which they often do," says the entrepreneur. The next step was to conduct some market research, especially as the time seemed right for such a business. Cabat and Dumitrescu believe that there is still plenty of space in Romania for their internet service, as long as powerful international companies struggle to promote their similar services because of the gap between the Romanian financial market and the international one. These differences take the form of offers, the legal framework and customers' needs. "We decided to launch the internet portal www.efin.ro, and rushed to do so because of the fall in the local market during 2009," says Cabat.
The current downturn is a double-edged sword for Financial View. Both individuals and companies are showing less interest in the company's services as a result of the lending drought and fewer financial products on offer. But the crisis is not all bad news. The economic recession has lowered the costs of launching a start-up and improved access to highly qualified IT workers (who have been both thin on the ground and expensive to hire over the last few years). "This has enabled us to implement our business plan in a shorter time than we initially anticipated and at a lower cost. I think that this was the best time to launch this internet portal, but it depends on the pace at which the local economy in general and the financial market in particular recover to acceptable levels," says Cabat. According to him, the most difficult moment in launching the project was when the partners needed to 'translate' the concepts of site design and functionality into a more understandable form for programmers. "It was also an effort to adapt ourselves and to put ourselves in the shoes of the users who often don't have any great financial knowledge, in order to build a user-friendly interface that also meets the requirements of financial institutions," says the entrepreneur.
The efin.ro business model included some innovative and fresh elements, according to Cabat: the locator of financial institution branches; customized and complex rate computing that takes into account all associated costs of the products offered by lenders; and a simple way to understand the presentation of financial products. The portal also provides some powerful tools to help users visualize and evaluate financial market trends. And it offers simplicity and speed in finding the best financial offers to meet customers' needs. "We also keep our customers informed about the local and international market, generating rich financial content – news, articles, interviews and advice." But building such a portal needed a massive team effort from specialists in different fields. "Our team is made up of IT specialists, web designers, account managers and vendors," says Cabat. As for the future, the Financial View managing partner says that his strategy is two-pronged. "In the months to come we will focus on improving the quality of the site, by adding new tools, enriching the content and eliminating the potential bugs. The second approach consists of adding new facilities for financial institutions and their employees, including new services with a higher added value," concludes the entrepreneur.