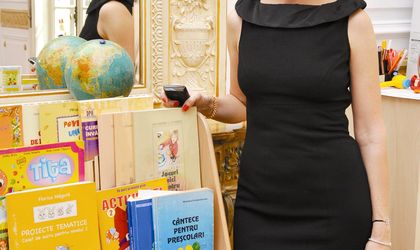 With a total investment of around EUR 350,000 in private educational institution IOANID , Anca Biris intends to maintain the same 'exquisite' approach to her business in the years to come and to launch gymnasium classes in a different building.
Anda Sebesi
Anca Biris decided to set up the Ioanid business – a kindergarten, school and afterschool – for very personal reasons. "It is my dream and I'm not exaggerating at all when I say this," says Biris, administrative manager of Ioanid. Her ambition to run a kindergarten and a school came at a time when she had begun to ponder what she was going to do with her life. "I dedicated a significant part of my professional education to this ambition," remembers Biris. On top of that, her experience with kindergartens as a parent persuaded her to make Ioanid into an educational institution where any parent could be sure that his or her child would be assured of high-quality educational services.
She could also draw on experience outside the field. Biris graduated from the Psychology Faculty of Clark University in the US in 1998, after which she spent four years in the client service department of Graffiti BBDO. She also worked for Solmar Group as luxury manager and for Zero Events, where she was in charge of events organization.
"The Ioanid project started from the location, a unique architectural area, near Ioanid Park. The interior of the building is also unique, recreating the special atmosphere of Hogwarts (from the Harry Potter books)," explains Biris. The venture needed a total investment of about EUR 350,000. The sum includes investments in renovation and improvements to the building's structure, the acquisition of writing materials, furniture for the school and kindergarten, IT equipment, kitchen and sports equipment and a piano for the music hall. "For all these acquisitions we worked both with domestic and international suppliers specialized in furnishing kindergartens and schools," says the young entrepreneur.
She adds that Ioanid is a concept rather than a business because as a parent, she had a special insight and was able to create different conditions for education. "Each move I made – finding suppliers, closing partnerships – was based on the need of both the child and his or her parent to feel comfortable. We used to say that both parents and children are benefiting from high-quality educational services in a cheerful home," says Biris.
Asked about the most difficult time her business has faced, Biris says it was when she found out that she had to submit the files for the kindergarten and school to the Romanian Agency to Ensure Quality in Pre-Academic Education (Agentia Romana de Asigurare a Calitatii in Invatamantul Preuniversitar) in just three days instead of by the date initially specified. "The main challenges – if I may call them that – have always been the bureaucracy inherent in the private education sector. Plus, sometimes it has happened that conflicting information has aggravated the process. But the important thing is what we
have managed to do," says the manager.
Like many other entrepreneurs, Biris has no regrets, because "when you invest both money and passion in a business I don't think there is anything to regret whatever decision you make." If she started another company she wouldn't change anything. "I truly felt each moment of this business and I think that this is what makes it all so special. Each stage I went through counted a lot in our evolution and I believe it is a good thing that we didn't rush through any stages," adds the entrepreneur. While the whole project was and still is a big challenge, Biris wanted to have the patience to follow the proposed methodology to get authorization to the letter. "We also wanted to find quality Romanian and foreign suppliers to work with in order to ensure a modern material base. On top of that we decided to bring – and we succeeded in doing so – English and French native speaker teachers and to cook 100 percent natural meals as much as possible," says Biris.
As for the competition on the market, she says it is significant, but all private schools and kindergartens have found their specific niche in children's education. "Our market niche is a high-end one, with all of our actions being dependent on this objective," she says. In her opinion, Ioanid holds a special place, taking an inter-war approach to the educational process. "It is the place where children will benefit from what was called at the beginning of the century 'exquisite education'," carefully combined with the 'after school' concept. Ioanid accepts pupils from 2 to 11 years old.
Biris expects 30 children for the kindergarten and 10 for the school for the first operational year. "The kindergarten has exceeded all of our expectations, while we are still working on the school," she says. As for Ioanid's market share, the entrepreneur says it is difficult to specify owing to the company being in its first year of operations."Our objective is for Ioanid to remain an 'exquisite' educational institution through its content. We intend on the long term to ensure consistency for our educational process by holding gymnasium classes in a different building that will enjoy the same high standards of performance and comfort as the location on Polona Street," concludes Biris.