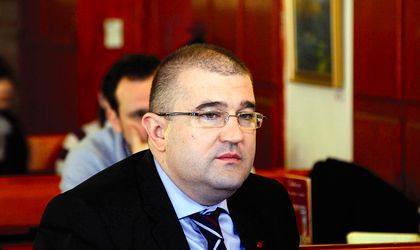 With La Mama, Cafepedia and Charlatans in his portfolio, Catalin Mahu, owner of Trotter Restaurant, has two main objectives on his agenda for this year: to consolidate and develop his business so it posts a EUR 7.5 million turnover in 2010
Anda Dragan
Catalin Mahu's entrepreneurial journey began in his student days, when he had little or no experience in the field. Despite graduating from the Automotive Faculty at the Polytechnic University in Bucharest, Mahu has never worked as an engineer. He learned about business from his own efforts and mistakes, followed his vision and is still active on the market – and profitable – in the current downturn.
Some entrepreneurs seem to have business in their blood; they can turn their hand to almost anything and earn a buck from it. This certainly seems to describe the young Mahu, who started to do business back in 1990, while still pursuing his studies. "I was buying and selling everything I could. I had an audio cassette-recording studio, I had shops, centers specialized in renting video cassettes, and finally I embraced the restaurant industry," remembers Mahu, the owner of Trotter Restaurant, the company that operates restaurant chain La Mama, cafe chain Cafepedia and Irish pub Charlatans. He enjoyed a great advantage at that time: the economic context of the 90s was favorable to him, given that the market was still forming and almost everyone wanted to buy and sell just about anything.
Nine years later, in 1999, he narrowed his focus and decided to set up a HoReCa business. Along with a former university colleague, he opened the first La Mama restaurant. It was the moment that marked the start of one of the best known restaurant chains in Romania of recent years. "Since then we have posted constant growth. We opened the first Cafepedia coffee house in 2006 and the first Charlatans Irish pub in 2009," says Mahu. However, his partnership with his associate crumbled a few years later, leaving Mahu the sole shareholder of Trotter Restaurant. The company currently runs three Cafepedia outlets, two in Bucharest and one in Iasi; seven La Mama restaurants and a single Irish pub Charlatans. The latter was opened at the end of last year, in the premises of the former Cafepedia near Universitatii Plaza, which was totally rearranged for the purpose.
In his 11 years as owner of the company, Mahu has amassed a wealth of experience in the HoReCa field, mainly because of his total involvement in the whole range of activities that running a restaurant entails. "The activity in a restaurant is like a drug that you can't and don't want to quit," says Mahu. Despite the fact that he owns and runs a restaurant business, the entrepreneur doesn't consider himself a cooking "guru" or an "innovator" of dishes. Instead, he sees himself as a supporter of high-quality products and services.
The opening of the first La Mama restaurant had two elements: one practical and the other emotional. It was both a virgin playing field on the restaurant market and a personal dream. "There was nowhere to eat in town at that time. Besides, the idea of running your own restaurant occurs to everyone," says the young entrepreneur. The toughest period came in 2006-2007. "I remember that there was no workforce available on the market then and the real estate industry was on the crest of a wave. These issues prevented any development," says the restaurateur.
Like many other entrepreneurs, Mahu has no regrets. "It would be like living in the past. I look to the future. It is easier and more efficient to take such an approach." If he started another business, he wouldn't change anything major, just a few details. The businessman says that satisfying your customers is one of the main challenges in his business – which is very people-oriented. "Every day you meet so many kinds of people that you always have something to learn, from your colleagues or customers," he says.
While it might now seem that the local restaurant and cafe scene is very crowded, Mahu does not believe there is real competition in his field at the moment. "Although there are restaurants with similar profiles, it seems that more people don't go to restaurants than do. This leads us to think that if we focus on growing the market, there will be no competition." He adds: "There are people who have one single thing on their mind when they wake up: they want other companies' customers. I think that competition is a matter of the personal vision of every player on the restaurant market." In his opinion, if you constantly and honestly do a good job, you repay your customers' confidence and also solve the problem of competition. According to the company's data, Trotter Restaurant had a market share of about 8 percent in Bucharest two years ago.
As for the future, Mahu has two main goals: the consolidation and development of his business, through both maintaining and opening new locations.