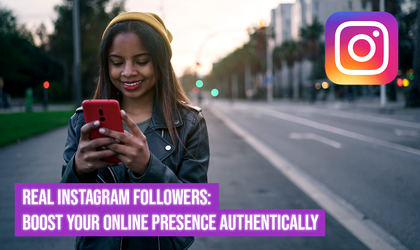 As a brand or influencer, the goal of building a strong Instagram presence revolves around growing your follower count. 
But why settle for just any followers when you can have real Instagram followers? In this comprehensive guide, we'll explore the importance of authentic followers and provide actionable strategies to grow your Instagram account genuinely.
Building Trust and Credibility
When you have a high number of real followers, it boosts your credibility and trustworthiness. Users are more likely to engage with and follow accounts that have a significant, authentic following. 
By focusing on growing your audience organically, you're building a solid foundation for long-term success on the platform.
Increasing Engagement
Real followers are more likely to engage with your content, whether through likes, comments, or shares. 
This increased engagement not only boosts your visibility on the platform but also provides valuable feedback that can help you tailor your content strategy to better resonate with your audience.
Fostering Long-Term Growth
As you acquire real followers, you'll develop a genuine community of loyal supporters. 
These individuals are more likely to stick around for the long haul, whereas fake or purchased followers often drop off or get removed by Instagram's anti-spam algorithms. 
By focusing on real followers, you're ensuring sustainable, long-term growth.
Optimize Your Profile
The first step in attracting real Instagram followers is to optimize your profile. This means having a clear and concise bio, a high-quality profile picture, and a visually appealing feed.
Bio
Your bio should give users an instant understanding of who you are and what you do. Use relevant keywords to help users find you, but keep it concise and engaging. 
Don't forget to include a call-to-action (CTA) that encourages users to take a specific action, such as visiting your website or signing up for your newsletter.
Profile Picture
Your profile picture should be a high-quality image that accurately represents your brand or personal image. For businesses, this typically means using your logo. 
For individuals, use a professional-looking headshot that showcases your personality.
Feed Aesthetics
Maintain a consistent aesthetic in your feed by using a cohesive color palette, similar editing styles, and posting content that aligns with your brand or niche. 
This consistency makes your profile visually appealing and easier to recognize, ultimately attracting more followers.
Create High-Quality Content
Content is king, and this is especially true on Instagram. To attract and retain real followers, focus on producing high-quality content that adds value and resonates with your target audience.
Use Eye-Catching Visuals
Instagram is a visual platform, so invest time and resources into creating stunning images and videos that stand out in users' feeds. 
Use high-quality photos, engaging captions, and experiment with different formats like carousels or Instagram Stories to keep your content fresh and interesting.
Post Consistently
A consistent posting schedule is essential for maintaining and growing your audience. 
Develop a content calendar that outlines when and what you'll post, ensuring you're regularly providing value to your followers.
Engage with Your Audience
Engage with your audience by responding to comments, asking questions in your captions, and reposting user-generated content. 
This not only fosters a sense of community but also encourages others to interact with your content, increasing your visibility on the platform.
Leverage Hashtags and Geotags
Hashtags and geotags are powerful tools for increasing your Instagram visibility and attracting real followers.
Use Relevant Hashtags
Hashtags are a critical component of Instagram's search and discovery features. To make your content more discoverable, include relevant hashtags in your captions or comments. 
Conduct hashtag research to identify popular and niche hashtags within your industry or target audience, and use a mix of these to maximize your reach.
Employ Geotags
Geotags help users find content based on specific locations. By adding geotags to your posts and Stories, you're increasing the likelihood that users interested in your area will discover your content. 
This is particularly useful for local businesses and influencers looking to grow their audience within a specific region.
Collaborate with Others
Collaborating with other users, such as influencers, like-minded brands, or even your audience, can significantly expand your reach and attract real Instagram followers.
Partner with Influencers
Influencer partnerships can expose your brand to a larger audience and drive new followers to your account. 
Identify influencers within your niche who have a strong, engaged following, and collaborate with them on sponsored content or product reviews.
Host Giveaways or Contests
Giveaways and contests are effective ways to boost engagement and attract new followers. 
Collaborate with other brands or influencers to offer prizes, and require participants to follow your account and tag friends in the comments as part of the entry process. 
This can lead to a surge in real, interested followers.
Feature User-Generated Content
Showcasing user-generated content (UGC) not only encourages engagement but also demonstrates your appreciation for your audience. 
Regularly share UGC on your feed or Stories and credit the original creators, prompting others to share their own content related to your brand in hopes of being featured.
Monitor and Analyze Your Performance
To continually improve your strategy for attracting real Instagram followers, monitor and analyze your account's performance regularly.
Use Instagram Analytics
Instagram provides in-depth analytics for business and creator accounts. These insights include data on your audience demographics, post engagement, and overall account growth. Review this data regularly to identify trends, evaluate the success of your content, and adjust your strategy as needed.
Conduct Competitor Analysis
Keep an eye on your competitors to stay informed about industry trends and learn from their successes and failures. Analyze their content, hashtag usage, and engagement strategies to identify tactics that could work for your account.
Conclusion
Growing your base of real Instagram followers requires dedication, strategic planning, and a commitment to creating high-quality content. 
By optimizing your profile, leveraging hashtags and geotags, collaborating with influencers and other brands, and analyzing your performance, you'll be well on your way to building a genuine, engaged community on the platform. 
Remember, focusing on real, authentic followers is crucial for long-term success, fostering trust, and increasing engagement on Instagram.