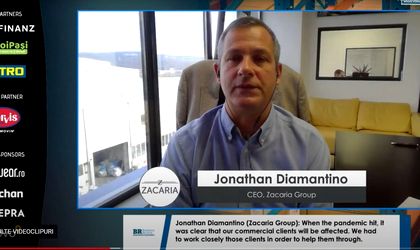 When the pandemic hit, the commercial sector was affected. For a company like Zacaria, that provides industrial parks, the reduced activity of commercial was compensated by the increased activity of couriers, said Jonathan Diamantino, CEO Zacaria Group at Re:Focus on eCommerce Retail & Logistics 2021 event, organized by Business Review.
"2020 was an interesting year. At Zacaria we have three types of clients: those involved in commercial, those in manufacturing and those in logistics, including storage and distribution. When the pandemic hit, it was clear that due to lockdown the commercial sector it will be affected. We took immediately steps to recognise those clients that will be heavily affected and to work with them on strategies or how to support them to continue the business. At the same time to retain most clients by offering rental discounts," said Jonathan Diamantino.
"Manufacturing was more interesting, we do have many clients involved in manufacturing that rent relatively large spaces from us. Over there we saw that, first of all, the lockdown initially eliminated manufacturing companies simply because the employees were not allowed to go to work or go to work in limited numbers. Beside that we saw that there was an interruption between the materials and finished products due to cross-border movement of these materials and products and government intervention in different countries," explained Diamantino.
"Also there was a slowdown in demand in several sectors for products. Fortunately this did not last, so manufacturing continued and our clients were able to go on and not be heavily affected by the pandemic. Of course, sales were down, particularly in the automotive sector, but as a result of logistics, transport and supply rather than the lack of demand."
"Then we had the absolute reverse of that situation in terms of logistic companies, particularly courier companies, which is the majority of our portfolio, were we saw a boom. In terms of demand for their services, but also demand for space. This presented several challenges as our industrial parks are at 100 percent occupancy and we had to find more space for those who needed it. In most cases we were successful in other cases we found solutions that suited the client."
Plans for 2021
"This year, e-commerce will drive the growth in the industrial parks development. I was very encouraged to hear that the government is very proactive in expanding the highway network in Romania. The challenge is to do forward planning in terms of developing industrial parks in those areas where there are few or non-present, and demand for industrial parks will grow."
"Today, the client expects immediate services, like packing and delivering. So, having a broader spread of industrial parks in areas where highways and super-roads are coming in is going to be a necessity. I think a company like Zacaria is clearly looking at road developments for the opening of new logistic parks."
"Zacaria, this year, will start the development of two industrial parks, one in the area of Pitesti, one in the area of Sibiu. But we are actively looking for properties and lands in areas where we see the highway infrastructure in progress to plan new parks," concludes Jonathan Diamantino.