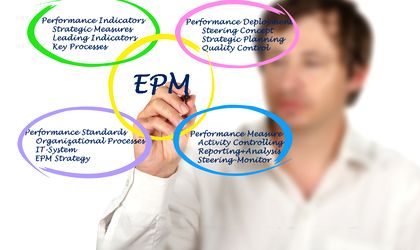 An EPM software solution (acronym for Enterprise Performance Management) is a term that contains all the tools intended to support the project management processes of a given company.
Contrary to what we might think, these types of solutions are not new. However, in recent times they have become increasingly popular.
Depending on what each company needs, many different EPM solutions can be found: for example, there are application or online formats, with a greater or lesser number of modules, proprietary or free software, and there are even proprietary solutions.
Main uses of an EPM SaaS tool
Project control
One of the most outstanding functions of an EPM software is the loading of projects that will be within the portfolio of the company.
What is really interesting is that the projects' access control system had some type of permission management. This will allow only authorized users to perform certain actions.
Once the projects have been uploaded to the EPM SaaS, a planning solution will be necessary. This includes many resources that range from the creation of calendars in which the available resources are indicated, the workload (in the format of tasks and milestones), prices and different events that can be carried out during the project.
Within the planning, and depending on each tool, we can find a greater or lesser amount of detail. The more flexible the tool, the better service it will provide to the user.
Regarding the saving solution, it is very important that the ERP software allows saving different baselines. It is the way to determine how the planning has evolved throughout the useful life of the project. This function has many uses: for example, take stock at any time. Thus, we will know what to improve for future projects.
In the reporting solution there must be mechanisms that allow reporting any problem or risk that may arise. The objective of this data is to be able to foresee any event that could affect the normal development of the project and that could jeopardize its fulfillment (in terms of quality, cost or price).
Today it is possible to find many EPM SaaS solutions that allow the reporting process to be carried out online. This formula is much more practical, since it will only require a browser and authorization to access the portfolio.
Project data management
There are two formulas for carrying out information management in the project:
Either an external tool is used to manage reports that already exist in the entity.
Or the functionality included within the EPM SaaS tool.
In any case, this management should allow an organization at the macro-project level. The idea of ​​this view is to be able to view the entire plan globally and then go down to levels with a more detailed view.
One of the advantages of using an EPM SaaS tool is that it usually has color codes that allow us to indicate the status of any project. Thus, just by taking a quick look, we can know if it needs attention or not.
The most logical thing would be to mark with the color red if something is going wrong, yellow for something that could be improved and green for what is going well, as if it were a traffic light.
Database integration
This is another reason to include an EPM in your company. Thanks to this kind of solution, it is possible to assign the company data only once in the system and ensure that this information is used by all collaborators (permissions can be assigned to prevent unauthorized access).
What is achieved with this system is to avoid redundant and duplicate data.
There is a lot of data that should be recorded in the databases, such as budgets, purchases, assets, sales…
Allows optimization of time
By investing in an EPM , collective work among employees can be improved. Every minute spent on each task will be more effective.
In the same way that the search engines that we use on the Internet on a daily basis, also EPM software has its own search engine within the database. Thus, if you want to find specific information, you can do it in record time.
In addition, with an EPM solution uncertainty can also be reduced. This is due to the fact that at all times we will be able to see the current status of the defined KPIs, allowing us to execute corrective actions before things get worse.
Now that you know what an EPM SaaS tool is for, it's time to choose the most suitable one to integrate into your company.