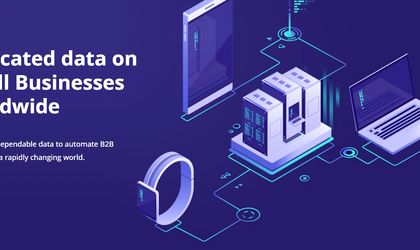 Veridion (formerly known as Soleadify) announces a $6 million late seed round to expand to the US and further develop their proprietary AIs that are specifically trained to understand the global business landscape, enabling their clients, including tier 1 consultancies and market intelligence firms, to access reliable data on 80 million businesses worldwide, saving thousands of hours of manual research and achieving record accuracy and refresh rates.
The deep tech startups raised the seed round from LAUNCHub Ventures, OTB Ventures, Underline Ventures, and existing investors Day One Capital and GapMinder Venture Partners.
Veridion leverages the power of AI to revolutionize big data and to comprehend billions of webpages every week to build and maintain a highly accurate, global scale, near real-time, a single-source-of-truth database of company data made available through a Complex Search API and a Matching & Enriching API.
They are one of the first companies to deploy AI at this scale for data acquisition, setting them apart from the traditional firmographic data players that buy data from government registries as well as simple web-scraping alternative data providers.
Firmographic data is information that can be used to categorize organizations by a host of information such as business activity, products or services offered, location, employees, industry, technology offered, etc. Enterprises are missing reliable, up-to-date information about market participants and a lack of those crucial insights leads to sub-optimal decisions and challenges when navigating through dynamically changing environments.
Veridion is positioned to be a firmographic intelligence leader, boasting a database of over 60 data points on over 80 million businesses with record accuracy rates and the highest refresh rate on the market.
Veridion saw solid growth figures in 2022, with over a 3x increase in recurring revenue and an impressive zero churn in clients. Their biggest clients include, among others, tier 1 consultancies with specialized procurement and insurance teams, one of the largest global insurtech platforms, procurement platforms, and top-tier market intelligence companies. There are multiple reasons for this, key among which is their highly granular data, the control their APIs offer on confidence scores, and their internal matching engine which allows them to pinpoint businesses at unprecedented rates.
The name change is intended to highlight the company's unique standing in the market, and its commitment to being a single source of truth and reflect the company's ambitious plans for future growth.
Florin Tufan, founder and CEO, Veridion:
"We believe that the next generation of business decision engines regardless of industry or vertical will require a completely new format of data. Predictive models will rely on AI more than human intuition and will be capable of processing exponentially more data as their core resource. For this, the data needs to be fresh, granular, easy to work with, and integrate able across a wide array of processes. This has been our focus from the beginning and with this round, we'll be able to double down on our approach."
The firmographic data market in which Veridion operates is also known as the business information market and was valued at $211 billion in 2022 and is projected to grow towards $291 billion by 2027, with new technologies like AI representing a game-changer for big data. According to Gartner's Data Quality Market Survey, the average financial impact of bad data on organizations in 2022 was estimated to be around  $12.9 million per year.
Recent developments in ML capabilities unlocked the doors for Veridion to be positioned quite differently from other market participants. Players such as Delphai, Planck Data, and Grata have collectively raised over $110M in the past 7 years of operations and development. While companies like these cover local markets and company records in the 10 – 20 million range, Veridion boasted over 70 million company records within their first two years of activity.
Delphai covers primarily private markets for M&A, prospecting, and supplier sourcing, segments where Veridion brings in-depth data on hundreds of millions of products and services and business activities in all commonly used taxonomies worldwide such as NAICS, NACE, SIC, etc on companies from all around the world. Planck Data is focused on commercial underwriting but only covers the US market as opposed to Veridion's global coverage and Grata, which is focused primarily on deal sourcing also lacks the in-depth perspective that Veridion brings on specific company descriptions, risk signals, and other rapidly expanding data points that Veridion extracts on the companies they oversee.
The biggest name in firmographic data is Dun & Bradstreet, with over 200 years of experience in the field. Dun & Bradstreet and
Veridion may serve slightly different market segments, but their differences are pronounced when it comes to data products and capabilities. Veridion offers a distinct advantage in its coverage of the SMB landscape, with regularly refreshed data and in-depth product-level information and retail locations. The NLP-based approach employed by Veridion also enables the extraction of unique data attributes for specific industries, such as specific underwriting and supplier risks, enabling the company to better meet the needs of its clients through custom data solutions.
After validating their data with large enterprise clients in commercial insurance underwriting, supplier discovery, and private market analysis, Veridion is releasing self-service APIs to enable faster data integration for potential clients and open up to new markets in data-centric SaaS or other early-stage solutions.
Veridion plans to continue building its US footprint by opening a New York office in 2023 to more closely support its growing base of clients in the region. They were advised on the financing round by Cytowski & Partners, a US-based law firm.
Rumen Iliev, Partner, LAUNCHub:
"Access to accurate and timely company data opens a new way to success in today's business landscape. It equips smart enterprises with the knowledge and understanding necessary to outcompete their competitors. By leveraging the power of Veridion's algorithms and AI, Data Teams across the globe can gather firmographic data with speed, accuracy, and coverage that surpasses human capabilities. This newfound competitive advantage will propel their business towards even greater success in the future"
Karol Szubstarski, Partner, OTB Ventures:
"Veridion is leading the way to a future where companies all over the world can build and rely on data of the highest quality. OTB Ventures is thrilled to support the company in their recent financing."
Bogdan Iordache, General Partner, Underline Ventures:
"The Veridion team has built a truly impressive platform that will impact the way business data is collected and consumed. We are excited to partner with and support them for the next stage of their journey."